Animal rescuers call for help to save strays
Share - WeChat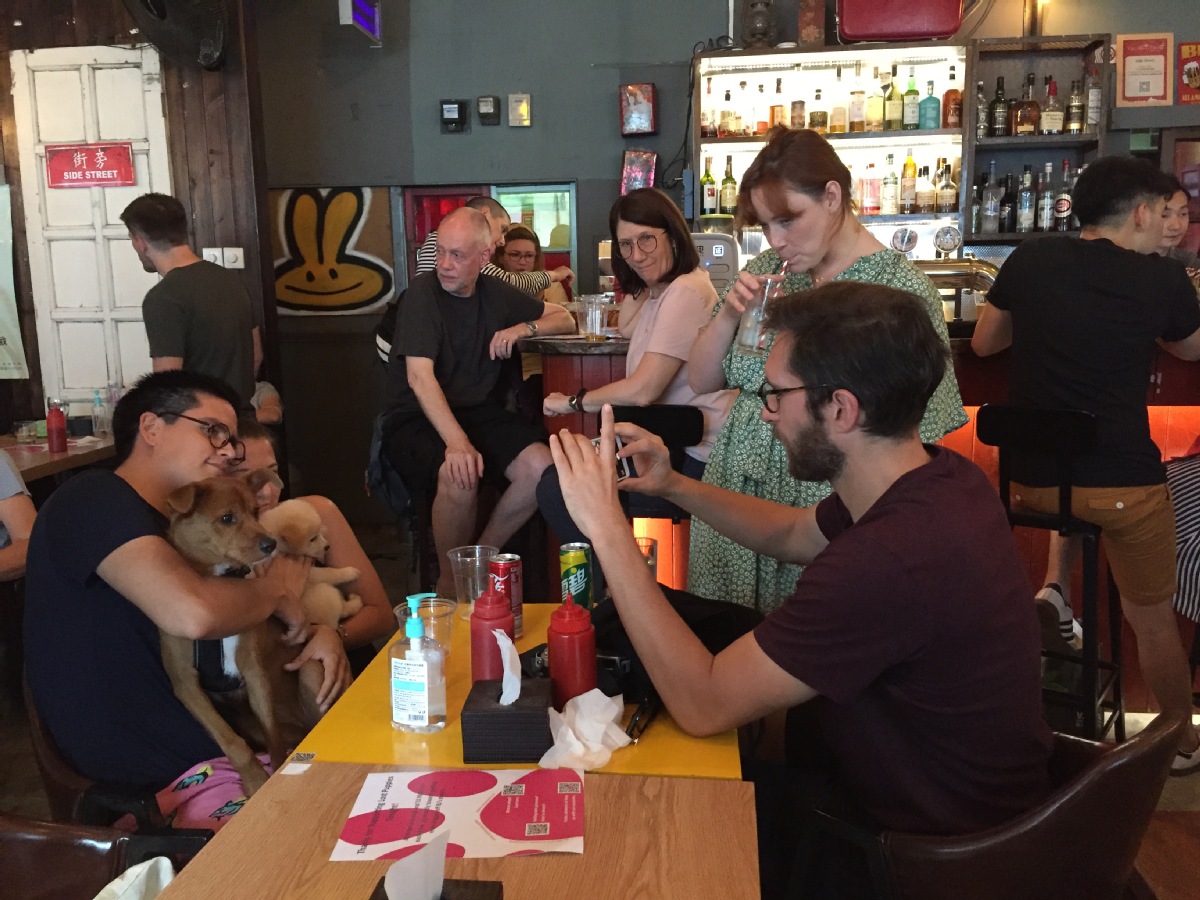 With more cats and dogs being abandoned, shelters are coming under growing pressure. Christine Low reports.

On a sunny Monday afternoon in the suburbs of Beijing, barking dogs could be clearly heard at a nondescript house on an otherwise quiet road.
Inside, in a large room filled with donated furniture, Liu Yanli and her employee brought in a large puppy with shaggy white-and-grey fur. After letting the lively puppy run around the room, the employee placed it on a table and Liu whipped out her camera to take profile photos.
Once that was done, the employee held the puppy on the ground while Liu quickly administered a needle jab into its back. The process was repeated when the next dog was brought into the room.
"I've got a busy day ahead of me," said Liu as she repositioned the camera. "I need to finish taking all these photos for the agencies and administer the vaccinations so that they can be ready for adoption."
Liu is the founder of Together for Animals in China, a dog shelter that she set up in 2009 after almost a decade of volunteer animal rescue work.
Over the years, she has rescued and helped re-home hundreds of abandoned dogs. However, the situation at her dog shelter, along with countless other animal shelters across China, illustrates another side of the country's booming pet economy that is rarely talked about.
At odds
In recent years, China's pet economy has grown exponentially, with the market expected to exceed 296 billion yuan ($43 billion) this year, up from 221 billion yuan last year, according to market consultancy iMedia Research. In March, pet sales were almost 1.5 times higher than during the same month last year.
What's striking for rescuers is that more pedigree breeds are being abandoned, reflecting a growing demand for "prestigious" pets. Of the 200 dogs roaming TAC's courtyard, about 13 are golden retrievers, which is a much-prized breed.
Currently, there are no regulations controlling what dog breeds can be brought into China, so breeders import those that are in strong demand. However, this is sometimes at odds with municipal regulations as to what types of dogs people can keep at home. For instance, in certain districts of Beijing and Shanghai large dogs are prohibited.
"A lot of people ask me, 'Why do you have so many pedigree dogs in your shelter?'" Liu said. "That is because there is no formal control over dog breeders and what types of dogs they are able to sell."
Ekaterini Alexiadou, one of the founders of Shanghai Animal Rescue, said large dogs such as Alaskan Malamutes and German Shepherds are seen as a sign of prestige in China, but these dogs do not belong in Shanghai. "These animals are then quickly put on the streets," Alexiadou said. "This is reflected in the fact that over half of our rescues are purebred dogs."
Mary Peng, founder and CEO of the International Center for Veterinary Services in Beijing, said many new owners don't realize what is involved in looking after a pet, especially when it starts to grow.
"It starts chewing on everything and it's not trained because people don't have any knowledge or experience and don't know how to train them, and the family can't cope.
"Sometimes, people fall in love with a certain breed and they don't realize that this breed might not be appropriate for their house or their lifestyle," she said.
Adrien Macera, owner of the dog training and boarding center Diddy's Hood in Beijing, said owners often don't consider the physical needs of the pet.
"Often, they will have a beautiful dog that needs to run 20 kilometers a day, which they cannot make happen, and then the dog develops some serious problems," Macera said.
Animals purchased from pet stores might also have a variety of undisclosed and unknown medical problems that require costly treatment.
Alexandra Cukor, founder of the dog rescue network Lost Puppies of Beijing, said buyers can incur high medical costs, such as vaccinations, when they get their pet home. This is often because the dogs are from puppy mills where the mother has not received proper nutrition, or genetic defects are passed on in the animals.
"As a result, people are actually buying dogs that require very costly medical work for the rest of their lives because there are genetic defects," Cukor said.