Hainan leads in banning non-biodegradable plastic
Share - WeChat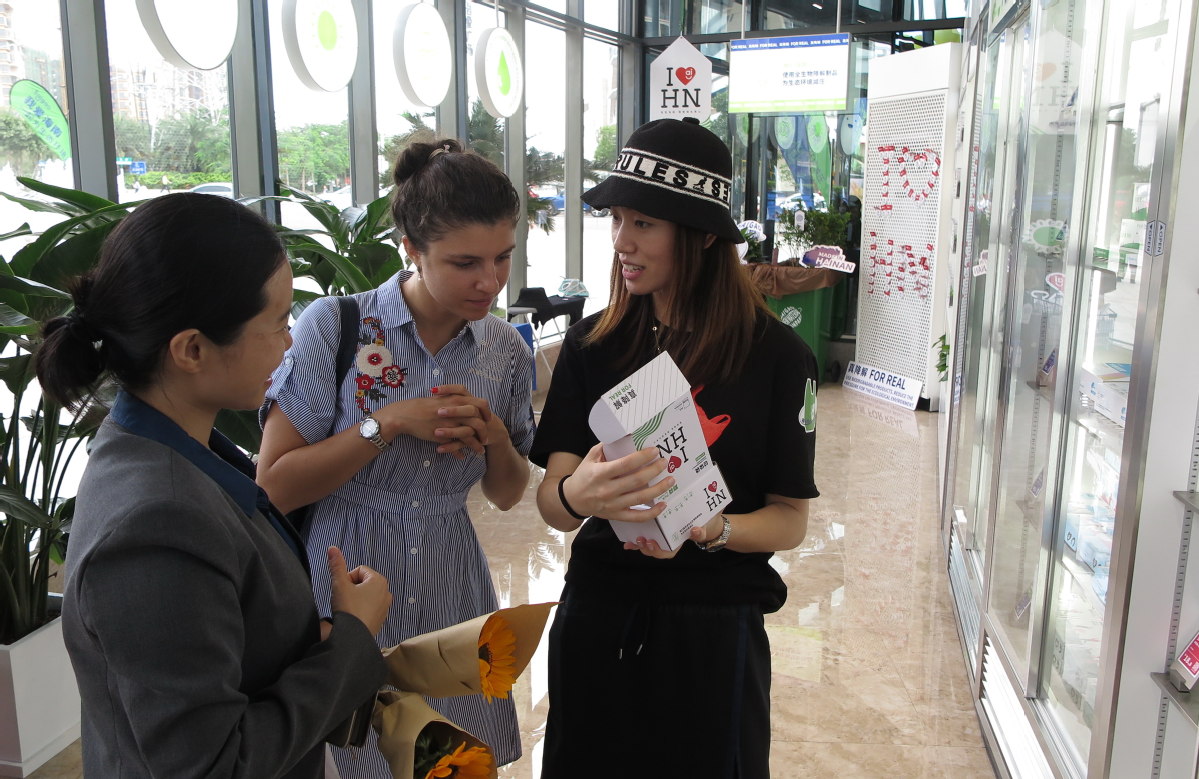 A ban on the use, sale and production of single-use disposable nonbiodegradable plastic products took effect across Hainan province on Tuesday, making it the nation's first to adopt the bold move to promote green production and lifestyle, according to officials with the local ecological environment authority.
The first batch of items to be banned include products such as disposable plastic bags, packaging bags, meal boxes, bowls, drink cups and straws made from non-biodegradable polymers.
On the list of substitutes are items such as biodegradable plastic bags; paper, cloth and linen bags; and reusable baskets made of plastic or other materials such as wicker and bamboo, according to the provincial authorities.
"We ordered biodegradable bags far in advance of the deadline, and supplies are sufficient," said Zhang Lizheng, a manager of a large-scale supermarket in downtown Haikou, capital of Hainan.
"Though the ban means more spending, it will help people develop a greater sense of caring for nature. That is good," said Xiao Linlin, a young office worker who lives nearby and was a regular customer of the supermarket.
"I heard the news about the ban last year. But seeing these new soft, plastic bags is still very new to me, as most of us have used the non-biodegradable plastic bags and boxes for so many years," she added.
Wang Ling, who sells vegetables at a nearby free market, has mixed feelings about the ban.
"Caring for the environment is good for all of us, but my business costs will grow as the cost of the biodegradable plastic bags I prepare for my customers every day will at least double for the time being. I hope the bags will become cheaper in the near future," she said.
The ban list, to be expanded in a timely manner in accordance with local needs, has been made to help promote the construction of a national ecological civilization pilot zone on the island province and ensure Hainan has a first-class ecological environment, local officials said.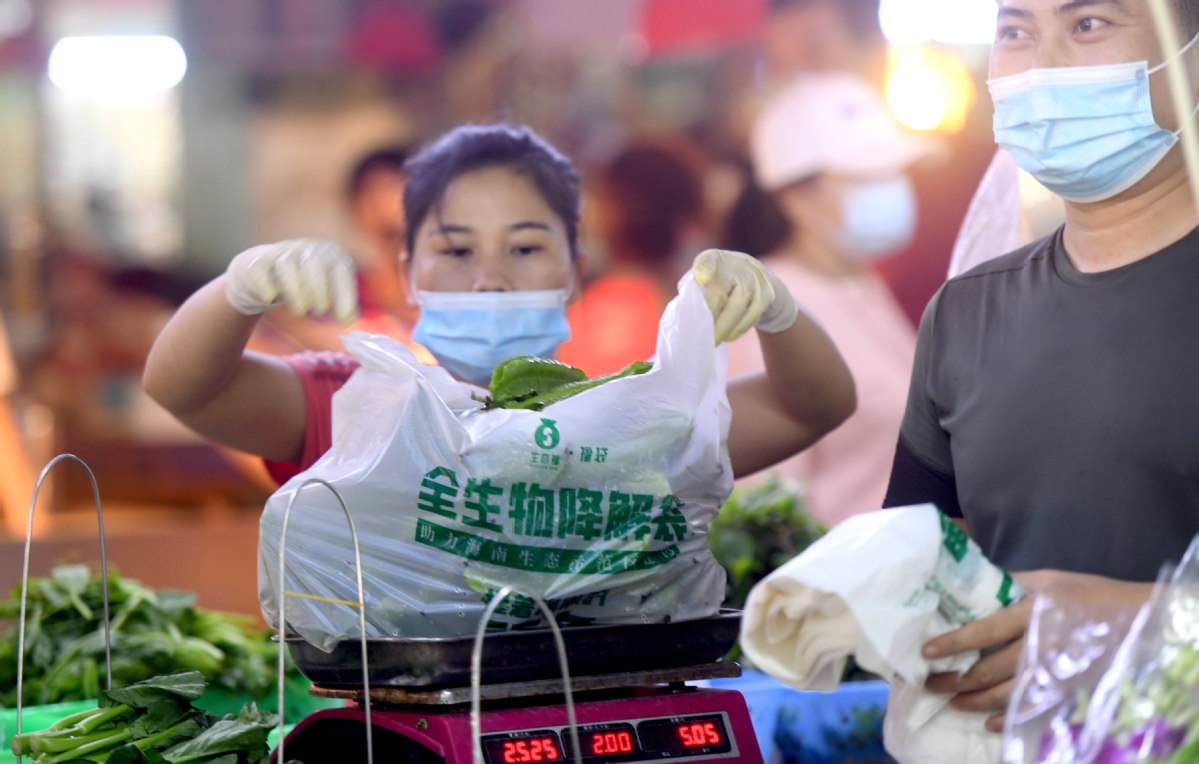 Since August, government institutions, State-owned enterprises, schools, tourist attractions, large supermarkets, hospitals and other industries have banned the use of plastic bags on a pilot basis across Hainan, with a total of about 350 metric tons of substitutes being sold, according to the leading group in charge of the program.
Gong Lei, an official with the provincial ecological environment department, said that all government institution canteens have stopped using non-biodegradable plastic bags and lunchboxes. Shopping malls, supermarkets and 4A scenic spots have signed a letter of commitment to promote the use of fully biodegradable products.
He said to ensure the ban is a success, the province has drafted a series of regulations and standards and has improved its supervision and law enforcement capabilities. Hainan has also developed a product certification system, which will enable law enforcement officers to know whether locally produced plastic products meet standards by scanning with a mobile app.
Currently, Hainan has seven enterprises capable of producing fully biodegradable plastic products. By the end of the year, the annual production capacity of membrane bags is expected to reach 32,000 tons, and 11,000 tons for catering items, according to the provincial industry and technology department.
Meanwhile, it said, another 42 companies from other parts of the Chinese mainland are giving support to Hainan by providing raw materials or fully biodegradable plastic products.
"Our staff are working overtime at Saigao (one of the seven companies), as orders for biodegradable plastic products have been put through to January," said Liu Yingying, deputy general manager of Hainan Saigao New Materials Company. Liu said her company has purchased new equipment, expanding monthly production from 280 tons to 500 tons.
Attracted by the preferential policies of the Hainan Free Trade Port, investors including the Chinese Academy of Sciences and Sinopec will soon invest more than 2.4 billion yuan ($365 million) in eight upstream raw material projects for biodegradable plastic products in Yangpu, Haikou and Chengmai in Hainan. The projects will help form a complete industrial chain of fully biodegradable materials and products by around 2022 to 2023, an official said on Tuesday at a teleconference on supervision and management of the ban efforts.
Mao Chaofeng, executive vice-governor of Hainan, said at the teleconference that to encourage production, the provincial government is working on a set of policies that will benefit the entire industrial chain of research, development, production and sales of biodegradable plastic products in Hainan.
Mao also called for greater efforts to ensure supply, better supervision and publication about the ban.
He said Hainan will take advantage of its free-trade policies to cultivate upstream raw material projects for biodegradable plastic products and develop globally competitive producers of such products.
Hainan, with a population of about 9.44 million, consumes 120,000 tons of single-use non-biodegradable plastic products annually, more than half of which is produced locally, according to data from the provincial environment authorities.
On the national front, in April, the National Development and Reform Commission rolled out an ambitious plan to curb plastic pollution in major cities by 2025.