Traveling with parents to land of love
Share - WeChat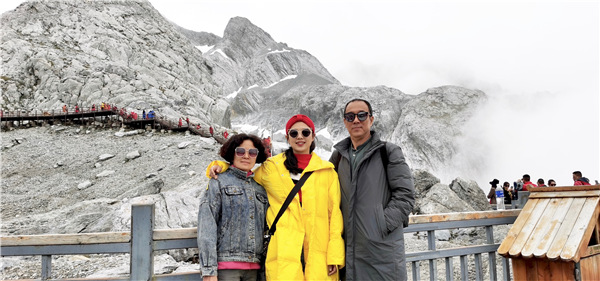 Woman's journey of the heart proves to be online success attracting enthusiastic audience on exploration of the world as well as landscape of emotions.
One tourism influencer rewrote her travel plans and itinerary amid the pandemic. Wang Fei completed a domestic tour with her parents in late August and is currently planning a second one.
The 32-year-old Beijing-based woman, from Dalian, Northeast China's Liaoning province, took her parents, in a recreational vehicle, across Southwest China's Yunnan province and the Tibet autonomous region after the pandemic was brought under control in the country.
"I had traveled around the world during my years in Beijing, and the pandemic pressed the pause key for me and allowed me to spend a good amount of time with my parents," says Wang, who quit her job at an advertising agency four years ago.
Before the pandemic, Wang had mainly focused on introducing overseas destinations to domestic travelers. She came up with the idea of "marrying herself to the world"-going so far as to wearing wedding gowns and taking photos at famous landmarks around the globe. As her popularity began to rise with her posts on social media, in 2016, she became a travel influencer.
Wang's idea was then picked up by people in the industry. Her photographer friend Xiao Mengya from Beijing joined her, and Wang also got sponsorship for her accommodation and wedding gown during her travels.
"It was one surprise after another," she says.
Wang's first visit was to the United States in 2016. "It was my most memorable experience," Wang says. "After all, I felt nervous taking pictures with a wedding gown in places filled with crowds."
Yet, her encounters with many "lovely angels" saw her concerns and worries vanish.
People applauded her idea and complimented her look at the Lincoln Memorial in Washington DC.The trip emboldened her to take photos with passers-by on her following trips, such as with a boatman in Venice, Italy, and a family, also of Asian origin, in Times Square in New York. And considering her attire, it is a little surprising that she received marriage proposals from strangers in Brisbane, Australia.