More scrutiny given over imported goods
Share - WeChat Oversight intensified over containers upon discovery of virus transmission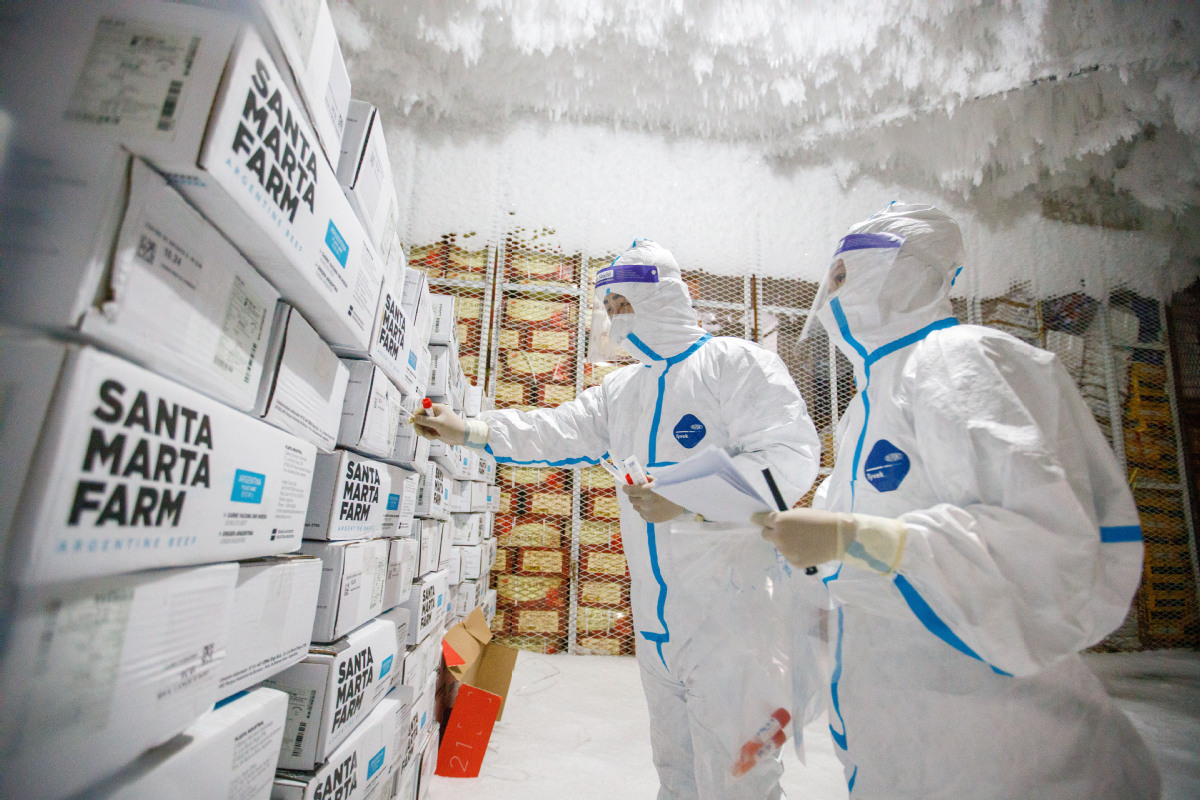 Along with imported cold-chain food, containers that carry imported goods have also been subject to stricter scrutiny in China to prevent COVID-19 outbreaks in the winter, a top epidemiologist said on Wednesday.
With the arrival of winter, the transport of goods via containers has posed similar risks of spreading the novel coronavirus as goods transported in cold chain, said Wu Zunyou, a top expert from the Chinese Center for Disease Control and Prevention.
Container transport was found to have caused recent outbreaks in Shanghai, revealing a new means of transmission of the novel coronavirus, and authorities have intensified supervision over containers involved in international trade, Wu said at a news conference.
"Intensified testing will be conducted on containers and goods and engaged workers at ports of entry to minimize risks of the importation of contaminated goods, so that any human infections can be detected at the earliest time and outbreaks can be contained as soon as possible," he said.
Imported cold-chain food has been a key focus of the government's COVID-19 control and prevention efforts since the arrival of winter after several outbreaks-including those in Beijing and Qingdao, a port city in Shandong province-that have either been suspected or confirmed to have been caused by imported cold-chain goods contaminated with the novel coronavirus.
Mi Feng, spokesman for the National Health Commission, said the risk of importing COVID-19 in China has been increasing since the arrival of winter in the northern hemisphere as the pandemic worsens overseas. The Chinese mainland reported 98 locally transmitted COVID-19 cases over the past 30 days, 7.5 times as many as the number reported in the previous 30 days, he said.
Meanwhile, more areas in China have reported imported cold-chain food that has tested positive for the coronavirus, and contaminated containers have also been identified recently, he said.
Earlier this week, health authorities in Shanghai said two confirmed COVID-19 cases that were reported in the city on Nov 9 and Anhui province on Nov 10 were infected while cleaning without wearing a mask inside a sealed container carried by an airplane from North America. It was the first report of a novel coronavirus infection being transmitted from containers to people in China.
To prevent risks, equipment involved in international trade such as containers has been subject to COVID-19 control and prevention measures equivalent to those applied to cold-chain food, according to Wu.
Mi said China will continue to step up efforts to prevent importation of the virus focusing on both inbound travelers and goods, including applying preventive sterilization on cold-chain food.
Over the past half month, customs officers have applied sterilization to more than 1.6 million packages of imported cold-chain food and other goods such as various containers, said Bi Kexin, head of import and export food safety at the General Administration of Customs.