Female power leads consumption growth, boosts economy
Share - WeChat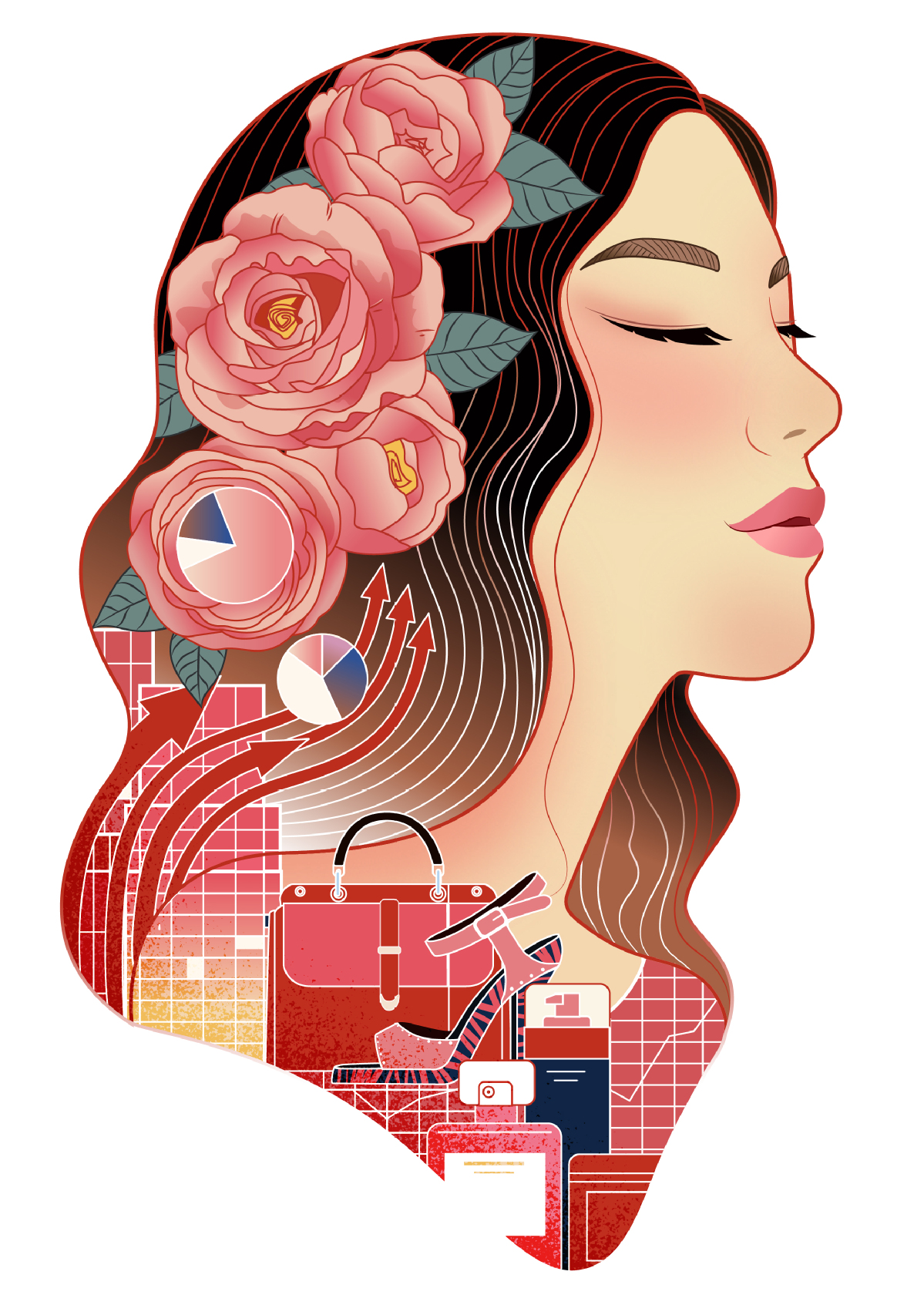 According to the World Bank, among the world's top 20 economies, China has one of the highest female labor participation rates for women aged over 15, at 60 percent. Comparable ratios are 56 percent for the US, 55 percent for Germany, 53 percent for Japan, and only 21 percent for India.
Better education, rising disposable income and aspirations for "good life" are making women, particularly those in the 20-40 age group, popularly known as xiao jie jie (little sisters), a major force driving consumption in China.
Women boost duty-free sales
One primary beneficiary of xiao jie jie's increased spending power is China's duty-free shop operators. For shoppers, the major appeal is large discounts to regular local retailers. Exempt from import tariffs, consumption tax and value-added tax, the duty-free stores offer lower prices than downtown shopping centers.
Last year, China's duty-free sales totaled 53 billion yuan ($8.08 billion), with perfumes and cosmetics accounting for 60-65 percent of the total. And although international passenger traffic at Beijing and Shanghai airports rose by only 4 percent year-on-year in 2019, duty-free sales logged a 20 percent-plus year-on-year increase.
In late June this year, to boost domestic consumption, the Chinese government introduced a new offshore duty-free policy for Hainan province. Following this policy, Hainan's duty-free store sales jumped 240 percent year-on-year, to 2.5 billion yuan, in July. In particular, per-customer spending rose 82 percent year-on-year.
But the market still underestimates the growth potential associated with the Hainan duty-free sales. For example, UBS forecast Hainan duty-free sales to reach 32.5 billion yuan in 2020(rising 138 percent year-on-year) and 100.7 billion yuan in 2025, corresponding to a 2020-25 compound annual growth rate of 25 percent.
Better penetration of domestic beauty brands
The COVID-19 outbreak has created a deep-V in China's cosmetics sales year-to-date. Industry sales in February-March shrank owing to stalled deliveries, social distancing measures, lockdowns and consumers staying at home. As restrictions eased, sales in April rose 4 percent year-on-year, followed by 13 percent/21 percent sales growth year-on-year in May/June.
Structurally, Chinese women's rising education levels, incomes and sense of self-worth could continue to raise their spending on cosmetics. Channel-wise, cosmetics sales posted significant gains in online penetration, especially for middle-aged and elderly consumers and in higher-tier cities.
China's domestic brands are well-positioned to perform better than the whole sector average, owing to sufficient funding, improved research and development capabilities and new products catering to domestic demand.
Xiao jie jie, particularly students, are more inclined to buy domestic products including domestic brands. A UBS Evidence Lab survey in April 2020 found that among female respondents aged 18-24 in China, 86 percent use domestic brands, more than the share of those using Republic of Korea (52 percent), Japanese (39 percent) and global brands (76 percent).
The rise of Chinese-style makeup, namely those that use elements from traditional Chinese culture, has taken off in recent months.
Besides, the xiao jie jie are also key to fuelling home appliance sales in China, as they are typically the main users of these products at home. Year-to-date, small appliances, including toasters, yogurt-making machines, juicers and health products (including air cleaners and water purifiers), have registered faster sales growth year-on-year than larger home appliances in China, thanks partly by the COVID-19 outbreak. Since xiao jie jie spent more time at home, they found novel ways to improve the quality of life in the home environment.
UBS is optimistic about Chinese vacuum cleaner makers' prospects, as sales of vacuum cleaners grew at a compound annual growth rate of 27 percent in the 2015-19 period. But despite such a considerable increase, penetration is still low, at just 12 vacuum cleaners per 100 households in China, far behind that of the United States (150), Japan (95) and the ROK(90).
Female-centric mobile games
Also, in recent years, mobile game makers have been trying to penetrate the women's market. Overall growth in mobile gaming has been moderate, but the growth of women-oriented mobile games has been significantly higher than the sector average, according to Sensor Tower.
In the first quarter of 2020, the number of female players grew 17 percent quarter-on-quarter compared with the 3 percent overall growth for the mobile gaming industry. The number of new female players accounted for 55 percent of the total new players in the first quarter. And revenue from female players increased 50 percent quarter-on-quarter in the first quarter compared with a 30 percent rise for the overall industry.
In comparison to male players who typically value game achievements and results, we believe female players have higher game "stickiness", higher demands on quality and game immersion, and are willing to pay for content with longer game cycles. And although female players' per capita spending on mobile games was only one-third of male players in the first quarter, with the rise in women's disposable incomes and the advances in the quality of mobile games, we expect women's ability and willingness to pay for mobile games to enhance.
Mums make the call in after-school tutoring
As for the education sector, mothers are typically the key decision-makers in children's education, including after school tutoring. Online education received large traffic inflows amid the pandemic in the first half of this year, and we believe monetizing such traffic is online education companies' priority.
In the long term, online education is the field with the highest potential for structural growth in after-school tutoring in China. Online education helps solve the problem of uneven educational resources for students and teachers in different cities, and helps solve the problem of uneven educational resources for students and teachers in different cities.
COVID-19 has had a huge negative impact on offline after-school tutoring. But we believe the worst is behind us, as offline after-school lessons have resumed in 90 percent of China's cities, according to our channel survey. As such, we expect the profitability of offline tutoring to recover gradually.
The author is head of China Strategy at UBS Investment Bank.
The views don't necessarily reflect those of China Daily.
If you have a specific expertise and would like to contribute to China Daily, please contact us at opinion@chinadaily.com.cn, and comment@chinadaily.com.cn.
Most Viewed in 24 Hours
China Views