HK CE unveils plans to revive economy in policy address
Share - WeChat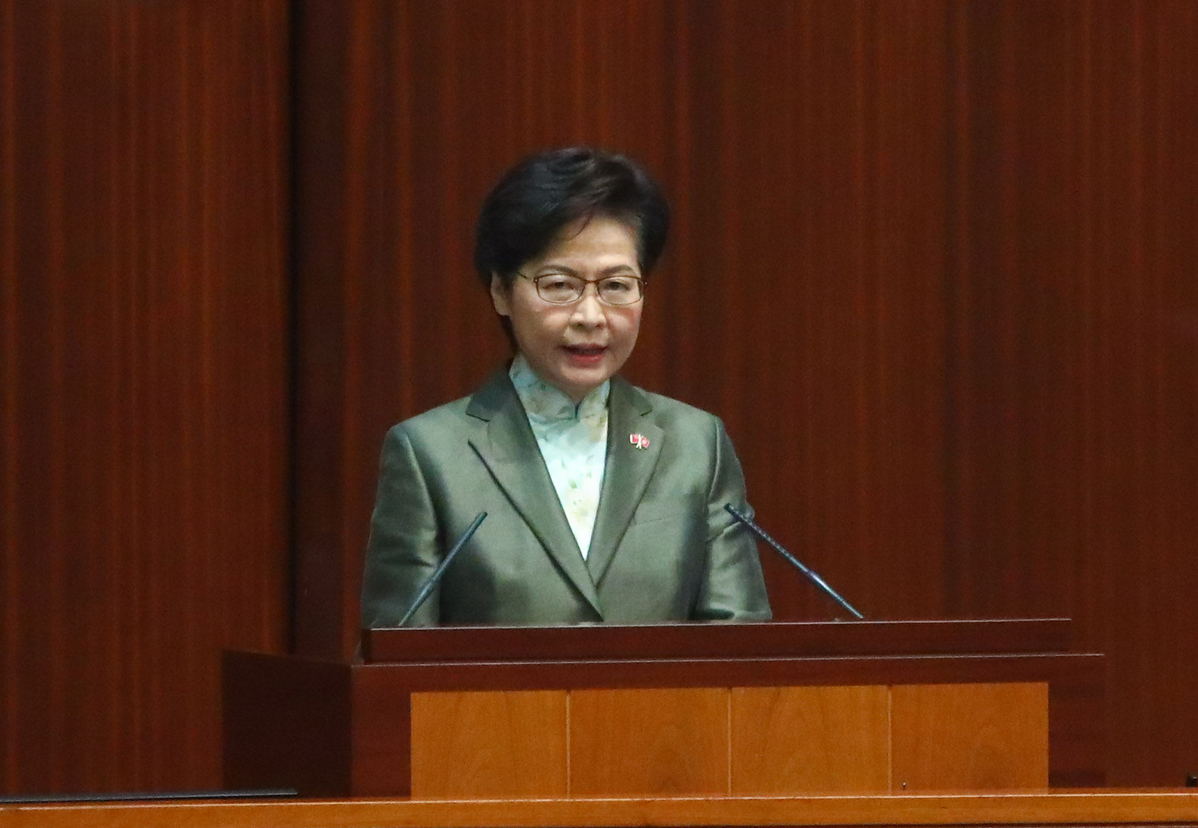 HONG KONG - Hong Kong's Chief Executive Carrie Lam Cheng Yuet-ngor started her widely awaited fourth Policy Address Wednesday with a pledge to uphold "one country, two systems" and with a promise to revive the special administrative region's economy battered by social unrest and the COVID-19 pandemic.
In opening her address at Hong Kong's Legislative Council, Lam stressed the SAR's economic integration with the Chinese mainland as the focal point of her blueprint. She cited the central government's strong policy support in maintaining lasting prosperity and stability in Hong Kong.
Lam cited Chapter 4 of the Basic Law to emphasize her laid out role and that there is no conflict between a committed executive and an independent judiciary. She said external forces had so grossly interfered with Hong Kong affairs that the central government had to step in to guarantee Hong Kong residents' rights and freedoms in accordance with the Basic Law.
Lam said the Law of the People's Republic of China on Safeguarding National Security in the Hong Kong Special Administrative Region and the Standing Committee of the National People's Congress's (NPCSC) decision on the qualification of LegCo members had absolute legal basis and the CE repeatedly stressed the rule of law in Hong Kong.
Lam said it was her government's urgent priority to restore constitutional order in Hong Kong and pull its political system out of "chaos". She said a bill will be introduced soon to enhance oath-taking measures.
Striving for 'zero infection'
Lam said her government may consider implementing a large-scale universal community testing for COVID-19 arrangement again in a bid to achieve the target of "zero infection". "The year 2020 has presented mankind with an unprecedented public health crisis," Lam said, urging people not to lower their guards. She said the central government supported the gradual resumption of travel between Hong Kong and Guangdong without the need for compulsory quarantine in an orderly manner through mutual recognition of health codes.
Economy
Lam said she expected the SAR's economy to contract by 6.1 percent in 2020 and pledged support for entrepreneurs to explore more market opportunities beyond Hong Kong. She cited the central government's 12th and 14th five-year plans to point out central officials' vision for Hong Kong and said the SAR had a lot to benefit from the "dual circulation" model that placed a huge premium on the national domestic market.
She said her government will work to integrate proactively into national development, "striving to resolve the two major bottlenecks of land and talents, and investing substantially in I&T industries". She said Hong Kong could become a "participant" in domestic circulation and a "facilitator" in international circulation.