Pragmatism can help Australia improve relations with China
Share - WeChat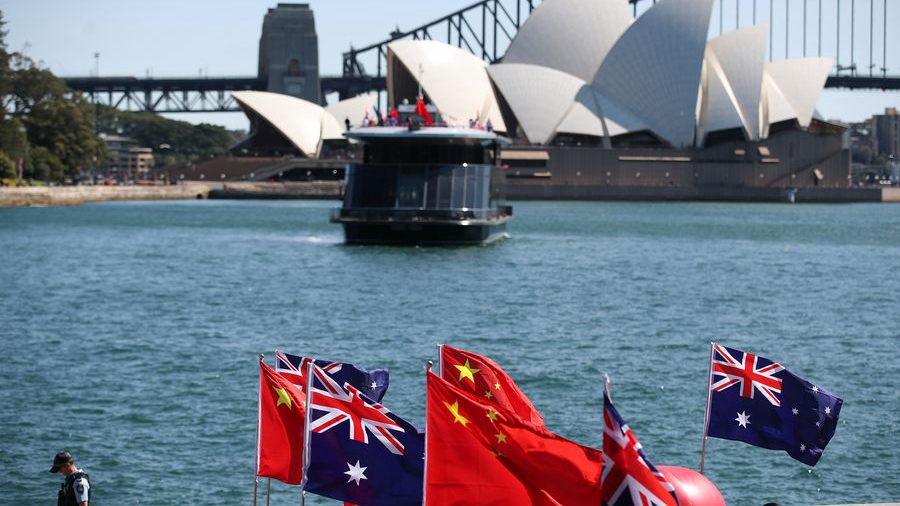 Sino-Australian relations started deteriorating after Canberra jumped on the Washington bandwagon and leveled baseless accusations against Beijing including that China initially mishandled the outbreak of the novel coronavirus pandemic, which allowed it to spread to the rest of the world. Bilateral relations further soured after Australia imposed strict screening measures on Chinese products, leaving China no choice but to launch four anti-dumping and anti-subsidy investigations against Australian goods.
Australia's moves against China include unfairly blocking Chinese investment, spreading "disinformation" about China's response to the outbreak at home, falsely accusing China of hacking into other countries' computers-and engaging in wanton interference in China's Taiwan, Xinjiang Uygur autonomous region and Hong Kong Special Administrative Region.
Yet bilateral ties could now improve, as both China and Australia recently signed the Regional Comprehensive Economic Partnership agreement, the world's largest regional trade block. If China and Australia realize that trade relations-the cornerstone of Sino-Australian relations and is facing severe challenges on multiple fronts-needs to be improved through win-win cooperation for the betterment of both sides, overall bilateral ties can improve.
In order to boost its economy, Australia has to maintain good trade ties with both developed and developing countries because its industrial structure is a mixture of traditional and modern industries, primary products, processing and manufacturing. In fact, Australia has been able to maintain a healthy growth rate because of its stable and balanced trade ties with both developed and developing countries since the 1970s.
Given China's advantages in the intermediate industry of processing and manufacturing and Australia's advantages in downstream and upstream industries, their economies are complementary, particularly in the energy sector. Last year, for instance, minerals (worth $71.39 billion) made up 68.7 percent of Australia's exports to China. And China is Australia's largest trading partner, export destination and source of imports.
However, their bilateral investment is relatively small. Australia's investment on the Chinese mainland accounts for only 2.9 percent of its total outward investment. As for China, despite being Australia's ninth-largest foreign investor, its investment in Australia accounts for only 2 percent of the country's total inward investment.
A report by KPMG and the University of Sydney in June showed that Chinese investment in Australia fell to its lowest in a decade in 2019, down 58 percent from 2018 because of the deterioration in diplomatic ties and Australia's stricter foreign investment screening rules. The pandemic, too, is responsible for the decline in Australia's exports to China and a sharp drop in Chinese tourists and students to Australia.
The China-US trade war, China's ongoing industrial transformation and the pandemic-induced lockdowns and strict anti-pandemic measures have created complicated challenges for energy trade, which is an important part of overall Sino-Australian trade.
China's coal and iron ore imports from Australia could decline further because the Chinese government has deepened "supply-side reform" including developing new energy and a low-carbon economy, as well as decided to diversify its energy imports. As such, Chinese enterprises have increased coal imports from Vietnam, Indonesia, Mongolia, Russia and other countries to build a supply structure that will put equal emphasis on domestic energy development and global energy procurement. And although China's iron ore imports are mostly from Australia and Brazil, since early 2020, iron ore imports only from Brazil and Indonesia have increased.
It is important for a country to diversify and improve global procurement, and strike a balance between domestic demand and international supply. China is making such adjustments to re-balance the energy resource trade with Australia, consolidate its position in global trade and have a greater say in the global resource trade system.
China and India are expected to be the world's strongest engines of growth in 2040, while China is likely to remain the world's largest energy consumer until 2040. And Australia is considering expanding trade and other ties with India to reduce its reliance on China in foreign trade, which is understandable, but if it tries to abandon the Chinese market for political goals, it will end up compromising its long-term interests.
Trade in energy resources, the pillar of Sino-Australian trade, has been relatively stable, unlike education and tourism which have been affected by multiple factors, especially the pandemic.
Despite all this, China attaches great importance to its ties with Australia, especially in energy trade. And by severing ties with a major consumer and trade partner, Australia will only hurt its economy.
It is therefore important that Beijing and Canberra, apart from boosting their trade ties, take measures to reduce their trust deficit. And to achieve that, Australia should stop following a utilitarian policy of trying to balance its close economic ties with China while helping the United States to promote its aggressive strategic and security policies in East Asia. Instead, Canberra should take measures to boost Sino-Australian trade ties and deepen win-win cooperation.
The author is the executive deputy director of the Center for Australian Studies, China University of Mining and Technology. The views don't necessarily represent those of China Daily.
If you have a specific expertise and would like to contribute to China Daily, please contact us at opinion@chinadaily.com.cn, and comment@chinadaily.com.cn.
Most Viewed in 24 Hours
China Views