55-seat bus set ablaze in Monrovia
Share - WeChat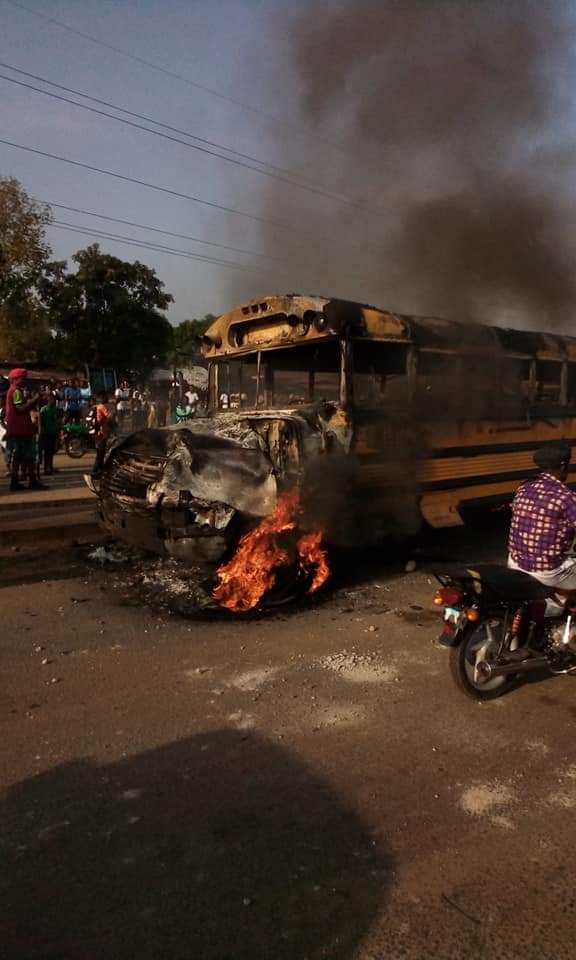 Angry motorcyclists in Monrovia, Liberia's capital, have set ablaze a 55-seat bus, after it had killed a motorcyclist due to what police say was "brake failure".
The incident took place after 7 am, on Nov 23, during the usual rush hour traffic jam in the city suburbs of Barnesville.
An eyewitness explained that the motorcyclist was killed instantly by the bus, popularly known as "Killer Bean", at the crossing intersection of Barnesville Junction on the newly constructed Japan's Freeway.
The deceased motorcyclist, still yet to be identified, had stopped to allow a pedestrian crossing when the speeding bus ran into him, resulting in his death.
Motorcyclists who took the route to Monrovia were filled with emotions after seeing what had happened, and attempted to avenge the death of their colleague by throwing stones and subsequently setting the bus ablaze.
John Saah, police chief of traffic, said the incident is being investigated. "It is a traffic accident involving a commuter bus and a motorcyclist who is now deceased; we are still gathering all necessary facts at the moment," Saah said.
Mob justice remains one of the challenges to the country's justice system. It is not the first time for a bus to be set ablaze; in October 2019, at the "Battery Factor" junction, a bus was set on fire after it had killed another motorcyclist.