President urges efforts in achieving sustainable development
Share - WeChat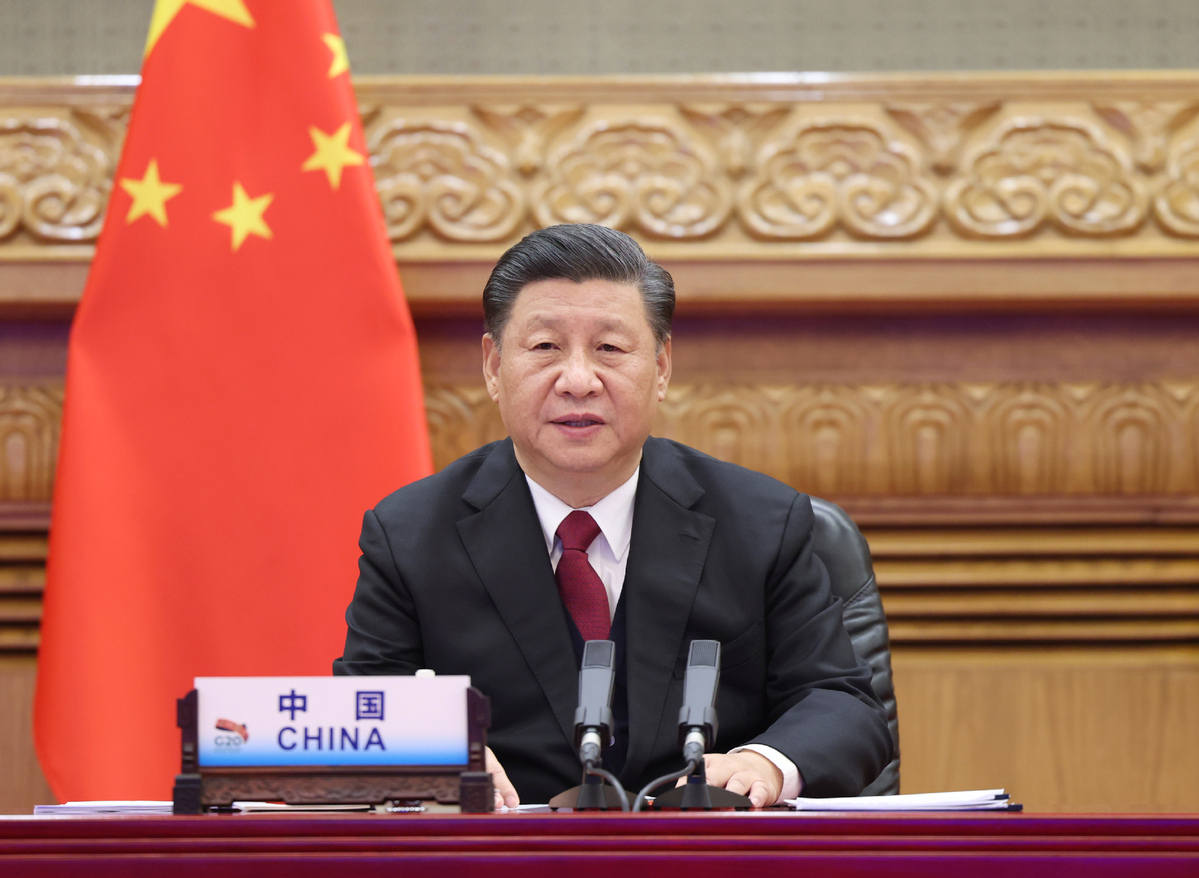 President Xi Jinping has underlined the necessity of taking substantial measures in the face of the COVID-19 pandemic in order to continuously push forward global poverty alleviation efforts and build an inclusive, sustainable and resilient future.
He made the remarks on Sunday as he attended the second session of the G20 Riyadh Summit via video link from Beijing.
Noting that the vision of prioritizing development should be upheld, Xi called for efforts to strengthen cooperation on development and narrow the North-South gap in implementing the United Nations 2030 Agenda for Sustainable Development.
In order to tackle poverty caused by COVID-19, targeted measures and policies must be adopted, he said, stressing efforts to alleviate the debt burden of developing countries as well as providing necessary financial support for them to boost infrastructure construction and connectivity.
The president also urged the creation of a favorable international economic environment by lowering tariff and non-tariff barriers. Trade should play a role in reducing poverty and facilitating economic growth and help developing countries better integrate into the global market, he added.
In a declaration released on Sunday at the conclusion of the two-day G20 Riyadh Summit, the G20 leaders highlighted their conviction that coordinated global action, solidarity and multilateral cooperation are more necessary today than ever to overcome current challenges.
"The COVID-19 pandemic and its unprecedented impact ... is an unparalleled shock that has ... underscored our common challenges," the declaration said, noting the urgent need to bring the spread of the virus under control, which is key to supporting global economic recovery.
The leaders said that they will be committed to implementing the Debt Service Suspension Initiative including its extension through June 2021, allowing DSSI-eligible countries to suspend official bilateral debt service payments.
As of Nov 13, a total of 46 countries have requested to benefit from the DSSI, amounting to an estimated $5.7 billion of 2020 debt service deferral, according to the declaration.
Regarding the digital economy, the leaders acknowledged that connectivity, digital technologies and policies have played a key role in strengthening the response to the pandemic and facilitating the continuation of economic activity.
They also vowed to advance pandemic preparedness, prevention, detection and response, support the multilateral trading system and accelerate efforts to end poverty and tackle inequalities.