Common language solves math problem
Share - WeChat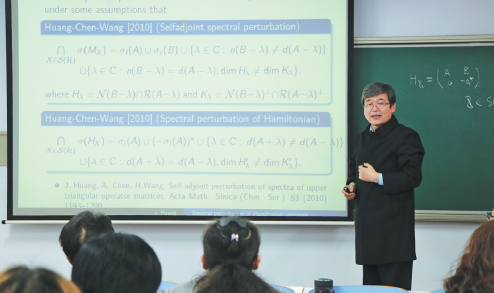 Mongolian academic who rose from humble beginnings promotes benefits of learning Mandarin and other tongues
Studying mathematics-unlike subjects such as physics and chemistry-doesn't require expensive research facilities or large amounts of money, which is why Altantsan chose it as his academic field when he was a young man.
Born into a poor farming family in the Inner Mongolia autonomous region, Altantsan had a harsh upbringing. With eight siblings, he was forced to do farm work during the winter, wore threadbare clothes, and the family sometimes had to borrow food from neighbors. "Despite all the difficulties, our parents insisted on offering all their children an education, and I told myself I had to change my life," he said.
When Altantsan entered middle school, his older brother was the math teacher and he encouraged his younger sibling's interest in the subject.
In 1981, he scored the highest in gaokao, the national college entrance exam, among Mongolian-speaking students in the Hinggan League and later enrolled at Inner Mongolia University, where he eventually obtained a master's degree in mathematics.
Altantsan went on to gain a doctorate from Dalian University of Technology in Liaoning province for his work on infinite dimensional Hamiltonian systems, a theory that can explain the laws of planetary motion using mathematics, a major innovation in the application of math in natural science.
He was also one of three visiting Chinese math scholars sponsored by the government to study overseas and conducted research work at University of Cambridge in the United Kingdom from 2004-05.
Now age 57, Altantsan juggles multiple roles as a doctoral supervisor, national political adviser and principal of Inner Mongolia Normal University.
Every Friday afternoon during the school semester, Altantsan hosts a symposium on campus about Hamiltonian systems. The weekly seminar, which has been going for 25 years, is open to young math teachers, postgraduate students and doctorate holders.
The research of Altantsan's team has been published in academic journals in more than 10 countries, including the UK and the United States. He also leads six projects sponsored by the National Natural Science Foundation of China.