LIBERATED with the help of LIPSTICK AND MASCARA
Share - WeChat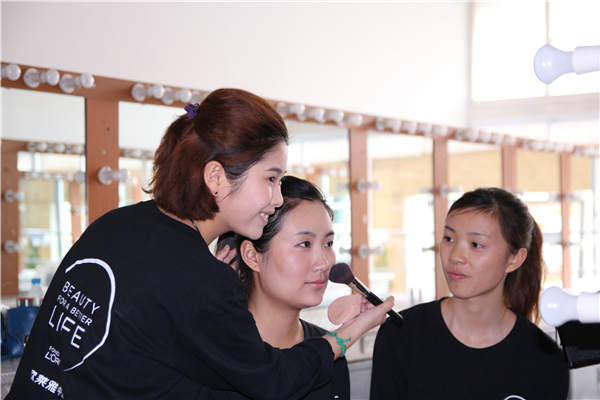 A vocational training program is giving rural women financial independence and a lot more.
A program that trains rural women in beauty care is helping to untie them from domestic chores, to improve their social lives, build their confidence and give them more financial independence.
Five years ago the job options that lay before Liu Yang, then 25, of a small village in Qianxi county, Tangshan city, Hebei, were meager indeed: selling clothes or serving food in a restaurant.
Then, in April 2015, a two-month training project was set up in Qianxi for women with no income so they could learn makeup, skincare and hairstyle design skills. The training was offered free of charge, and organizers were flooded with applications, so they had to whittle down the list to 40, the oldest of whom were 48 years old, Liu says.
When Liu applied to do the course she was staying at home taking care of her two-month-old child.
"I thought it would be great to learn how to make myself more beautiful," she says.
Liu turned out to be one of the most diligent students, growing a passion for what she had learned, and decided to set up a beauty salon in Qianxi several months after completing the course. Before long she was in charge of a thriving business whose services included making up brides, performers and others.
Each of about 30 staff working for her, many of whom had trained with her, takes part in about 100 weddings a year. The salon was turning a profit within two years, and now the annual income is about 200,000 yuan ($29,900), Liu says. It has branched out into other areas, too, such as renting out wedding dresses.
Liu says she now works an average of seven days a week, eight hours a day.
"Many friends said I have totally changed in appearance and disposition."Liu' s husband, a factory worker, used to be the bread winner of the family, earning 3,000 yuan a month. Liu now brings in between 7,000 and 8,000 yuan a month, so they have more money for their parents and child. Her plan is to expand the business out of the county.