Xi's speech at BRICS Summit welcomed
Share - WeChat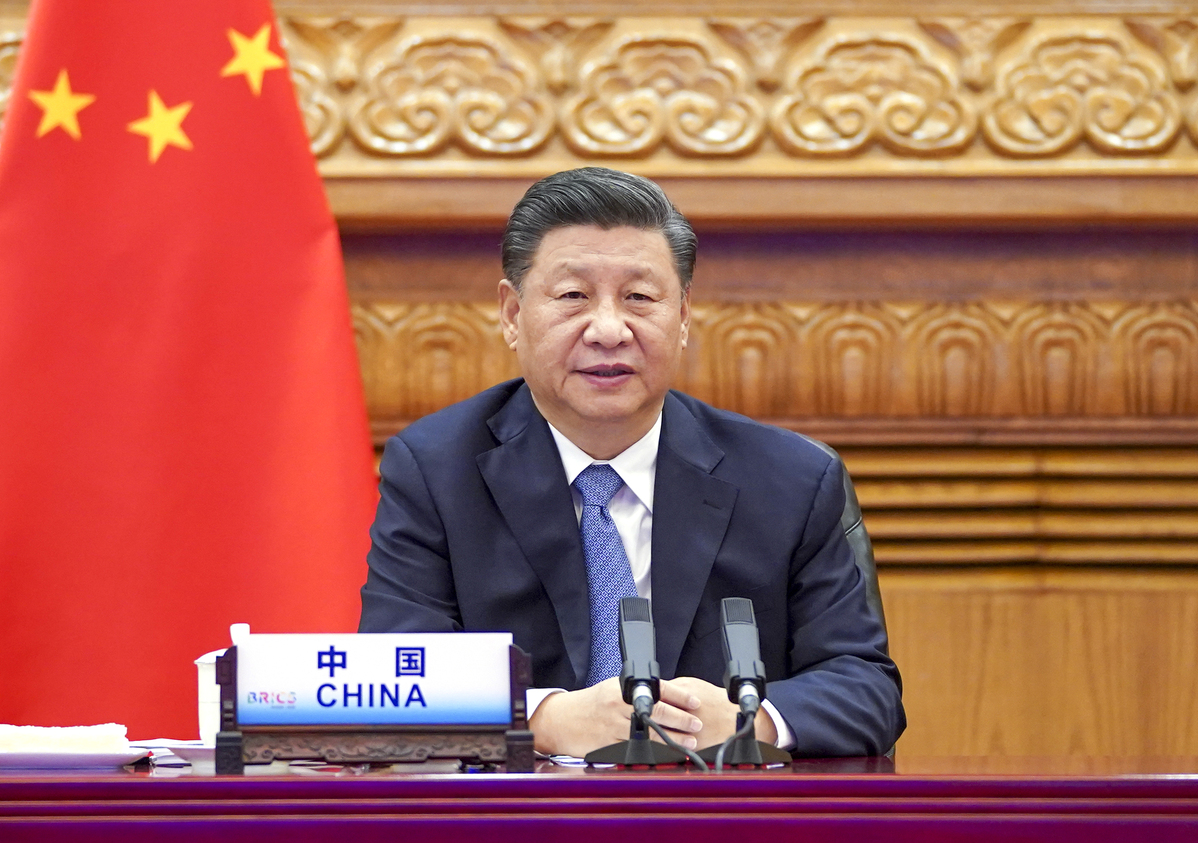 President boosts spirit of multilateralism, anti-pandemic collaboration, experts say
President Xi Jinping's remarks at the 12th BRICS Summit boosted the principle of multilateralism, enhanced global anti-pandemic cooperation, and helped safeguard peace and stability across the world, international experts said.
Addressing the summit of the five major emerging economies-Brazil, Russia, India, China, and South Africa-on Tuesday in Beijing via video link, Xi said "history teaches us that multilateralism, equity, and justice can keep war and conflict at bay, while unilateralism and power politics will inflate dispute and confrontation".
He called on BRICS countries to uphold multilateralism and work in solidarity to overcome global challenges, including the COVID-19 pandemic and a virus-hit world economy.
Tim Harcourt, J. W. Nevile Fellow in Economics at the University of New South Wales Business School, said Xi's remarks about "upholding multilateralism" were worth noting.
The recent signing of the Regional Comprehensive Economic Partnership, or RCEP, trade agreement of which China is a member "gives us some hope for open regionalism and multilateralism", he said.
Oleg Timofeev, associate professor at the Peoples' Friendship University of Russia, said Xi's speech shows China has been actively participating in global cooperation against the pandemic, sharing experiences with other countries, and providing medical support.
Timofeev expected BRICS countries will make more plans in multilateral cooperation in many sectors.
Egyptian columnist and writer Kamal Gaballa said China seeks to maintain international peace and security while refraining from interfering in the internal affairs of other countries.
By pursuing and implementing these concepts as well as seeking the establishment of international partnerships, China gained the respect of the world, especially that of developing countries, said Gaballa, who wrote a book about China titled 70 Years of Miracles.
Fighting COVID-19
Amid the pandemic, China has made its utmost effort to tackle the coronavirus, shared its experience with other countries and assisted them, mainly poor ones, in fighting the virus, he said.
He hailed Xi's remarks that China is willing to work with other BRICS countries to accelerate building a BRICS partnership in the new industrial revolution.
"China has pumped capital in the developing and Arab countries and has opened its markets for the products of these countries," Gaballa said, adding the Belt and Road Initiative signals the seriousness of China for cooperation in trade, industry and investment.
Commenting on Xi's remarks on adhering to green, low-carbon development, the Egyptian writer said that reducing carbon rates is an international need and China has taken a pioneering stance in tackling pollution and emissions.
Bilal Ahmad Butt, consul general of Pakistan in Hong Kong, said Xi is "absolutely right that we all will have to come together to find a solution to the global problems".
"The global problems have global solutions and no individual country is in a position to fight this kind of pandemic alone, so we all have to work together," he said.
Rajiv Biswas, Asia Pacific chief economist at global consultancy IHS Markit, said Xi had delivered a speech in which the future of BRICS was well laid out.
The BRICS economic cooperation agenda has broadened significantly in recent years.
Beyond the joint economic cooperation initiatives among the BRICS countries, they have also engaged with other developing countries to provide global leadership for the wider grouping of developing countries.
"It is to be hoped that the long-term economic development vision and commitment to multilateral cooperation under the umbrella of the BRICS Summit will prevail among the BRICS member nations," he said.
Ren Qi in Moscow, Chen Yingqun in Beijing and Xinhua contributed to this story.