Vaccines could be ready next month
Share - WeChat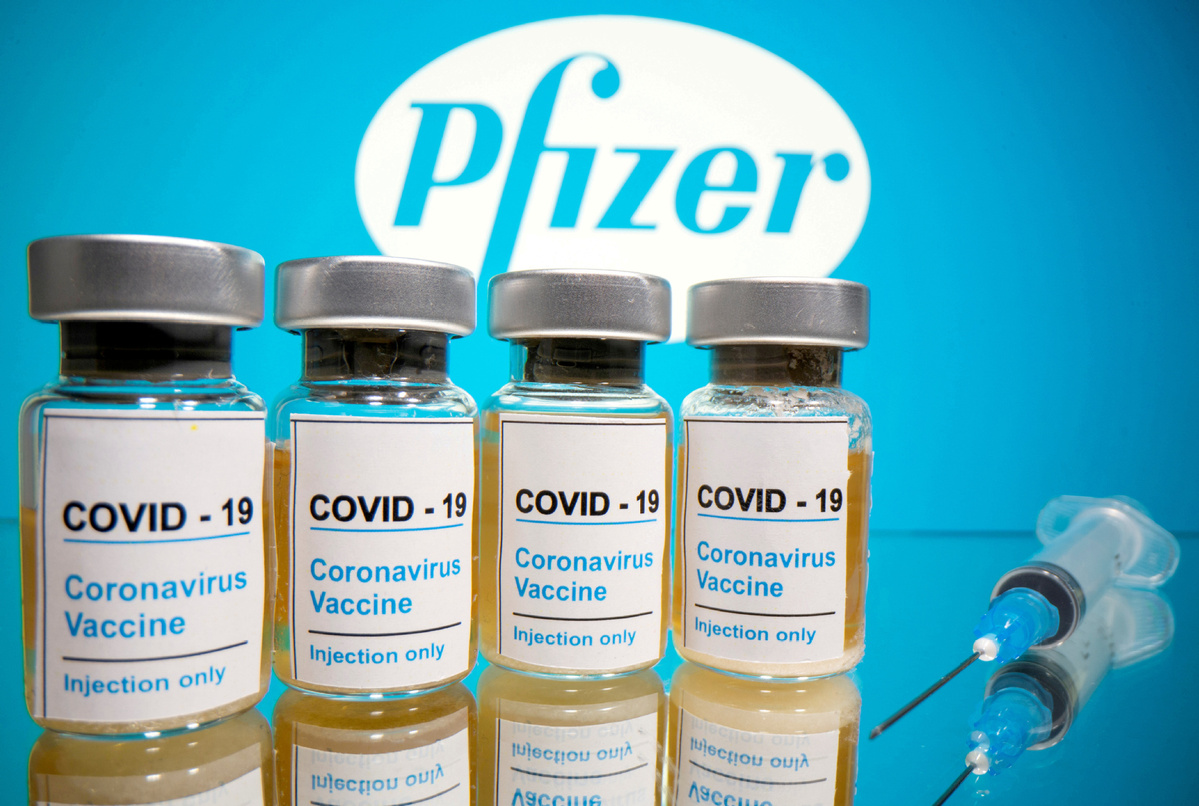 Pfizer and BioNTech may start delivering their COVID-19 vaccines next month, a company official said, capping off an encouraging week in which multiple vaccine developers posted positive trial results.
Final Phase 3 data for the so-called Pfizer vaccine suggests that the treatment is 95 percent effective at preventing infection and produces no serious side effects. The pharmaceutical companies behind the vaccine - United States-based Pfizer and Germany's BioNTech - are set to share their results with global drug regulators within days.
"If all goes well I could imagine that we gain approval in the second half of December and start deliveries before Christmas," BioNTech chief executive Ugur Sahin told Reuters.
Three other vaccine developers published positive trial findings this week. On Monday, Massachusetts-based Moderna said its vaccine displayed 94.5 percent efficacy in Phase 3 study. On Tuesday, Chinese pharmaceutical company Sinovac Biotech said its vaccine produced a strong immune response in Phase 1 and Phase 2 testing.
On Thursday, Oxford University and AstraZeneca said their inoculation provoked a robust immune reaction in Phase 2 testing. Results from large-scale Phase 3 testing of the Sinovac and Oxford vaccines are forthcoming.
Last month, the Gamaleya National Center of Epidemiology and Microbiology in Moscow said that interim Phase 3 results for the socalled Sputnik V vaccine suggested 92 percent efficacy.
"This is a remarkable and very reassuring situation that we find ourselves in," said Trudie Lang, director of the Global Health Network at the University of Oxford. "To go from identifying a new virus to having several vaccines at the point of applying for regulatory approval is an incredible milestone for science."
United Kingdom Health Secretary Matt Hancock said on Twitter that the results from Oxford were "really encouraging" and said developments from Pfizer offered "another positive development". Hancock said that UK drug regulators are poised to assess data on the latter treatment.
Pfizer said that "no serious safety concerns" were observed across 43,000 participants enrolled in its Phase 3 trial, which concluded this week.
"The study results mark an important step in this historic eight-month journey to bring forward a vaccine capable of helping to end this devastating pandemic," Pfizer chairman Albert Bourla said.
Crucially, the vaccine also showed high efficacy (94 percent) among people aged 65 or older, the age range in which severe novel coronavirus infection is most common. It is too early to tell how long the vaccine provides protection against the virus.
The Pfizer vaccine, which requires two doses, was well tolerated across trial participants, according to a joint statement from the companies. The only severe adverse effects greater than or equal to 2 percent in frequency after the first or second dose was fatigue at 3.8 percent and headache at 2 percent following dose two.
Stephen Evans, a professor of pharmacoepidemiology at the London School of Hygiene and Tropical Medicine, who was not involved in the trial, welcomed the news, though cautioned that regulators will need time to dig into the data before hailing ultimate success.
"This announcement in a press release is very good news indeed," Evans said. "If the data are also submitted to the European Medicines Agency (as well as the US Food and Drug Administration), then we can expect both agencies to conduct a very careful evaluation and we can rely on their conclusions."