The compass of destiny
Share - WeChat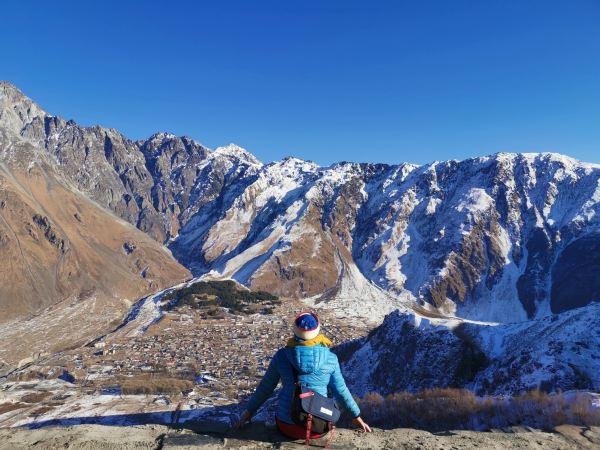 An inspiring adventure, an enchanting destination, faraway mountains beckoning. The attraction is magnetic; it is the call of the open road. Ambitious Chinese travelers every year answer this call and ride along the national highway to the Tibet autonomous region.
Among them, it's easy to notice Liao Zhuqin. Her motorcycle is quickly spotted in Tibet's mountainous areas. You see, it has a large iron cage covered by a raincoat on the back to protect her travel companion, a 5-month-old dog Xiaobei.
The 43-year-old often smiles, and her tanned skin - caused by the unfiltered sunlight on the plateau - fools many into thinking she's a local.
In mid-August, Liao left her hometown Guangzhou, Guangdong province, to embark on a journey along the border of China. So far, she has traveled for over 12,000 kilometers on her motorcycle.
Last month, due to the encroaching coldness of the Tibetan winter, she decided to stay in Lhasa until spring, when she will set out again to continue her ambitious journey.
"When I was a teenager, I had a dream of wandering from place to place. I'm glad that I can now live a life free from constraint, as I have always wanted to," says Liao, who, in 2018, following a divorce and her only daughter leaving to go to college, quit her job at a photography studio and became a backpacker.
"As long as you have the courage to take the first step, nothing can stop you from seeing the world," Liao says. "You can do it any way you like, be it cycling, hiking or driving."
Her daughter, Wu Yutong, 22, a senior college student from Guangzhou, regards her mother as a role model. "I'm worried about my mother but I support her as she realizes her dream," says Wu. "I admire her amazing willpower and courage. When I face difficulties in life, I encourage myself to overcome them using my mother as an example."
Liao says that she travels on a budget, and to help make ends meet, she purchases Tibetan specialties on behalf of others.
"I like being a backpacker and I can endure hardship," Liao says.
Liao has traveled to Armenia, Georgia, India, Nepal, Pakistan and Turkey in the last two years, and planned to visit Africa this year, but the sudden outbreak of the COVID-19 pandemic forced her to change her plans. So, she started her motorcycle trip in China.
"I figured it will be a lonely journey, so the idea of traveling with a puppy suddenly struck me. I adopted Xiaobei from a friend when he was only 1-month-old," Liao says.
After a month of learning how to ride a motorcycle, she started her journey with Xiaobei and toured the Guangxi Zhuang autonomous region and Yunnan province.
It's difficult to maintain balance with a dog cage on the back, especially when there's a gale blowing on a zigzagging road. She later had to have the cage adapted to make it lighter, more secure and better to travel with.
Finding accommodation on the road can pose problems as it's not always easy to find a pet-friendly hotel.
She often sets up a camp, choosing a location, say, by a lake, to pitch her tent and she has a set of simple cooking utensils to prepare food.
"Sometimes I felt exhausted at the end of the day, but had no place to sleep. I asked many hotels but they rejected me because of my dog."
Of course, it has crossed her mind. It's only natural - finding a good home for the dog and the problem is solved. Quite a few people she has met have asked whether they could adopt Xiaobei.
She even talked with a young man about whether he could be the pet's new owner, but, before she could utter any words, she suddenly burst into tears and abandoned the idea.
"I realize it's my responsibility to raise Xiaobei. As time passes, I find it hard to part from Xiaobei and I treat him as my son," Liao says with a genuine smile.
When they stroll along during a visit to some scenic spot or another, Xiaobei will run and bark. When she calls his name, he returns to her with a wagging tail.
"He's a good dog. I often talk with him and feel a sense of security," she says.