Trading in antiques to get reform overhaul
Share - WeChat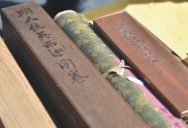 A new pact signed by the State Administration of Cultural Heritage and Shanghai municipality on Nov 10 kicked off a three-year reform trial on the administration of the exhibition, trade and appraisal of antiques.
The pact will enable Shanghai to be the first city in China to launch a series of new policies, practices and administration models to encourage the effective protection of collectible antiques and cultural relics, says Chen Tong, vice-mayor of Shanghai.
One of the new practices will enable foreign auction companies to sell artworks created before 1949 by foreign artists who died after 1949. According to Christie's, a leading auction house from Britain that has been operating in the Chinese mainland since 2013, this new policy will allow the company to bring to the Chinese market important artworks by renowned artists such as Pablo Picasso, Marc Chagall and Salvador Dali.
The new policy will also see the bonded art warehouse at Shanghai's Free Trade Zone remove the existing six-month legal window for imported artworks and antiques. This will help artworks, especially Chinese antiques from overseas, find their way back to China and be procured by Chinese collectors, according to Hu Huanzhong, president of the Shanghai Free Trade Zone International Culture investment Development Corp.
In October, the Ministry of Finance, the General Administration of Customs and the State Administration of Taxation issued a joint statement announcing that each exhibitor at this year's China International Import Expo could bring five pieces of cultural relics without having to pay taxes. Five ancient Chinese paintings owned by a Japanese collector were brought in by a Hong Kong-based trading firm.
"We will make full use of this important policy and encourage objects that have enjoyed the tax exemption to be displayed to the public at State-owned institutions for at least three years," says Chen.
According to Guan Qiang, deputy director of the State Administration of Cultural Heritage, the administration will consider setting up a national expo of antiques and artworks in Shanghai and introduce to the city one or more internationally recognized expos in this field. Shanghai will also begin to establish a new qualification system for professional antique connoisseurs and provide antique appraisal services to the public.
With its 52 antique shops, 75 registered auction companies and 11 marketplaces for the trading of antiques and relics, Shanghai is one of the largest trading centers of antiques and cultural relics in China.
In 2019, Shanghai hosted 171 auction events for antiques and artworks that raked in more than 5 billion yuan ($757.5 million) in sales.
According to a report released by the China Auctioneers' Association at the Shanghai Dialogue on Nov 9, 422 art pieces were auctioned off for more than 10 million yuan each while 15 Chinese art works fetched more than 100 million yuan in 2019.