Trump reportedly fluctuates on election challenge
Share - WeChat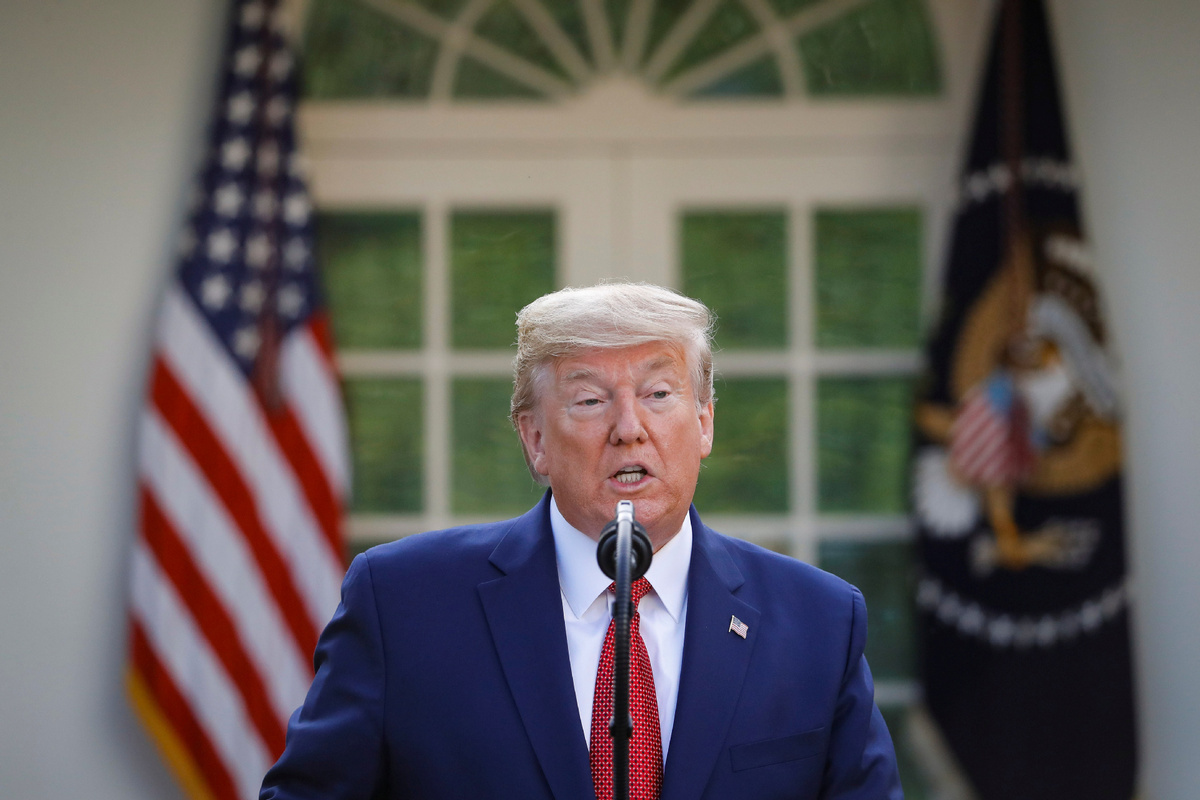 As US election officials nationwide and Republican legal challenges produce no evidence to support President Donald Trump's allegation of widespread fraud in the presidential election, some of his advisers reportedly are expressing pessimism about reversing Democrat Joe Biden's declared victory.
The advisers are acknowledging privately that Biden's official victory in the Nov 3 election is less a question of "if" than "when", The Washington Post reported Wednesday.
But Trump is being told by his personal attorney, Rudolph Giuliani, and some of Trump's children that "he has a chance'', said one adviser who has spoken directly to the president, the Post reported.
On Wednesday, Trump, first lady Melania Trump and Vice-President Mike Pence participated in a brief, silent traditional wreath-laying ceremony in a steady rain at the Tomb of the Unknown Soldier in Arlington National Cemetery in Virginia.
The former vice-president and his wife Jill Biden made a 15-minute visit to the Philadelphia Korean War Memorial. That event included several brief speeches by veterans, with Biden looking on. Like Trump, he did not deliver a speech.
It was Trump's first public appearance since a news conference on Nov 5 when he renewed his claims that Democrats were trying to "steal" the election from him.
Trump met with his advisers again Tuesday afternoon to discuss whether there is a path forward, the Post reported Wednesday, citing a person with knowledge of the discussions. Trump plans to keep fighting but understands it is going to be difficult, said the person, who added, "He is all over the place. It changes from hour to hour.''
On Wednesday, Trump tweeted about "BALLOT COUNTING ABUSE" as he and his advisers continued to declare that fraud had tainted the election in Arizona, Georgia, Nevada, Pennsylvania, Michigan and Wisconsin.
Amid increasing pressure from Trump and Republican officials in Georgia, Republican Secretary of State Brad Raffensperger on Wednesday announced a hand recount of the state's votes in the presidential race, which Biden leads by more than 14,000 votes.
Georgia election officials will verify by hand each of the roughly 5 million votes cast amid Republican allegations of widespread fraud and irregularities in the presidential vote in the state.
"We'll be counting every single piece of paper — every single ballot, every single lawfully cast, legal ballot," Raffensperger said.
The audit will start this week and be completed by Nov 20, the deadline for the state to certify its results, officials said. The losing candidate can request a recount of results if the margin is less than 0.5 percent of votes cast.
The Southeastern state also will hold two runoff elections for two seats in the US Senate on Jan 5, the outcome of which will determine whether Democrats will gain control of the Senate or Republicans will keep it. Republican Senators David Perdue and Kelly Loeffler face challenges in Georgia from Democrats Jon Ossoff and Raphael Warnock, respectively.
The GOP took a 50-48 lead in the Senate on Wednesday when a Republican was declared the winner in Alaska, as was Trump.
There are two independents in the US Senate, one of whom is Bernie Sanders. Also, in the event of a 50-50 split in the Senate, the vice-president casts the deciding vote.
Also Wednesday, Trump's campaign sued Michigan to block the Midwestern state from certifying last week's election results, where the president has trailed.
According to a complaint filed in a federal court in western Michigan, many people have submitted affidavits describing alleged misconduct in the voting, with the focus on the Democratic stronghold of Wayne County, which includes Detroit.
The allegations are similar to those raised by the Trump campaign and some Republicans in lawsuits in several states. Legal experts have said the litigation is unlikely to result in Trump getting a second term in the White House.
With vote-counting continuing in parts of the country, Biden's popular-vote margin over Trump is widening substantially.
As of late Wednesday morning, with 96 percent of the popular vote counted, Biden extended his lead by 5.1 million votes, according to The Associated Press, to nearly 77.4 million votes. Trump had 72.3 million votes.
In 2016, Hillary Clinton won the popular vote by 2.8 million but lost the election to Trump by 77 electoral votes.
"The 2020 general election was one of the smoothest and most well-run elections that we have ever seen, and that is remarkable considering all the challenges," said Ben Hovland, a Democrat appointed by Trump to serve on the independent, bipartisan Election Assistance Commission (EAC), which works closely with officials on election administration.
Hovland is chairman of the EAC, which has four commissioners appointed by the president and confirmed by the Senate.
The New York Times reported Wednesday that its check with election officials in dozens of states representing both political parties also found no evidence that fraud or other irregularities played a role in Biden winning the election.
The Times said that it contacted the offices of the top election officials in every state on Monday and Tuesday to ask whether they suspected or had evidence of illegal voting. Officials in 45 states responded to the Times. For four of the remaining states, the Times spoke to other statewide officials or found public comments from secretaries of state; none reported any major voting issues.
In Texas, Lieutenant Governor Dan Patrick on Tuesday offered to pay tipsters at least $25,000 and a maximum of $1 million for information leading to a conviction for voter fraud. Patrick said the money would come from his campaign fund, which held almost $15.5 million at the end of June.
Democrats dismissed the offer as a desperate and cynical stunt.
Reuters contributed to this story.