Social stigma stokes discrimination
Share - WeChat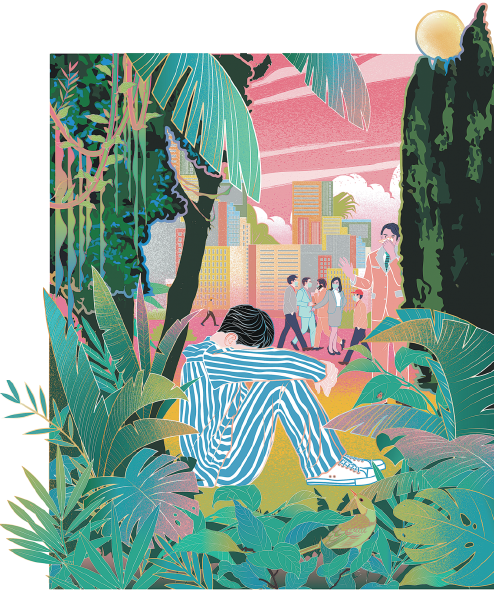 Psychologists say prejudice puts people under greater stress. Zhao Yimeng and Liu Kun report.
A World Health Organization survey published in the week before World Mental Health Day on Oct 10, said the COVID-19 pandemic has affected critical mental health services in 93 percent of the 130 countries that participated. Moreover, demand for such services was growing.
In response, WHO said the goal of this year's campaign is to obtain increased investment in mental health.
China has largely contained the pandemic, and sporadic outbreaks have quickly been brought under control by regional lockdowns and mass testing. However, mental health in the post-pandemic era will be a major global issue as experience of similar acute situations shows that the need for psychosocial support will continue to rise in the coming months and years.
Speaking on World Mental Health Day, Lu Lin, director of Peking University Sixth Hospital and a member of the Chinese Academy of Sciences, said society should accept and care for people who have developed mental issues as a result of the pandemic in the same way it treats people with diabetes or hypertension. "We shouldn't stigmatize or discriminate against people," he said.
According to WHO's website, social stigma related to the virus may involve groups of people being labeled, stereotyped, discriminated against, treated differently or experiencing a loss of status because of a perceived link with COVID-19.
Such treatment may not only be aimed at those infected with the disease, but also negatively affect their family, friends and communities.
Stereotypes
During the initial phase of the pandemic, when it was transmitted quickly, especially in Wuhan, Hubei province, people with links to the city and Hubei in general found themselves being stigmatized.
In a wider context, the same thing happened to Asian people in some Western countries.
Some Chinese didn't dare to wear masks overseas as they were afraid of mistakenly being seen as having the virus, provoking discriminatory behavior or even physical attacks.
Jiao He, a Chinese woman who works in Washington, said she was always anxious during her daily subway commute in March when she didn't wear a face mask and the disease was still spreading in Asian countries.
" (People with) Asian faces were experiencing discrimination because of the virus. I was afraid that if I, an Asian woman, wore a protective mask I would be attacked. I also worried about becoming infected with the virus," said Jiao, who noted that such prejudice has declined in recent months.
Meanwhile, in China, people from Wuhan were alienated both during and after a two-month lockdown.
Even people in low-risk areas, such as Beijing, were seen to frown and step away when they entered an elevator or confined space and saw someone who was not wearing a mask or who was sneezing and coughing.
Stigmatization and discrimination harm the mental and physical health of people infected with the disease and those related to them, said Xiong Kewei, a member of the science popularization team at Beijing Normal University's Faculty of Psychology.
"People may feel the social rejection and condemnation, which may generate feelings such as shame, fear and self-abasement," he said.
To avoid that, some infected people were unwilling to tell others, even medical professionals, about their true condition, meaning they often missed the optimum treatment time and made the situation worse.
Sometimes families concealed the truth from other people to assuage the patient's negative feelings.
Inquiries, inconvenience
On Jan 22, the day before the lockdown was imposed in Wuhan, a 71-year-old resident who only wanted to be referred to as "Peng" took a trip to Lianjiang, Guangdong province, with his wife.
The day after the couple arrived, a Lianjiang resident saw Peng's car and called the police to report that a vehicle bearing Wuhan plates was parked outside a hotel.
That led to police, staff members from the local center for disease control and prevention, and community workers all visiting Peng's hotel room to make inquiries.
The hotel manager parked the car in the yard, but it was reported for a second time by a local who recognized the license plate. Later, as Peng drove to a post office in Lianjiang, he was tailed by a police car the whole way.
Peng said the queries and treatment didn't affect him mentally or physically, but he felt vexed by the constant time-consuming interruptions. "I was really annoyed at first, feeling disturbed and uncomfortable. Later I got used to it," he said.
Two months later, after returning to Wuhan, he set out for Zhanjiang in Guangdong. This time, to be safe, he carried a certificate showing that he had tested negative for the virus.
Once again, his car was reported, and people living near his hotel even threatened not to pay their property fees until Peng had been investigated. The problem was finally solved when the senior's health codes were printed out and copies were attached to the hotel elevator and his car.
According to Li Feihan from BNU's psychology faculty, such unequal treatment could trigger negative emotions including anger, anxiety and depression.
Anger
Chen Hang, a graduate of Zhongnan University of Economics and Law in Wuhan, said he was initially angry about being labeled a "Wuhan person". "After all, Wuhan residents didn't do anything to cause the epidemic," the 22-year-old said.
He became more understanding after putting himself in the position of people from outside the city.
"I more or less understand their mindset. We cannot stop outsiders viewing us with suspicion, but (to ease people's anxiety) we tried not to leave the city without a pressing reason. I also appreciated the local government's efforts to distinguish between people from Wuhan and the source of the virus," he said.
Xiong, from BNU, said the stigma may linger long after the pandemic and cause mental anguish.
Chen recalled how a friend from Wuhan was quarantined for 14 days after arriving in Guizhou province, even though Wuhan had been classified as a low-risk area and he was carrying the result of a negative nucleic acid test.
"While that could not be regarded as discrimination, the local policies were really confusing," Chen said.
Even after the lockdown was lifted, people from Wuhan and Hubei returning to other parts of the country for work experienced difficulty buying travel tickets with their Hubei ID cards. Some employers asked them to delay their return.
"For the employers, these were just regular preventive measures, but the employees may have felt that their companies were less than supportive," Li said. "Prejudice and fear still existed."
Those feelings were illustrated when some people who had bought goods online refused to accept items shipped from Wuhan and blamed vendors for increasing their risks.
Peng and Chen said they experienced or witnessed less prejudice as the pandemic was gradually brought under control and Wuhan began to return to normal.
Chen said he was happy to try to forget the discrimination he had experienced.
Peng said, "I will always remember the feeling, but it hasn't led to any severe trauma."
Li said the speed of recovery of those affected depended on how society reacted after the pandemic.
"Those who endured such prejudice might feel better if other people reflected on the stigma they projected, which was unintentional but still resulted in discrimination and attacks driven by prejudice," she said.
Health-related social stigmatization isn't just confined to COVID-19, though. AIDS patients and people with mental illness or infectious diseases have long been targets of such discrimination. That has led academics to ask if such stigma can be eradicated.
In his book Social Psychology, David Myers, a psychology professor at Hope College, Michigan, said prejudice comes from many interrelated factors, so there is no simple remedy.
Nevertheless, it is possible to devise techniques for reducing prejudice, such as trying to create cooperative, equal relationships.
According to Li, the simplest, most direct way of reducing pandemic-related stigma is to develop empathy. "If you are from Wuhan, how do you expect others to treat you? If a relative has a confirmed infection, how do you expect others to treat your family?" she said.
Xiong said realizing stigma is in play is the first step to making changes, so when people are actively aware of their thoughts and actions and are willing to avoid prejudice and negative results they adjust their behavior to avoid problems.
"Knowing the truth about the virus and what happened in Wuhan will also dramatically reduce prejudice-objective, detailed, scientific information about the pandemic will help," he said.
Character link
Li said the degree of prejudice is closely connected to each person's character, such as their openness to new things and the value systems they use. A flexible person who is happy to accept variety and uncertainty may quickly reflect on prejudice and its influence and then amend their attitude and behavior.
She noted that acknowledging the origins of certain fears and taking protective measures can boost a person's sense of security and reduce stigma. She added that the media can play a role in helping people to realize the implicit bias, discrimination and origins of their stigmatizing behavior.
She noted that policymakers should also consider the possibility that unequal treatment results from certain policies.
"Decision-makers can amend preventive measures to ensure flexibility-meanwhile, the media should educate the public about illnesses to avoid the spread of inaccurate information," she said.
At a news conference in May, Chen Xuefeng, deputy director of the Institute of Psychology at Chinese Academy of Sciences, said local authorities are legally obliged to prevent discrimination in employment.
"Such discrimination is contrary to social justice. Hurting a certain group may result in hurting every single person in society. In other words, discriminating against others may hurt you, too," he said.
Li said false information spread on social media was one of the main sources of panic during the pandemic, and while hashtags can provide easy classification of subjects they can also drive a specific perception of the messages and the limited information they contain.
"Powerful voices online may not have a comprehensive understanding of the pandemic, but their actions may reinforce prejudice. As such, we would suggest that people refrain from posting on social media sites around the clock," she said.