Facilitators offer tailor-made e-courses
Share - WeChat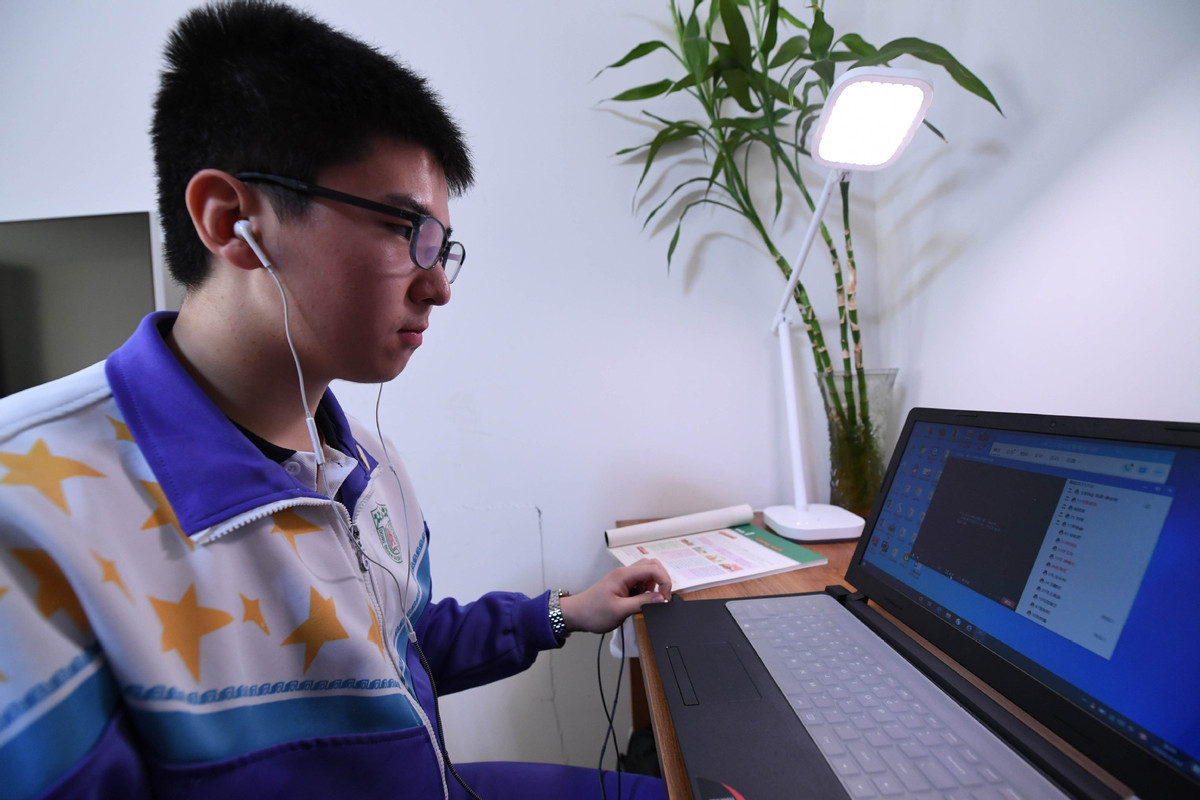 A new job title-"online study facilitator"-has been rolled out by the Ministry of Human Resources and Social Security in recognition of an emerging profession that helps tailor massive internet-based courses to individual needs.
According to a job description released by the ministry, online study facilitators should be able to make personalized study plans aimed at guiding e-learners through the sea of e-courses on offer as the sector expands rapidly amid the COVID-19 pandemic.
They will also be expected to play support roles, such as evaluating class performance, giving feedback and helping fix technical problems such as excessive video buffering and login failures.
Facilitators will also create and oversee chat groups on social media used by students to discuss study issues.
Some of those support tasks were previously handled by lecturers.
The duties gradually became a specialty as the average size of e-classes expanded from dozens to thousands of students watching simultaneously, said Guan Xu, 29, a facilitator at Youdao Premium Courses, part of NetEase Youdao, a New York-listed online education company.
"The responsibilities are evolving as the sector expands," she said.
In the embryonic stage of the profession, online tutoring firms moved to recruit college graduates as assistants to well-paid star lecturers to handle nonacademic issues, such as system breakdowns or to collect assignments, in part to let teachers focus more on teaching.
Li Ke, a math lecturer based in Beijing, said the assistance of facilitators allowed a single charismatic teacher to reach out to lots of students.
"That helps curb costs," he said, adding that companies usually pay assistants less than lecturers, whose star power and teaching skills are central to business success in a sector where a failure to impress students can have expensive consequences.
As more e-lecture firms sprouted up to claim a slice of the multi-billion-yuan market, course providers opted to compete by offering tailor-designed content.
That move saw facilitators' duties expand to cover areas including sales and customer management, which meant they needed to be able to recommend lecture packages based on students' needs, and run forums and chat rooms as part of a broader effort to bolster customer loyalty.
Before the new title was rolled out, e-tutoring firms recruited such talent under vague titles ranging from tutor to salesperson, creating confusion about their duties.
Guan said the new title is expected to give job-hunters a clearer view of the profession and increase the focus on making personalized plans, which is core to the job's value.
The new title will also pave the way to standardized tests by employment authorities that can help in decisions about salaries and promotions.
With government-issued certificates, "unqualified people are unlikely to enter the sector", Guan added. "That's good for the sector's development."
The number of e-lecture firms has seen explosive expansion since 2014, reaching more than 250,000 by July, according to tianyancha.com, a corporate data provider.
iResearch, a Beijing-based consultancy, said the value of the online tutoring market surpassed 200 billion yuan ($29.1 billion) by the end of 2017, nearly triple that in 2012.
That figure is expected to top 540 billion yuan this year after the pandemic saw many brick-and-mortar tutoring organizations shift businesses online in an attempt to avoid potential cluster infections. Tianyancha.com said more than 20,000 course providers had registered between January and May.
That created demand for facilitators after the pandemic dimmed job prospects for the record 8.74 million college graduates this year. Online tutoring firm 17xueba.com said it has recruited more than 40,000 facilitators, compared with just 18,000 last year. VIPKid, another internet-based tutoring service, said it has more than 3,000.
The expansion has partly been fueled by efforts to bridge the widening urban-rural divide in education, with the best teachers converging in first-tier cities and provincial capitals that offer better pay and public services to young talent.
Guan said affordable online tutoring can help break the constraints of geography and time and let students from different regions share the best educational resources.