Music provides a song of hope
Share - WeChat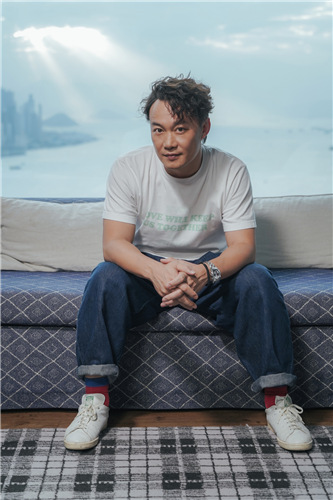 Like many people, Hong Kong singer Eason Chan has experienced a roller-coaster ride of emotions amid the coronavirus pandemic.
The 46-year-old Chan had to postpone touring and the release of a new album this year due to the pandemic.
He is getting used to the new lifestyle of spending more time with his family and dogs as well as exercising every day.
When he decided to release his first new single of this year, Chan wanted to share his feelings about the experience of being affected by the viral outbreak and most importantly, to tell people that "you are not alone".
The new song, titled A Dance For Tomorrow, was released on Oct 21. Working together with songwriter Terence Lam, Chan performs the song in Cantonese and practiced contemporary dance for the first time, which was featured in the song's music video as "an interpretation for life".
"When I first listened to the song, I was drawn to the waltz melody, which is so relaxing and beautiful that I wanted to dance to it," says Chan during an interview he did from his home in Hong Kong before the song was released. "It's very comforting to have such a song, especially during this situation. It can make people happier despite of the worries we still have about the coronavirus pandemic."
Chan notes that he enjoyed working with Lam, a young singer-songwriter, whose music, "especially his piano performance, made me calm".
The self-taught musician Lam gave Chan his music demos when he was in high school. Though Chan didn't know the young man back then, they got back in touch in 2017 after meeting up in a private party. During the past two years, Chan has been following Lam's music works, which are "full of dreamy atmosphere".
Though the coronavirus pandemic has forced Chan to stop working for nearly a year, the singer has joined in some charity events, hoping to cheer people up with music.
He performed for the One World: Together At Home virtual concert this April, which, initiated by American singer-songwriter Lady Gaga, pays tribute to health workers and front line workers around the world.
In July, Chan also held an online charity show, titled Live Is So Much Better With Music, at the Hong Kong Coliseum, helping raise funds for the Hong Kong Live Performance and Production Industry Association in support for those working in the entertainment industry such as musicians, dancers, and backstage crew members whose livelihoods have been impacted by the pandemic.
"When bad things happen, we turn to music to seek comfort. Music has the magic to keep people together. I am glad that I could be of some help," he adds.
Since he launched his music career after winning a singing competition in Hong Kong in 1995 and released his debut self-titled album in 1996, Chan has released over 30 solo albums and is one of the bestselling Mandarin and Cantonese pop artists.
Most Popular