Infrastructure paves the way to glory
Share - WeChat Legendary builder Gordon Wu Ying-sheung was among the first Hong Kong tycoons to recognize Shenzhen's potential. Now he says it's time to let it lead the way forward. Willa Wu reports from Hong Kong.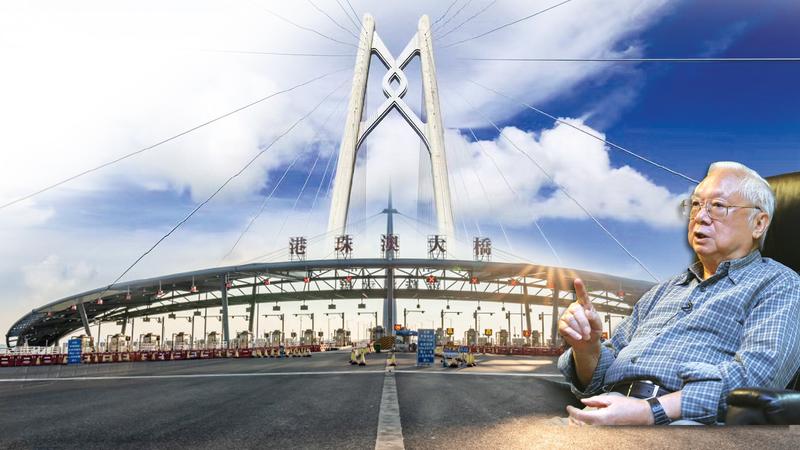 When Gordon Wu Ying-sheung proposed building a superhighway to connect Shenzhen and Guangzhou in 1981, the infrastructure and property tycoon thought it would take the quiet fishing town next to Hong Kong 100 years to become a modern metropolis.
On Oct 14, the 84-year-old was recognized — for having recognized early that his assessment need not be so. Attending a celebration to mark the 40th anniversary of the establishment of the Shenzhen Special Economic Zone, Wu was the only Hong Kong property developer among 40 people honored for their contributions to the 40 years of development that have pushed Shenzhen to fifth among Asian cities in terms of GDP.
"I think the honor shows that I had not failed Shenzhen," Wu said during an interview in the boardroom on the top floor of his 64-story Hopewell Holdings headquarters in Wan Chai. When Hopewell Centre was completed in 1980, it was the city's tallest — and first round — building.
Bridges, tunnels, roads
Wu was among the first wave of Hong Kong investors to plough money into the Chinese mainland after then-paramount leader Deng Xiaoping ushered in the reform and opening-up policy in 1978.
Wu took a different approach from his fellow businessmen. Instead of putting money in manufacturing, he set his eyes on bridges, tunnels and roads.
Wu described his business interests as a reflection of his "pragmatic" character.
"I never touched things I didn't know," said Wu, who earned his bachelor's degree in civil engineering from Princeton University in 1958.
Wu recalled telling Liang Xiang, then-Shenzhen's Party secretary, that a city requires three types of hardware to thrive: transportation, electricity and communication. Knowing nothing of communication, he would provide the other two for Shenzhen. A pragmatic man, as he puts it.
The business icon's investments in Shenzhen include the Guangshen Expressway, the Chinese mainland's first expressway built with overseas investment. It directly connects Guangzhou with Shenzhen and Hong Kong at the Huanggang Port.
The project started from Wu's unpleasant experience in traveling from Guangzhou to Shenzhen. The 150-kilometer distance took him six to seven hours in the early 1980s.
"Bridges, tunnels and roads bring efficiency, a key factor for any city's development," he said.
The mainland began accelerating highway construction in 1978, with capital not only from the central government, but also private corporations, banks and overseas investors. At that time, the total road network on the entire land mass of 9.6 million square kilometers was only 890,000 km.
The country entered its highway era when Hujia Expressway, which links Shanghai with its satellite city Jiading, opened to traffic in 1988. One year later, Guangdong province saw its first highway, Guangfo Expressway. Both were financed by local governments.
Wu's 1981 proposal for the Guangzhou-to-Shenzhen highway took six years to get started. He used that time designing, conducting field surveys, getting approval from different levels of leadership and managing capital.
"I wanted it to commence service as soon as possible," Wu said. "It would play an important role in the country's development."
On July 1, 1997 — the day Hong Kong returned to the motherland, the Guangshen Expressway opened for traffic. Shortening travel time to no more than two hours, the highway links two of the mainland's four first-tier cities and has a daily traffic volume of around 600,000 vehicles.
Along with the expressway project, Wu was involved in building the Shajiao B Power Station in Dongguan city neighboring Shenzhen, which solved Shenzhen's lack of a sufficient supply of electricity.
Shenzhen was among in the first batch of cities designated in 1980 as special economic zones, which were granted greater latitude in creating policies attractive to overseas investors as part of the nation's economic reform. Shenzhen's official data shows that the city's urban development has grown from three sq km in 1979 to 940 sq km today, as a permanent population of over 13 million.
When asked about the reasons for Shenzhen's success, Wu said the city was built on the policy the municipal government has consistently adhered to: reform and opening-up.
"Few governments around the world are able to consistently adhere to the same policy for 40 years, and always encourage entrepreneurship," Wu said, adding that the consistency in policy helped craft a stable environment for development.
He also praised the people of Shenzhen for their determination to pursue social mobility. "The city leaves an impression on me that people are eager for advancement. It is hard for such a city not to succeed," Wu concluded.
Shenzhen's GDP expanded at an annual rate of 20.7 percent to 2.7 trillion yuan (US$403.5 billion) in 2019 from 270 million yuan in 1980.
In 2018, Shenzhen's GDP surpassed Hong Kong's for the first time. The special economic zone recorded 2.42 trillion yuan compared to Hong Kong's HK$2.8 trillion (US$367 billion), equivalent to 2.4 trillion yuan at that year's exchange rate.