Pharmaceutical giant MSD gains impetus in China market
Share - WeChat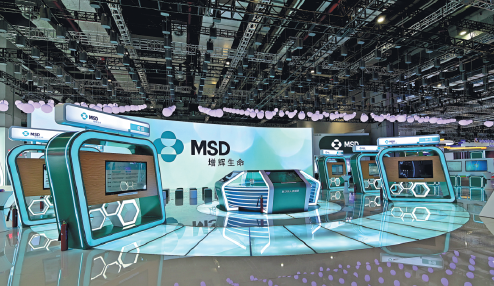 The COVID-19 pandemic is still raging in many parts of the world, but the third China International Import Expo offers international companies a platform to band together and show solidarity to improve society in overcoming this challenge.
Joseph Romanelli, president of global pharmaceutical giant MSD in China, believes business should be part of the solution to some of the most pressing issues today.
"2020 has been an unprecedented year," Romanelli said, "We look forward to the opportunity to demonstrate what the industry is doing in China and how we are rising to the many challenges we are now facing."
MSD is headlining the newly established Public Health and Epidemic Prevention section at this year's CIIE, where it will showcase its history, development, and solutions proven to safeguard health. The company has over a century of success and hopes to prepare society for future viral outbreaks.
"We are targeting an overall improvement in general healthcare. Not just issues related to COVID-19.This platform gives us an opportunity to bring our industry together with the government to find opportunities and solutions."
Heavyweight exhibits
The company has long protected human health through innovation and prioritizing patients. Just last year, MSD commemorated the 30th anniversary of its groundbreaking hepatitis B vaccine technology transfer to China in its CIIE debut.
For Romanelli, the beginning of the company's relationship with the CIIE fostered deep roots in the local market. In light of the pandemic, MSD will be unveiling a series of ongoing projects at the CIIE, including its research for two COVID-19 vaccines and an oral anti-viral candidate.
MSD's booth at the CIIE will occupy more than 1,000 square meters. Company representatives plan to walk visitors through MSD's century-long history and profound expertise in saving people's lives and improving health, which includes the development of more than 13 types of vaccines.
Among them is the Ebola vaccine, which was approved by the United States in late 2019. The vaccine is currently approved in multiple other countries to support the World Health Organization's efforts against the disease in Africa. The company will highlight this, as well as its own COVID-19 vaccine and therapeutic programs, in addition to its portfolio of assets in oncology, vaccines, infectious disease and diabetes.
According to Romanelli, the display has been designed to reflect the holistic "from prevention to cure "portfolio that MSD has to offer.
Most Popular