Report: 2020 US presidential election most expensive ever
Share - WeChat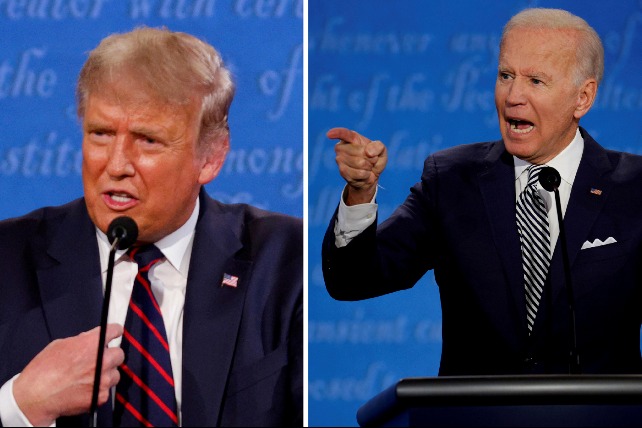 Total spending will be nearly $14b as small donors gain a growing influence
One day before the US presidential election on Nov 3, the race between President Donald Trump and Democratic rival Joe Biden will have cost $6.6 billion, the most ever spent to occupy the White House, said a report from the nonpartisan Center for Responsive Politics, or CRP.
Adding anticipated spending of $7 billion by candidates for the US Senate and House of Representative, the total spending for all federal government races will be nearly $14 billion-the most in the country's history, said the CRP, a nonpartisan, nonprofit research group based in Washington which tracks money in US politics and its effect on elections and public policy.
Total spending for the 2016 presidential campaign, including the primaries, was $2.4 billion. This election will end up with more spending than the previous two presidential election cycles combined, the report said.
Much of the money has gone into television ads, with $1.8 billion going into the presidential race, said the ad-tracking firm Advertising Analytics.
The report by CRP showed that Democrats nationwide have nearly doubled spending by Republican candidates at $5.5 billion, compared with $3.8 billion by Republicans-the most ever.
Biden is on track to be the first candidate in US history to end up raising $1 billion in a single election cycle. Trump's reelection campaign said that he raised north of $950 million during the 2020 election.
Small-dollar donors have helped Democratic Senate candidates and Biden, accounting for 22 percent of the total money raised in the 2020 cycle. These donors, who gave less than $200 to a candidate or cause, contributed 15 percent of the funds raised in the 2016 election.
The securities and investment world of Wall Street remains the top industry for campaign funds with a total of more than $255 million, divided into $161.7 million for Democrats and $94.5 million for Republicans.
Biden finished the 2020 election cycle with $74 million from people on Wall Street, compared to Trump, who received $18 million from those in the same industry.
Billionaires have opened their wallets.
Sheldon Adelson, the casino magnate, and his wife, Miriam Adelson, continue to be the largest funders of Republican candidates and groups, having donated $183 million.
Former New York City mayor Michael Bloomberg gave $107 million to Democrats, with $100 million just for the key state of Florida alone.
That amount reported by the CRP about Bloomberg does not include what he gave this week: $15 million on ads in Texas and Ohio. The onetime presidential candidate himself spent more than $1 billion before dropping out of the race for the Democratic nomination.
The nonprofit Democratic online donation platform, ActBlue, has processed more than $3.3 billion so far this year. Republicans introduced a rival for-profit platform, WinRed, only in 2019, and it has raised more than $1.2 billion since its creation.
Surge of spending
The amount of money spent on US elections eclipses the annual total economic output of some small countries. The total spending by candidates, political parties and independent campaign groups in the 2016 race was $6.5 billion-comparable to the GDP that year of Monaco, Kosovo or Liechtenstein, and more than double that of Liberia.
Although campaigns have traditionally been funded by direct donations to candidates, in 2010 the US Supreme Court ruled that restrictions on independent campaign spending by corporations and labor unions were unconstitutional, due to their restriction on free speech.
This ruling in the case known as Citizen United meant that corporations and unions could spend unlimited amounts of money on political campaigns, paving the way for the production of what has become known as Super Pacs supporting candidates for office.
The surge of spending is powered by donations at both ends of the spectrum as small donors, particularly online, are playing an increasingly central role in funding campaigns. At the same time, billionaires and multimillionaires are writing enormous checks to Super Pacs.
The role of traditional political action committees, often used by corporations to bundle donations to incumbent politicians, has been shrinking as a share of political cash, hitting a record low of 5 percent, the CRP said. Not accepting corporate campaign cash has been a rallying cry among Democrats, especially progressive challengers.