Chinese and African youth festival shows way to shared future
Share - WeChat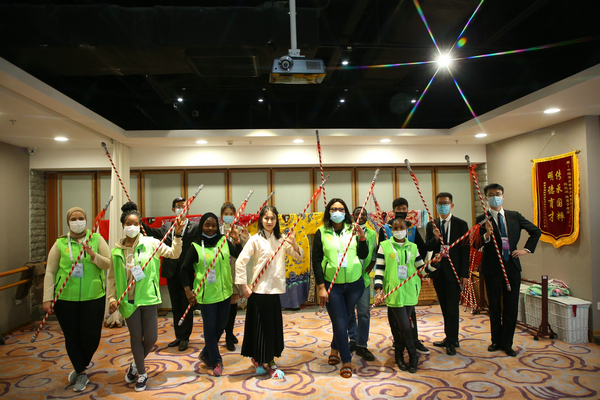 The 5th China-Africa Youth Festival kicked off on Monday in the China Soong Ching Ling Science and Culture Center for Young People, and will run until Saturday in Beijing and Jiangxi province.
With children in the Angel of Peace Choir singing the beautiful Siyahamba (a Zulu word meaning Marching in the Light of God) and Fill the World With Love, over 200 people bathed in the harmonious atmosphere at the opening ceremony of the 5th China-Africa Youth Festival. As well as representatives of Chinese and African youth, African envoys and representatives to China were also in attendance.
Assistant Minister of Foreign Affairs Deng Li said at the opening ceremony that young people are the main force in Chinese-African cooperation, both as participants and as contributors. He hopes Chinese and African youth can continue to work in their respective positions in order to create a more vibrant future for bilateral relationships.
Ambassador of the African Union to China, Rahamtalla M.Osman, said that "despite the difficulties brought by the pandemic, I am glad that we can still all gather together to celebrate the 20th anniversary of the Forum on China-Africa Cooperation".
He believes that knowledge-sharing, cultural exchange and experiences in various fields among young people are important elements in promoting friendly relations between China and Africa.
According to Osman, Africa's population is currently 1.2 billion, and is expected to more than double by 2050. And 60 percent of the continent's population is currently under 25.
Many of the young African representatives discussed the importance of education. They all believe that quality education not only brightens the future of young people but also reduces poverty in African countries. Ameena Abba Gaji, postgraduate student at the China University of Petroleum, said that she would like to bring the advanced Chinese petroleum technology back to Nigeria to help the local industry.
Talking about the education she received in China, 28-year-old Kenyan student Monica Muroki was very excited. "I study the forest economy in Beijing, and my dream is to go back home to save endangered rain forests," she says. "A group trip to Xishan, Hebei province, has inspired me a lot. I was amazed by the result of the reforestation there. China did a very good job."
Burundian journalist Vincent Mbonihankuye, now a student at the Communication University of China, is passionate about cultural exchanges between China and Africa. He says he hopes to contribute to the establishment of a closer Asian-African community as a professional journalist. Becoming a cultural ambassador is also the dream of Eric Turgamirai Mupona, from Zimbabwe, whose Chinese name is Mi Lai. During the pandemic, he and his charity platform APL (Abroad Path Leading) helped foreign students and carried out other voluntary work.
"But there is always a language gap between China and Africa," Mupona adds.
However, in the eyes of Wei Jiahui, the gap is not insurmountable. He took Nelson Mandela's remark as his motto: "If you talk to a man in a language he understands, that goes to his head. If you talk to him in his language, that goes to his heart." Studying Zulu at Beijing Foreign Studies University, he hopes to proceed with his research on common law in South Africa next year, and become a diplomat when he graduates.
Connecting the dreams of youth and writing a new chapter of China-Africa friendship is always the theme of the China-Africa Youth Festival. Chinese and African young people are all involved in a series of exchange activities, in which they share their views and their dreams. China Soong Ching Ling Foundation Chairman Wang Jiarui said at the opening ceremony that CSCLF will continue Soong Ching Ling's unfinished charity work, and build more platforms for Chinese and African youth to communicate and cooperate.
Soong Ching Ling once said: "Youth is the force that accelerates history towards a better world." With more opportunities to communicate, Chinese and African young people will make new contributions to the construction of the Community of Shared Future for Mankind. Just as Hosany Sumayyah, a doctor from Mauritius sharing her volunteer experience in Wenzhou at the opening ceremony, says, "Building bridges is always better than constructing walls."
Most Popular