70,000 evacuated from S. California wildfire
By HENG WEILIin New York and LIU YINMENG in Los Angeles | China Daily Global | Updated: 2020-10-28 00:22




Share - WeChat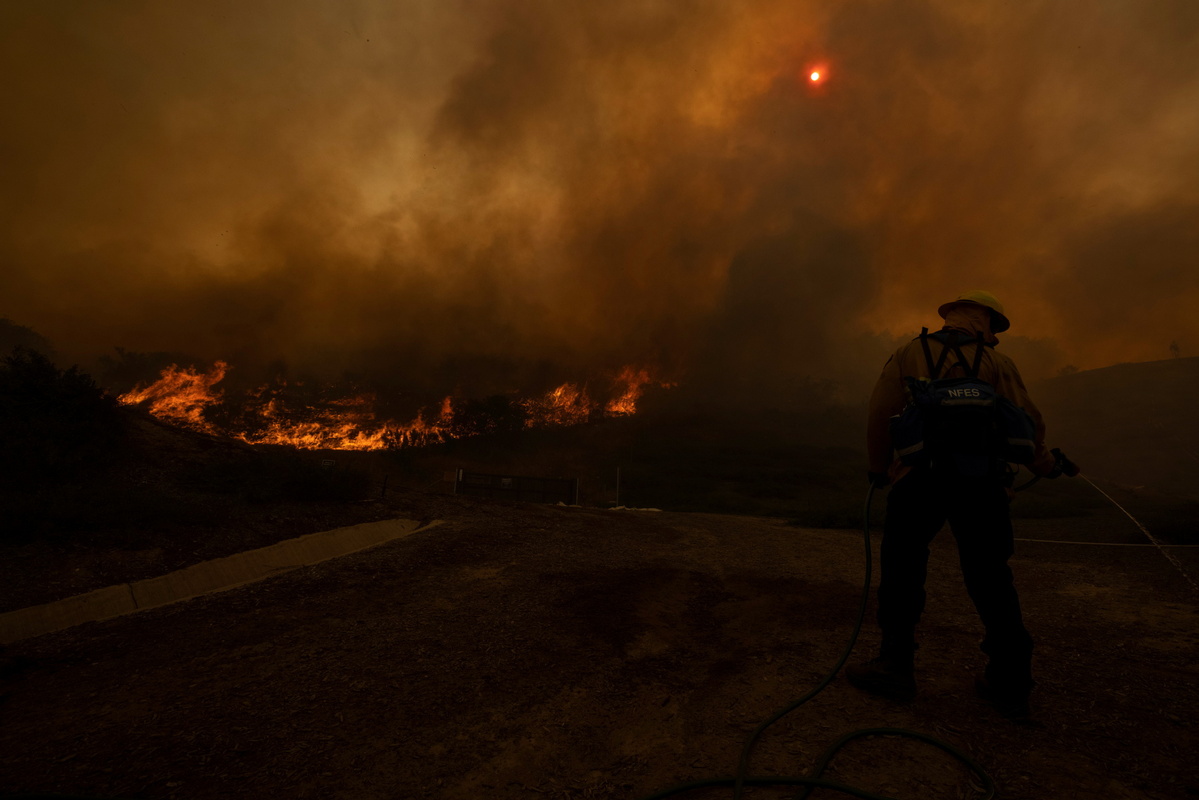 A fast-moving wildfire forced the evacuation of 70,000 people and seriously injured two firefighters in Southern California on Monday as powerful winds across the fire-fatigued state prompted power to be cut to prevent utility equipment from sparking new blazes.
The wind-driven fire spread to more than 6 square miles (16 square kilometers) within a few hours of breaking out around dawn in Orange County, south of Los Angeles. Strong gusts pushed flames in Silverado Canyon and near houses in Irvine, a city of about 280,000 residents 40 miles southeast of Los Angeles.
Two firefighters, ages 26 and 31, were severely burned as they battled the blaze from the ground, Orange County Fire Authority Chief Brian Fennessy said.
Water-dropping helicopters were briefly grounded because the strong winds made it unsafe to fly.
Officials didn't immediately know the cause of the fire, one of several that broke out across the region.
About 355,000 power customers — estimated at about 1 million people — were in the dark in the northern part of the state as officials issued warnings for what could be the strongest winds in California this year.
The electricity shutdowns marked the fifth time this year that Pacific Gas & Electric, the nation's largest utility, has cut power to customers to reduce the risk of downed or fouled power lines or other equipment that could ignite blazes amid dry weather conditions and gusty winds.
The conditions could equal those during devastating fires in California's wine country in 2017 and the Kincade Fire that devastated Sonoma County north of San Francisco last October, the National Weather Service said. Fire officials said PG&E transmission lines sparked that fire, which destroyed hundreds of homes and caused nearly 100,000 people to flee.
Extreme fire danger moved into Southern California late Sunday following cooler temperatures over the weekend. A peak north of Los Angeles recorded a gust of 97 mph (156 kph).
"We have very strong winds and very low humidities, and that's causing ideal conditions for a very strong Santa Ana event with high fire danger," David Sweet, a meteorologist with the National Weather Service in Oxnard, told the Los Angeles Times.
Sheriff Kory Honea of Northern California's Butte County, where a 2018 blaze decimated the town of Paradise and killed 84 people, said he's concerned about residents in foothill communities during the blackouts because cellular service can be spotty and it's the only way many stay informed.
"It is quite a strain on them to have to go through these over and over and over again," he said.
The Chinese Consulate General in Los Angeles had not received any requests for help from Chinese citizens from the affected area, a spokesperson told China Daily on Monday.
Maggie Chen, a resident of Irvine, said she received an immediate mandatory evacuation order from the Irvine Police Department at 9:01 am.
"The air quality has been poor since 7 o'clock this morning; it's hard to breathe," Chen told China Daily after evacuating to a hotel in nearby Newport Beach.
UC Irvine said it was suspending campus operations for the day because smoke and ash were making the air hazardous.
Thick smoke choked neighborhoods miles from where the Silverado fire broke out. Strong winds sent ash flying, covering patios and backyards in the Woodbridge area, the Times reported.
Not far from Bella Garden Park in Irvine, Raymond Siu, 44, filled his SUV with luggage and other personal items. He told the newspaper he learned about the fire from police alerts on his phone and hurried to evacuate.
"I'm feeling rushed," he said, before driving off.
The fire started as parts of Southern California were experiencing dry Santa Ana winds.
Dan Gregoria, meteorologist with the National Weather Service in San Diego, told the Los Angeles Times that strong winds "combined with the really dry air; that's why it's creating these critical fire conditions and this fast-spreading wildfire".
Relative humidity had dropped to 5 percent, "which is bone dry", he said.
Stanley Liu's family was turned away from the University Community Center in Irvine early Monday morning because it was full. His wife and son went to the Rancho Senior Center.
"We were forced to stay home for months because of the coronavirus, and now we're being forced to leave because of the fire," Liu told the Times. "We didn't want to leave but it wasn't our decision. We're worried about our safety and our home now."
Gusts of 60 to 80 mph were also expected in the mountains of Ventura County, and 50-mph winds could wallop the oceanside enclave of Malibu and the Hollywood Hills. A gale warning was issued for Catalina Island. Marine officials were told to stay in port, seek safe harbor and secure boats and vessels.
The National Weather Service said the winds and low humidity could create "the most dangerous fire weather conditions we have seen since October 2019".
The Associated Press contributed to this story.
Contact the writers at hengweili@chinadailyusa.com.