Post-pandemic partners
Share - WeChat Resurgence of poverty in Africa highlights the continent's need for support to promote its post-crisis economic recovery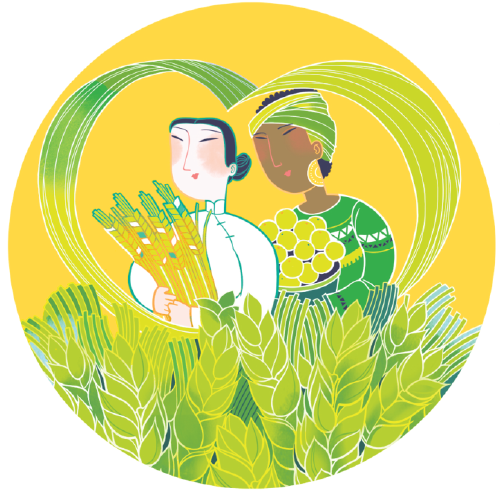 As the continent with the most developing countries, Africa especially sub-Saharan Africa still has an average poverty rate of 41 percent, the highest in the world. The unexpected outbreak of the novel coronavirus has had a detrimental impact on the economic and social development of African countries, making their poverty reduction challenges even harder. While figures from the World Bank show that the number of people living in extreme poverty was reduced from 1.9 billion in 1990 to 689 million in 2017, the number is expected to experience a sharp rebound this year, the first rise in three decades, because the pandemic is pushing more than 100 million people around the world back into poverty.
As for Africa, 25 consecutive years of positive growth, which has been the most critical dynamic to poverty reduction across the continent, will be ended by anticipated negative growth of from-2.1 percent to-5.1 percent in 2020, dropping per capita GDP to the level of 2010. The economic recession has pushed around 40 million Africans back into extreme poverty, according to African Development Bank, increasing the poverty rate by between 6 percent and 9 percent, which nearly offsets the poverty reduction achievement of the continent over the past decade. The rapidly worsening poverty crisis directly originates from challenges in three aspects.
First, massive job losses. The economic downturn has directly deprived many African people of work, notably in tourism, hospitality and retailing. With an annual urbanization rate of 3.5 percent, the fastest the world has seen in recent years, millions of rural poor people flooded to towns and cities in the past decade, where they found sources of livelihood mainly in the service industries. But the sudden loss of income is driving them into poverty. In Kenya, for instance, 1.7 million employees in cities such as Nairobi and Mombasa lost jobs at the onset of the pandemic, increasing the country's unemployment rate to 10.4 percent. South Africa predicts that 1.8 million jobs could be lost, mainly in cities such as Johannesburg and Cape Town, while the unemployment rate might surge to 50 percent in the worst-case scenario.
Second, food security. Africa has been a major food importer, with more than 80 percent of the food it needs being imported from outside of the continent. This over-reliance on imports jeopardizes food security. Since the outbreak of the pandemic, the Food Price Index of the Food and Agricultural Organization shows that global food prices, led by the surging prices of cereals and wheat, have been rising rapidly since February, which means African countries need to resort to domestic agricultural production to fill the gap caused by the expensive food imports that they cannot afford. Unfortunately, the severe drought due to climate change in the Sahel, coupled with locust swarms and the floods in Central and East Africa have made food supplies at home even less reliable, and a 2.6 percent drop in agricultural productivity will further exacerbate the threat of famine in Africa.
Third, inelastic supply chains. Most African countries have yet to cross the threshold of industrialization and are at periphery of the interconnected global supply chains, which means African peoples' need for daily necessities and medicines must be satisfied mainly through international supplies. However, the supply chains have become increasingly more complex since goods normally have more stages and countries to pass through before reaching final consumers from the initial suppliers, which also takes time. Considering the pandemic outbreak has resulted in an unprecedented disruption to the world economy, and the linkages between Africa and the international market are strained by restrictions or suspensions of international cargo transportation, African people, especially consumers in the small and landlocked countries have to spend more time and money to get basic necessities.
The resurgence of poverty in Africa highlights the need for a strengthened poverty reduction approach in its recovery plans and international cooperation. China has always been committed to engage with African poverty reduction by sharing the dividends of its development and the public goods of a big responsible nation. Against the backdrop of the pandemic's impacts, China has continued to make every effort to eradicate poverty, and is on course to eradicate absolute poverty in the country this year. This achievement should inspire Africa and provide Chinese solutions and wisdom for Africa's poverty reduction efforts, and the two sides should explore feasible ways to strengthen their partnership and cooperation.
A self-sustaining driving force for the development in Africa should be further consolidated. China's experience illustrates that stable economic growth is the guarantee for poverty reduction, a conclusion which is also proven in the present correlation between the economic downturn and rising poverty in Africa. To put an end to over-dependence on world market and the imbalance between rapid population-urbanization growth and limited bearing capacity of economic development, China should continue to focus on helping African countries with their infrastructure construction, industrialization and agricultural modernization, support African countries and sub-regional organizations prioritizing domestic economic circulation through the building of a broader domestic market and a diversified economic structure, in order to provide fundamental solutions to poverty triggers such as unemployment, natural catastrophes and diseases and establish a more solid and resilient foundation for Africa's economic development.
Specialized public institutions for poverty reduction should be widely launched in Africa. China's success is closely linked with the major role played by leading groups or departments at all levels, which through a combination of government guidance and market regulation, mobilize government and society to provide targeted approaches to eradicate poverty. By sharing this experience, China can support African countries and sub-regional organizations to reassess their institutional poverty reduction functions which are now scattered among different ministries and committees, and integrate them into a single highly specialized department. The restructuring and optimization of functions will empower the newly launched African public institutions with stronger commitments and more efficient policymaking to deal with poverty challenges across the continent.
The author is deputy director of the Security Studies Division at the China-Africa Institute. The author contributed this article to China Watch, a think tank powered by China Daily. The views do not necessarily reflect those of China Daily.
If you have a specific expertise and would like to contribute to China Daily, please contact us at opinion@chinadaily.com.cn, and comment@chinadaily.com.cn
Most Viewed in 24 Hours
China Views