Essential to change our ways
Share - WeChat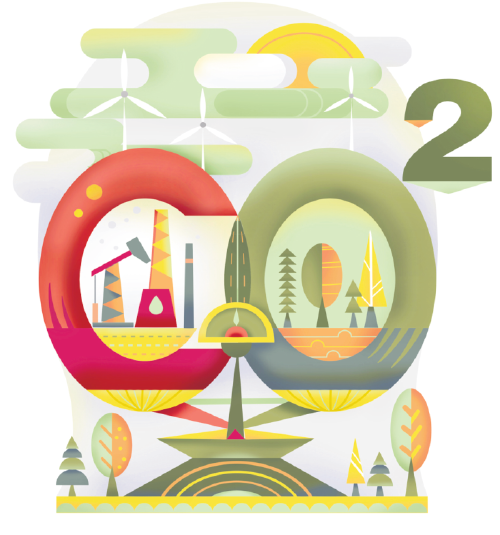 While the novel coronavirus has wreaked havoc on the global economy and impacted societies around the world, climate change is a more profound crisis confronting humankind in the longer term. Facing this challenge, we must plan for the future by taking the path of a green recovery.
In his speech at the general debate of the 75th session of the United Nations General Assembly on Sept 22, President Xi Jinping said: "COVID-19 reminds us that humankind should launch a green revolution… We call on all countries to… seize the historic opportunities presented by the new round of technological and scientific revolution and industrial transformation, achieve a green recovery of the world economy in the post-COVID era, and thus create a powerful force driving sustainable development."
China's experience of implementing its Nationally Determined Contribution proves that tackling climate change does not impede economic development; instead, it can improve the quality of growth, foster and boost new markets and industries, expand employment, and improve livelihoods and people's health.
From 2005(when China ratified its NDC) to 2019, China's GDP grew from $2.73 trillion to $14.4 trillion, and hundreds of millions of rural residents were able to shake off poverty. The country's growth in energy consumption dropped from 6 percent a year (2005-13) to 2.2 percent (2013-18) and the annual growth in carbon dioxide emissions dropped from 5.4 percent (2005-13) to 0.8 percent (2013-18), with air quality remarkably improved. China has preliminarily decoupled economic growth with an increase of carbon emissions, laying a foundation for achieving its NDC goals ahead of schedule.
President Xi pledged in his UN speech that China's CO2 emissions will peak before 2030 and the country will achieve carbon neutrality by 2060.
By proposing these targets, China has demonstrated its determination to make greater contributions to the global fight against climate change and to promote global climate governance. However, arduous efforts are required to achieve these targets.
First, we will strive to build a low-carbon, safe and efficient energy system. The development of coal power will need be restricted. For instance, no coal-related projects will be endorsed in the newly issued 2020 edition of Green Bond Endorsed Project Catalog. China is making great efforts to build a green Belt and Road Initiative, and guide projects and capital from home and abroad into the green and low-carbon sector. China will further control and reduce coal consumption, develop the rational use of natural gas, use nuclear energy safely, vigorously develop renewable energies, and actively exploit hydrogen energy. China will also increase the ratio of electrification in all sectors, integrate the energy system with information technology, and realize the digitalization and smart transformation of the energy system.
The National Development and Reform Commission and the Ministry of Ecology and Environment will roll out policies and measures to further optimize China's energy mix and improve fiscal, financial, industrial and project management policies in order to send a clear low-carbon signal to society and market entities.
We will also attract social capital to green projects by giving full play to the guiding role of government funds. Experience suggests that every $1 of public funds can leverage $9 from social capitals. The demand for climate financing is huge. By the end of 2019, investment in green and environmental PPP(public-private partnership) projects hit 1.97 trillion yuan ($294 billion). And since the authorities issued a guideline for building a green financial system in 2016, China's green credit balance increased from 7.26 trillion yuan in 2016 to more than 10 trillion yuan at the end of 2019.
Second, as the industrial sector accounts for nearly 70 percent of the total energy consumption, we will strictly limit the expansion of energy intensive and high-emission industries, promote the research and application of industrial low-carbon technologies, push forward the manufacturing sector's shift to low-carbon and decarbonization, realize the upgrading and modernization of the industrial structure, and develop smart manufacturing and the industrial internet.
We will also build low-carbon infrastructure and push for structural reform by vigorously developing public transport and clean, zero-emission vehicles and increasing the use of green power. There will be more green buildings, and less wasteful lifestyles will be advocated.
Moreover, the circular economy will be promoted. Business models that benefit all stakeholders will be encouraged, and resources productivity increased through reducing resource usage as well as recycling and reusing wastes. This is the fundamental solution to decouple socioeconomic development from pollution and emissions.
Technological innovations must play a bigger role in this process by expediting the development and application of large-scale energy storage, the smart grid, renewable energy and hydrogen energy, carbon capture, use and storage technologies, new energy vehicles and energy-saving equipment. The integration of industrial technologies with green materials technology, advanced manufacturing, information and smart technologies will be accelerated, and the development of recycling technologies promoted.
The carbon market and carbon pricing mechanism can lower the costs of emissions reduction. After launching pilot programs for carbon emission trading, China initiated a national carbon market in its power industry, incorporating more than 1,700 enterprises. Other high-emission industries such as cement, electrolytic aluminium and steel are to be gradually included in the program.
Globally, we propose to build a reasonable pricing mechanism in the global carbon market, ensure its integrity, avoid carbon leakage, promote fair trade, and thus lower the costs of emissions reduction.
The "carbon border tax" introduced by certain countries will create new conflicts and impede the global response to climate change. We should instead finish the negotiations over the details laid out in the Article 6 of the Paris Agreement on building a global carbon market.
The author is the special adviser for Climate Change Affairs of China with the Ministry of Ecology and Environment, and the president of the Institute of Climate Change and Sustainable Development at Tsinghua University. The author contributed this article to China Watch, a think tank powered by China Daily. The views do not necessarily reflect those of China Daily.
Most Viewed in 24 Hours
China Views