For a carbon-neutral world
Share - WeChat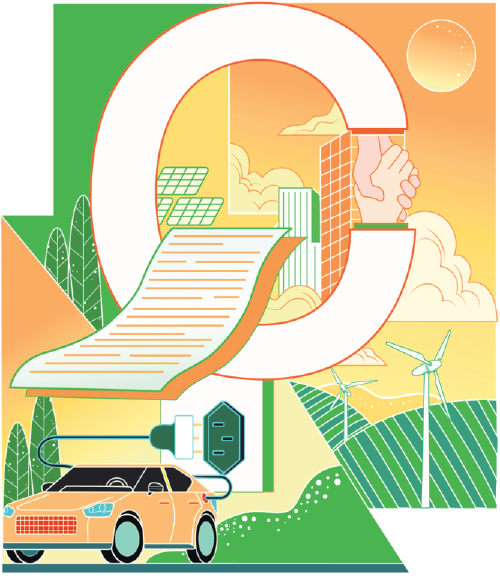 China has given the world a positive surprise with its new climate pledge. Addressing the United Nations General Assembly on Sept 22, President Xi Jinping said China will strive to peak its carbon dioxide emissions before 2030 and achieve carbon neutrality before 2060. At a time when the world is struggling to contain the COVID-19 pandemic and cope with its economic impact, China's announcement provides hope, and demonstrates the country's commitment to help build a safer, cleaner and better world in the coming decades.
It is hard to underestimate the strategic importance of this move. With this announcement, China, a major carbon emitter, shows that it is determined to further enhance its actions on climate neutrality. One-third of current CO2 will be reduced or off-set, and this effort alone will secure an opportunity for the world to achieve the 1.5 C threshold set by the UN Intergovernmental Panel on Climate Change to avoid a climate catastrophe. The goals of the Paris Agreement become officially achievable.
While a lot of debate around this new pledge and its implementation is underway in China, there are some highly relevant questions on the other side of the Pacific too: What will the United States' next step on climate be? Is there any chance the world's top two emitters will cooperate?
Should they agree to work together, China and the US will be jointly pushing climate solutions for the second time. In November 2014, President Xi and former US president Barack Obama, in a joint declaration on climate change, announced respective national climate targets, and set a solid base for the success of the negotiations at next year's UN climate change conference in Paris. But with the incumbent US administration's announcing the US withdrawal from the Paris Agreement in 2017, both the UN's multilateral climate process and Sino-US cooperation on climate have come to a halt. The US' withdrawal from the Paris Agreement becomes official on Nov 4, 2020.
Yet there are three reasons to believe the US and China can and should again come together to combat climate change.
First, China's new climate pledge is not a theory; rather it is a commitment for serious action. The world is moving away from fossil fuels with market support and China is at the center of this shift. Over the past decade, China has implemented strong renewable energy policies, which helped reduce renewable energy prices, and its bold innovative practice will be critical to realizing a zero-carbon world in the future.
The market feedback on those moves will give China an opportunity to further accelerate its actions. Rocky Mountain Institute published a report last year, which indicated a technically and economically feasible road map toward a 2050 zero-carbon economy in China. Also, we are exploring further technical details to flourish this road map, even as China's actions have provided a solid basis for the US to make similar efforts.
Second, despite the US federal government's hesitation, the fight against climate change being waged by non-national actors including US states, cities, businesses and other entities has progressed well. In fact, it has accelerated in spite of the federal government's obstacles.
In 2017, former New York City mayor Michael Bloomberg and then California governor Edmund G. Brown, Jr. initiated "America's Pledge" initiative to analyze and showcase climate action taken by US states, cities, businesses and other non-national actors. This action is remarkably widespread, as an analysis by Rocky Mountain Institute and its partners shows that almost 70 percent of the US' GDP is committed to the goals of the Paris Agreement. And since 2017, the actions of leaders at the non-national level have made good progress across all sectors of the US economy. For example, 13 states and 165 cities have committed to 100 percent clean electricity, and the number of electric vehicles in the US has doubled.
Even this year, despite the global pandemic and economic recession, the climate actions of US states, cities and businesses have increased. These institutional commitments to clean energy progress are a strong validator of the public opinion and market forces underlying America's Pledge, and they suggest the US has passed a tipping point in the transition toward clean energy. As of June this year, 79 percent of US citizens thought the country should prioritize its energy supply toward renewable energy.
And finally, the US and China can and should cooperate again on a longer-term objective of cutting carbon emissions. Addressing the climate crisis is not a fight for any single country. So solutions require all countries working together. This has been a clear message since the issue first drew the world's attention.
The US and China are both leading the world in innovative technologies. There is a need to add to this momentum to transform the global supply chain from gray to green. And both the US and China focusing on energy security and going carbon-free is the best way for them to become self-sufficient in energy supply.
More importantly, non-governmental cooperation and joint efforts between the two countries have never stopped. Therefore, looking to the future, the strong tech-innovation capability and the advantage of capital markets in the US, coupled with China's huge market scale and highly efficient supply chains, offer tremendous opportunities. The two countries have a lot to learn from and a lot of reasons to collaborate with each other in the global energy transition. Areas of collaboration can include accelerating zero-carbon electricity, improving electrification of buildings and transportation, further cutting emissions in harder-to-abate sectors, strengthening technology innovations such as energy storage and hydrogen, and encouraging green investment.
Zero-carbon is the only development model that provides health, economic and climate benefits for all. And there is no reason why China and the US cannot speak the same language on climate and support each other's efforts to build a better future for humanity as a whole.
Li Ting is regional managing director and chief representative of Rocky Mountain Institute Beijing Office; and Carla Frisch is senior principal of Rocky Mountain Institute. The authors contributed this article to China Watch, a think tank powered by China Daily. The views do not necessarily reflect those of China Daily.
Most Viewed in 24 Hours
China Views