Greater cooperation urged to benefit global health
Share - WeChat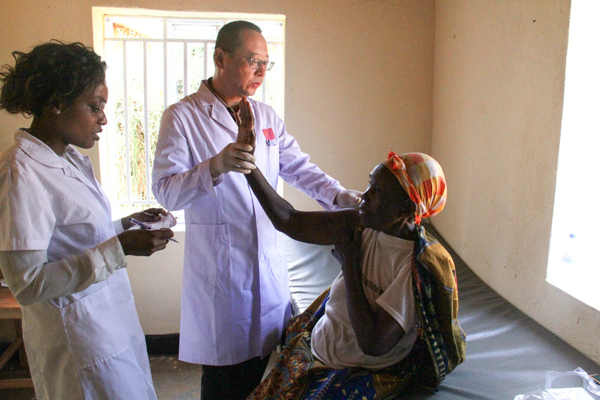 China is able to make more innovative efforts to improve international exchanges and cooperation in public health for the benefit of mankind, experts said.
Amid the COVID-19 pandemic, the most severe global public health crisis in decades, China has carried out massive international cooperation in public health, focusing on providing COVID-19 control and prevention expertise and materials to countries and regions in need.
With the latest efforts underway to help curb the pandemic, China has pledged intensified health exchanges and cooperation with the rest of the world to promote the building of a health community for everyone.
At a meeting in Beijing to outline the development of China's healthcare in the next five years, President Xi Jinping called for more international exchanges and cooperation and improved responses to major international public health emergencies. China also is able to serve as the world's biggest supplier of anti-epidemic materials to promote the building of a health community for mankind, he said.
Dong Xiaoping, director of the Chinese Center for Disease Control and Prevention's Global Public Health Center, said China has been expanding international health cooperation and exchanges over the past six decades, including providing assistance in international public health emergencies such as the 2014-16 Ebola outbreak in West Africa, benefiting hundreds of millions of people overseas.
China has been providing international assistance for COVID-19 control and prevention since the start of the pandemic. By early October, China had sent 34 medical teams to 32 countries to help combat the virus, and provided assistance to more than 150 countries and international organizations. From March 15 to Sept 6, China exported 152 billion masks and 1.4 billion protective gowns, officials said.
However, shortfalls exist in conducting such international cooperation, such as inadequate knowledge of the reality of some other countries and a lack of diversity in how cooperation and assistance are carried out, Dong said. More innovative approaches are needed for better results, he said.
"We should innovate in concepts and mechanisms when promoting international health cooperation, make long-term plans and increase the share of health cooperation and assistance in China's overall international assistance budgets," Dong said.
Innovations should be made in the methods of such international cooperation so more programs involving public health research are carried out, rather than just focusing on helping to build health facilities and donating materials to other countries, he said.
In order to contribute more to global prevention and control of infectious diseases, China could focus on diseases that it has lots of experience in handling but that create a heavy burden for its key partners, such as some African countries. It could intensify cooperation in the monitoring, prevention and control of those illnesses as well as scientific research in related areas to systematically improve those countries' capacity in the prevention and control of the diseases, Dong said.
Tong Xiaogang, a surgeon at Xuanwu Hospital, a Beijing hospital that specializes in diseases of the nervous system, set out for Conakry, the capital of Guinea, in September. It was the second time he was sent to the country to provide technical guidance to local medical workers.
Improving COVID-19 control and prevention is part of Tong and his colleagues' mission in the West African country. They are also planning to help develop the China-Guinea Friendship Hospital there into a medical center for nervous system diseases in West Africa, providing quality diagnosis and treatment in the region within the next few years.
Dong, from the China CDC, said qualified talent for international health cooperation and exchanges is lacking in China, and more efforts should go into building a talent reserve for international health cooperation. Also, better training is needed in areas such as foreign languages and culture to meet the increasing demand for such knowledge. Professional health teams of various specialties for emergency tasks overseas should also be created, he said.
"We need to accelerate exploration of a sustainable and overall development plan for international public health assistance, including specifying the goals and priority areas for cooperation," Dong said.
Song Xinyang, deputy director of the TCM International Development Research Center at Shanghai University of Traditional Chinese Medicine, said traditional medicine could also contribute more to international health cooperation and building an international health community. TCM has proved its unique effects in coping with major new infectious diseases such as COVID-19, he said.
"It is suggested that we conduct research into disease patterns in other countries and design TCM-based diagnosis and treatment plans so that TCM plays a more important role," he said. "More international cooperation in traditional medicines is needed so they contribute more to the health of humankind."