Giving life to poetry
Share - WeChat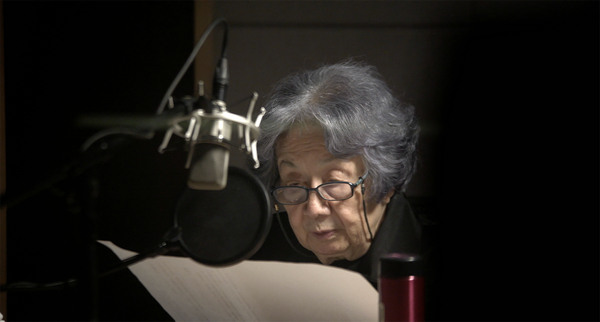 Like the Dyer's Hand, a documentary film on scholar Florence Chia-ying Yeh, made its global debut on Friday, one day ahead of the 101st anniversary of Nankai University in Tianjin.
The 96-year-old who now lives on Nankai's campus says it's the only film that she has approved on her turbulent life experiences in Beijing, Taipei, Canada, the United States and Tianjin, and her insights into Chinese poetry, her main subject of study.
It took Taiwan director Chen Tsun-shing three years to make the film. The crew interviewed Yeh 17 times, and each interview often lasted several days, usually beginning around 9 am and continuing until 11 pm, with an afternoon break.
Yeh often prepared the material for information on her early life until late in the night, according to Shen Yi, the filmmaker.
After the interviews, the recorded footage hit 980,000 words. The film was shot in Beijing, Tianjin, Xi'an, capital of Northwest China's Shaanxi province, Luoyang in Central China's Henan province, Hong Kong, Taipei, Vancouver and Boston. The crew met with dozens of Yeh's friends, students and relatives, including writers Pai Hsien-yung and Hsi Muren.
"We wanted to vividly showcase her full life and personal charisma," Shen says.
Sun Xianghui, curator of the China Film Archive, says the film, infused with the rich history of Chinese poetry and Yeh's experience, "is an epitome of Yeh's efforts to inherit the Chinese cultural spirit".
Liao Mei-li, founder of Taiwan's Eslite Bookstore and the initiator of the film project, says, "The documentary demonstrates Yeh's spiritual power and moral beauty."
At a public event in Nankai University, Yeh says Chen is not only a film director but also a semiology researcher who completed his studies in France before working in Taiwan's film sector. To Chen, the film is not only a personal story of Yeh but also a review of the history of Chinese poetry.
Yeh's personal experience explains why she devoted her lifetime to poetry and found courage from it.
She was born in Beijing in 1924 and lost contact with her father at a young age. When she was 17 years old, her mother died, so she was cared for by relatives.
Most Popular