Rivals zero in on swing states that are key to victory
Share - WeChat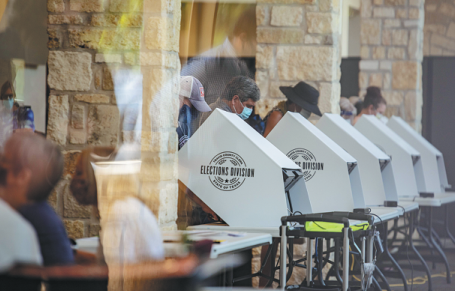 JOHNSTOWN, Pennsylvania-With the Nov 3 election less than three weeks away, US President Donald Trump and Democratic challenger Joe Biden concentrated on Tuesday on battleground states both see as critical to clinching an Electoral College victory, tailoring their travel to best motivate voters who could cast potentially decisive ballots.
Biden went to Florida to court seniors, looking to deliver a knockout blow in a state Trump needs to win while trying to woo a group whose support for the president has slipped.
And Trump visited Pennsylvania, arguably the most important state on the electoral map, unleashing fierce attacks on Biden's fitness for office in his opponent's backyard.
"He's shot, folks. I hate to tell you, he's shot," Trump told a big rally crowd in Johnstown, Pennsylvania, saying there was extra pressure on him to win because Biden was the worst presidential candidate of all time. "Can you imagine if you lose to a guy like this? It's unbelievable."
In his second rally since contracting the coronavirus, Trump spoke for more than an hour to a crowd of thousands packed in tightly and mostly maskless.
Like the night before in Florida, Trump seemed healthy, and his rhetoric on the pandemic-including the dubious claim that it was mostly a thing of the past-changed little despite his own illness, except for his threat to kiss audience members to prove his immunity.
The US leader touted his elimination of a federal rule that would have brought more low-income housing to the suburbs and zeroed in on groups whose support he has struggled to retain, including female voters turned off by his rhetoric.
"So I ask you to do me a favor. Suburban women: Will you please like me? Please. Please. I saved your damn neighborhood, OK?" Trump said. "The other thing: I don't have that much time to be that nice. You know, I can do it, but I gotta go quickly."
The coronavirus, which has claimed more than 215,000 lives in the US, was largely an afterthought, even if Trump himself was hospitalized for three nights after testing positive at the start of October.
'Erratic' president
"We're going to crush the virus very quickly. It's happening already," Trump said, despite a swath of the United States now reporting large increases in infections.
Hours earlier, Biden was in Florida holding one of the much smaller events typical of his low-key campaign, zooming in on Trump's handling of the pandemic.
Arguably even more important on election day than Pennsylvania, Florida is a battleground state that Trump won in 2016 but where polls currently show Biden ahead.
Biden courted the key electoral demographic of elderly people, telling an event at a retirement center in Pembroke Pines, north of Miami, that Trump has "never been focused on you".
"You are expendable, you are forgettable, you are virtually nobody. That's how he sees this," said Biden, who, unlike Trump, wore a face mask throughout his remarks.
In this week, Trump will be heading out to Iowa and North Carolina, then back to Florida and Georgia.
Iowa and Georgia were two states which Trump won handily in 2016 but polls show tight races in both weeks ahead of the election.
A poll of likely Florida voters released on Tuesday by Florida Atlantic University gave Biden a 51 percent to 47 percent lead there.
"Joe Biden continues to be competing better for senior voters than Hillary Clinton did in 2016, and that could be the difference in Florida," said Kevin Wagner, a political-science professor at Florida Atlantic University.
Agencies Via Xinhua