Vital waterway gets another chance
Share - WeChat Greening projects rejuvenate the Fenhe River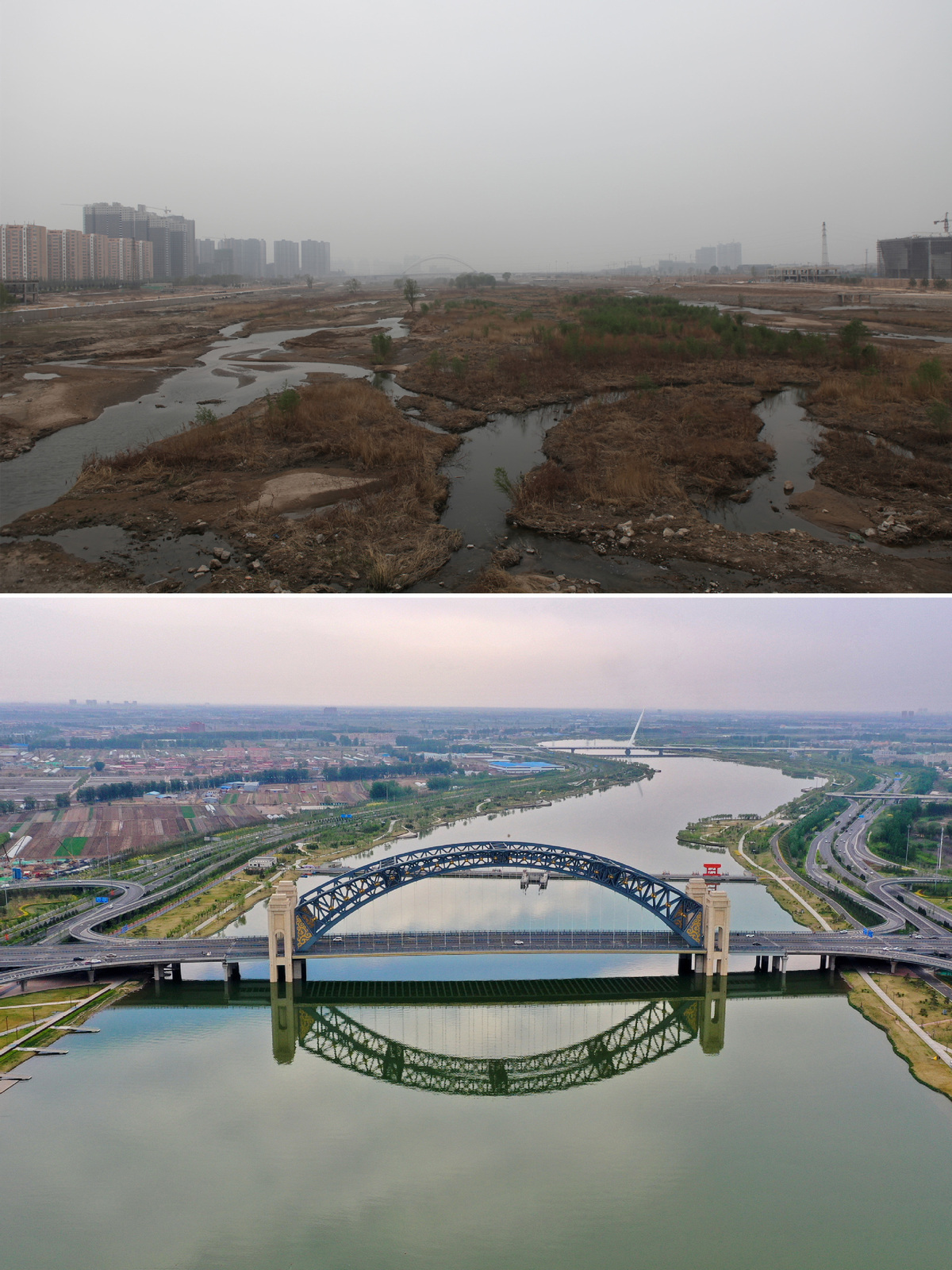 Wang Guishuan, a 68-year-old villager from Shanxi province, has lived near the source of the Fenhe River all his life.
He used to farm and raise poultry on land above the river's source, but a project to protect the headwaters took in that land. So, two years ago, Wang moved to farm on land below the source and joined efforts to keep the river free from agricultural pollution.
Hailing from Ningwu county, Xinzhou, he is just one of many people who are helping protect the river.
Known as the "mother river" of Shanxi, the 713-kilometer Fenhe, the second-largest tributary of the Yellow River, originates on the northern slopes of Guanceng Mountain in Ningwu county. It meanders through Shanxi before entering the Yellow River in the southwestern county of Wanrong.
The Fenhe, which passes through the Taiyuan and Linfen plains, is one of the main water sources for agriculture, industry and more than 32 million people in the province.
It was, however, once heavily polluted.
Last year, it was described as a "severely polluted" tributary by President Xi Jinping when he delivered a speech about improving the environment and protecting the Yellow River Basin's ecosystem.
Yuan Jin, an environmental science professor at Taiyuan University of Technology's College of Environmental Science and Engineering, said: "Shanxi has a severe shortage of water. Some of the main channel and tributaries of the Fenhe River once dried up as a result of overuse."
Self-cleaning is a major way for rivers formed naturally to improve their water quality. When more water flows in, the amount of sewage is reduced and the rivers become cleaner.
However, Yuan said that because of limited water resources the ability of the Fenhe to self-clean is poor.
Explaining why pollution occurred in the past, he said: "There was no runoff and the river dried up. The only flowing water was sewage discharged from production processes."
He said that with Shanxi relying heavily on the Fenhe for daily industrial and agricultural use, a significant amount of sewage was discharged into its waters.
To improve the river's water quality and prevent poor-standard water entering it, joint efforts have been made by the authorities, residents and enterprises on its upper, middle and lower reaches.
Last year, President Xi said that to harness the Yellow River, priority should be given to eco-environmental conservation, with the key being eco-environmental governance.
He also urged that different measures be adopted to match local conditions.
As a result, action has been taken in different areas of Shanxi to improve water quality and protect ecology and the environment.