Judge Barrett deflects questions on abortion rights
Share - WeChat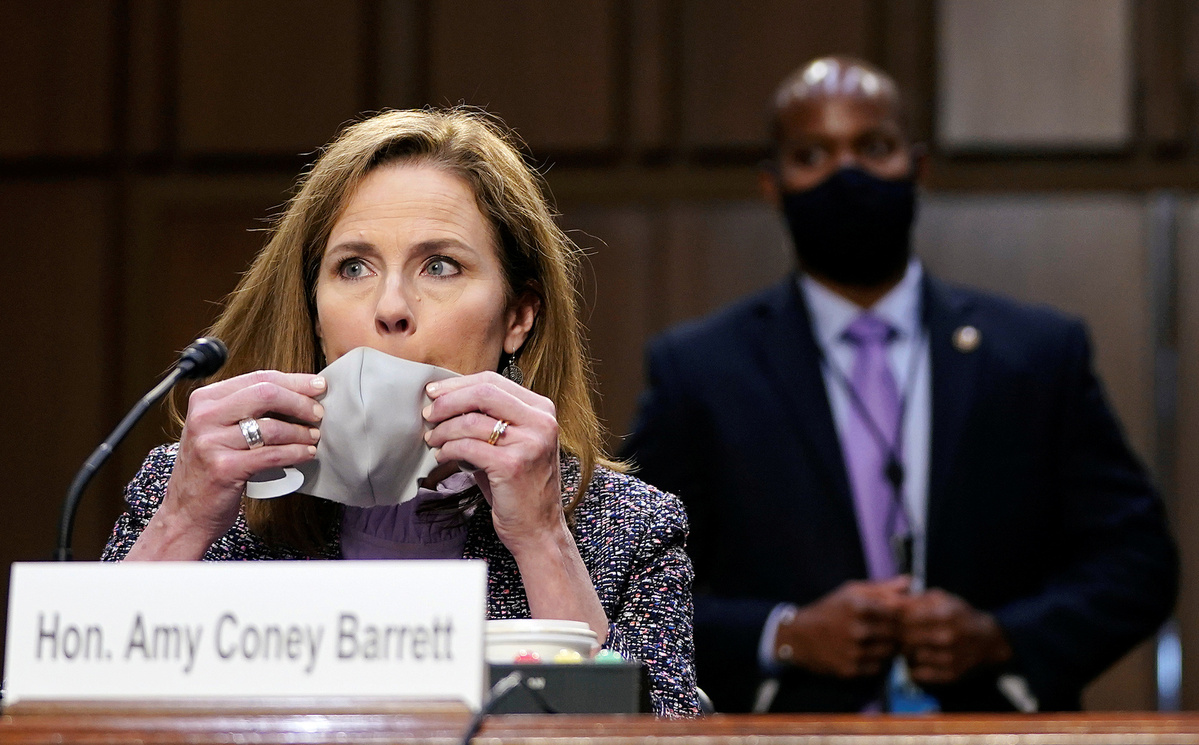 US Supreme Court nominee Amy Coney Barrett declined to answer Senate Democrats' questions on abortion, gun rights, Obamacare and election disputes on Tuesday, the second day of confirmation hearings on her nomination to the high court.
The 48-year-old federal appellate court judge declined to say whether she would recuse herself from any election-related cases involving President Donald Trump, who nominated her to fill the seat of the late Justice Ruth Bader Ginsburg and is pressing to have Barrett confirmed before the Nov 3 presidential election.
On a day that Democrats on the Senate Judiciary Committee pushed Barrett on whether she would vote to overturn Roe vs Wade — the 1973 decision that legalized abortion nationwide — the Supreme Court rejected South Carolina's request to reinstate its blocking of Medicaid funding to Planned Parenthood and other abortion providers.
The case is one of the first major reproductive rights challenges the court has considered since Ginsburg's death on Sept 18.
Barrett's confirmation would give the court a 6-3 conservative majority.
The judge said that she gave no commitments to the White House on how she would rule on Obamacare (the 2010 Affordable Care Act) or election-related disputes and declined to tell senators whether she believes landmark rulings legalizing abortion and gay marriage were properly decided.
She refused to say whether she would recuse herself, if confirmed, from considering an upcoming case in which Republican states are trying again to get the Supreme Court to strike down the Affordable Care Act or from any case that may arise if there is a legal dispute over the outcome of next month's presidential election.
Barrett has criticized a 2012 Supreme Court ruling authored by conservative Chief Justice John Roberts that upheld Obamacare.
"I am not here on a mission to destroy the Affordable Care Act," Barrett said. "I'm just here to apply the law and adhere to the rule of law."
Senator Amy Klobuchar of Minnesota asked, "Do you think it is faithful to our democratic principles to fill a Supreme Court vacancy this close to an election when people are still voting?"
"Senator Klobuchar, I think that is a question for the political branches," Barrett said.
During the hearing, Barrett repeatedly declined to give her views on abortion rights, despite her record of public comments opposing abortion.
She declined to answer whether she agreed with her late mentor, Justice Antonin Scalia, that Roe vs Wade was wrongly decided.
Asked by Senator Lindsey Graham, Republican of South Carolina and the Judiciary Committee chairman, if it would be accurate to call her a "female Scalia", Barrett said that he had been a mentor.
But she added: "I want to be careful to say if I am confirmed, you would not be getting Justice Scalia. You would be getting Justice Barrett, and that is because not all originalists agree."
She called herself a strict textualist and originalist in the tradition of Scalia.
"In English, that means I interpret the Constitution as a law," said Barrett. "The text is text, and I understand it to have the meaning that it had at the time people ratified it. It does not change over time, and it is not up to me to update it or infuse my own views into it."
Democratic senators noted that Trump has promised to only nominate judges committed to overturning Roe vs Wade.
Senator Dianne Feinstein of California, the ranking Democrat on the committee, posed questions to Barrett on abortion rights.
"I completely understand why you are asking the question, but again, I can't pre-commit or say yes," Barrett said.
"On something that is a major cause with major effects on over half of the population of this country who are women, it is distressing not to get a straight answer," Feinstein replied.
Barrett emphasized that she has no political agenda and consistently referenced the long-standing tradition of judicial nominees refusing to give their views on specific issues.
"I do want to be forthright and answer every question so far as I can. I think on that question (about abortion rights) I'm going to invoke Justice Kagan's description, which I think is perfectly put. When she was in her confirmation hearing, she was not going to grade precedent, or give it a thumbs-up or a thumbs-down," Barrett said, referring to Justice Elena Kagan, who was appointed to the Supreme Court by former President Barack Obama in 2010.
Justices don't set an agenda, said Barrett, they respond to the cases that come before them.
The Associated Press and Reuters contributed to this story.