Chorus festival in tune with the public in challenging times
Share - WeChat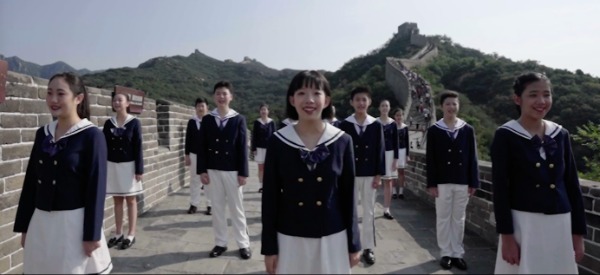 It's not difficult to sing the praises of the China International Chorus Festival. Established in 1992, it is the largest festival of its kind in the country and gathers choirs from both home and abroad in Beijing. However, the pandemic, as with so much of public life, has forced the festival, held every two years, to retune its approach. This year it goes online.
On Oct 5, the curtain was raised on the 15th iteration of the festival with an opening gala, which featured more than 20 international choirs, and attracted in excess of 12 million viewers. More than 450 choirs applied to participate in the festival, including 340 from across China. Around 100 events, such as seminars, competitions, master classes and choral showcases will take place online until Oct 31.
Throughout the festival, there will be directorial master classes from the likes of Xu Dechang, conductor of the children's choir of Beijing No 171 Middle School; Yan Baoling, conductor, composer and professor at the Zhejiang Conservatory of Music; and music educator Michalis Patseas, director of the Greek Kodaly Conservatory and Institute.
"People need music, especially when facing the mutual challenge brought about by the coronavirus pandemic," says Jin Chengzhi, one of the co-hosts of the opening gala.
Jin is also the artistic director and conductor of the Shanghai Rainbow Indoor Chorus, which is credited with popularizing the art form in the country and known for its hits, such as Where On Earth Did You Leave the Key to My Apartment, Zhang Shichao? and The Sofa Is So Far. The choir's humorous style has attracted legions of fans.
International choirs also performed during the opening gala, including the Vienna Boys' Choir and Schola Cantorum of Oxford, a British chamber vocal ensemble. Chinese choirs that sang included a children's choir from Beijing No 171 Middle School, and the Beijing Philharmonic Choir.
This year, the festival pays tribute to the people who fought on the front line against COVID-19.
Tim Sharp, executive director of the American Choral Directors Association and the vice-president for the International Federation for Choral Music, highlights the particular challenges of the times we are currently living in.
"One of the most difficult aspects of dealing with this time of quarantine, other than the immediate health threat, has been our loss of control," Sharp says.
"As choral directors, we are generally 'control freaks', which goes along with our job. We are in charge of a lot of singers and we are in charge of a choral program. Now we've lost control of much of that."
Having just got through COVID-19 himself, as did his wife, who had to go to the hospital with pneumonia, Sharp recalls that "it was a very tough time for us and it was a scary time", but they "survived it" and are now back to working at home, which gives him "a new sense of what I can do and what is possible".
"One of the reasons that I continue to stay strong in this work is that I know that we all need each other in our network. We need to support each other," Sharp says. "Music can give people infinite hope for a better future. Music can offer people inspirational power."
For a decade, the festival has initiated programs offering training to children living in poverty-stricken areas of the country. This year, veteran Chinese mezzo-soprano Li Ke joined the program. Li has been devoted to teaching choral singing to children living in Jingle county, Xinzhou city of North China's Shanxi province.
Li, a former singer with the China National Symphony Orchestra, was one of the lead singers when conductor Seiji Ozawa and the Boston Symphony Orchestra performed Beethoven's Symphony No 9 in D minor, Ode to Joy, in China in 1979.
Since 2017, Li has traveled to Jingle county, more than 500 kilometers from the capital, to give music courses to children and teachers. She has helped set up two choirs for the county-an adult's and a children's choir-both of which competed in this year's China International Chorus Festival and qualified for the final round of the competition.
"Art education is an important part of the poverty alleviation campaign. Music is a universal language and it plants the seed of art in those children's hearts," says Li, 68, who has donated two pianos to schools in Jingle county.
Most Popular