Peacekeeper helps defuse volatile situation in Africa
Share - WeChat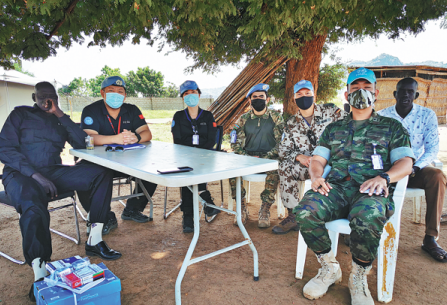 Police officer Zhang Kai remembers the exact time, date and place of his most frightening moment as a United Nations peacekeeper in South Sudan.
At 7:24 pm on Dec 13, 2018, Zhang and his colleagues arrived at a refugee camp's community center after a government agent was accused of gathering intelligence.
The cornered agent from Sudan's National Security Service had taken out an F1 hand grenade and pulled the pin.
Fortunately, the grenade did not explode, Zhang said, adding the area was crammed with women and children who had gone to the center for a movie night.
When he worked as a police officer at the Hefei police bureau in Anhui province, Zhang had battled criminal gangs and gained experience dealing with explosives.
He said he managed to put the pin back in the grenade, but there was still a chance it might explode. The nearest UN team that specialized in unexploded ordnance was 500 kilometers away.
As the commanding officer, Zhang decided to personally take the hand grenade to a safe area. He cupped his hands around the grenade, and jumped in a vehicle driven "very slowly" by a Russian peacekeeper. The 1-km drive to a safe area took more than 25 minutes and the hand grenade was detonated the next day.
"It was a good call because if we had left the hand grenade there, it could have exploded at any time," Zhang said.
He said he was "very nervous but not fearful" when he held the grenade. "All I thought of was to prevent the hand grenade dropping on the ground, which might trigger an explosion," he said.
However, when Zhang returned to his dorm, he said he was "filled with fear".
South Sudan attained independence from Sudan in 2011, but the country has faced ongoing challenges since a political standoff between two rival factions erupted into full-blown conflict in December 2013. The conflict has produced one of the world's worst displacement situations with immense suffering for civilians, according to the UN.
Zhang, 31, said he wanted to serve as a peacekeeper when he was still young so he could create lasting memories that he could talk about for the rest of his life.
"I couldn't stand having no energy when life gets easier and more comfortable. Peacekeeping is a task my motherland needed to perform, and it was also something that I'm capable of doing," he said.
In April 2018, Zhang left the Luyang subbureau of police in Anhui and spent 879 days in South Sudan. His mission was originally for a year, but he extended it for another 18 months because of local needs and the COVID-19 pandemic.
He returned to China last month and was placed in quarantine in Hefei. As a police officer in the peacekeeping force, he handled many cases, from solving simple disputes to negotiating with local armed forces. Although Zhang's parents and girlfriend were supportive of his decision to serve as a peacekeeper, he sometimes felt guilty as he sensed they worried about his welfare.
"When I missed them, I talked to them on the phone and looked at their photos," he said. "Luckily, they supported and understood what I did."
Zhang is one of more than 2,600 Chinese police officers who have taken part in nine peacekeeping operations around the world in the past two decades. Eight have died while carrying out their duties.
Chinese civilians, such as nurses and doctors, and military personnel have also played a key role in keeping the peace in South Sudan.
In January 2015, the People's Liberation Army dispatched a battalion of 700 soldiers to the United Nations Mission in South Sudan, according to the China's Armed Forces: 30 Years of UN Peacekeeping Operations white paper released last month.
Since then, six rotations of soldiers have been committed to the mission, the white paper said.
In July 2016, when an armed conflict broke out between government and opposition forces in the capital Juba, PLA soldiers risked their lives preventing militants reaching a camp where 9,000 civilians were sheltering. Corporal Li Lei and Sergeant Yang Shupeng lost their lives in the action and were awarded bravery medals by both the PLA and the UN. Chinese police officers were deployed for UN peacekeeping operations for the first time in 2000, when 15 were sent to East Timor.