Letters from Canada: Saskatchewan, a province in the heart of Canada – and its history
Share - WeChat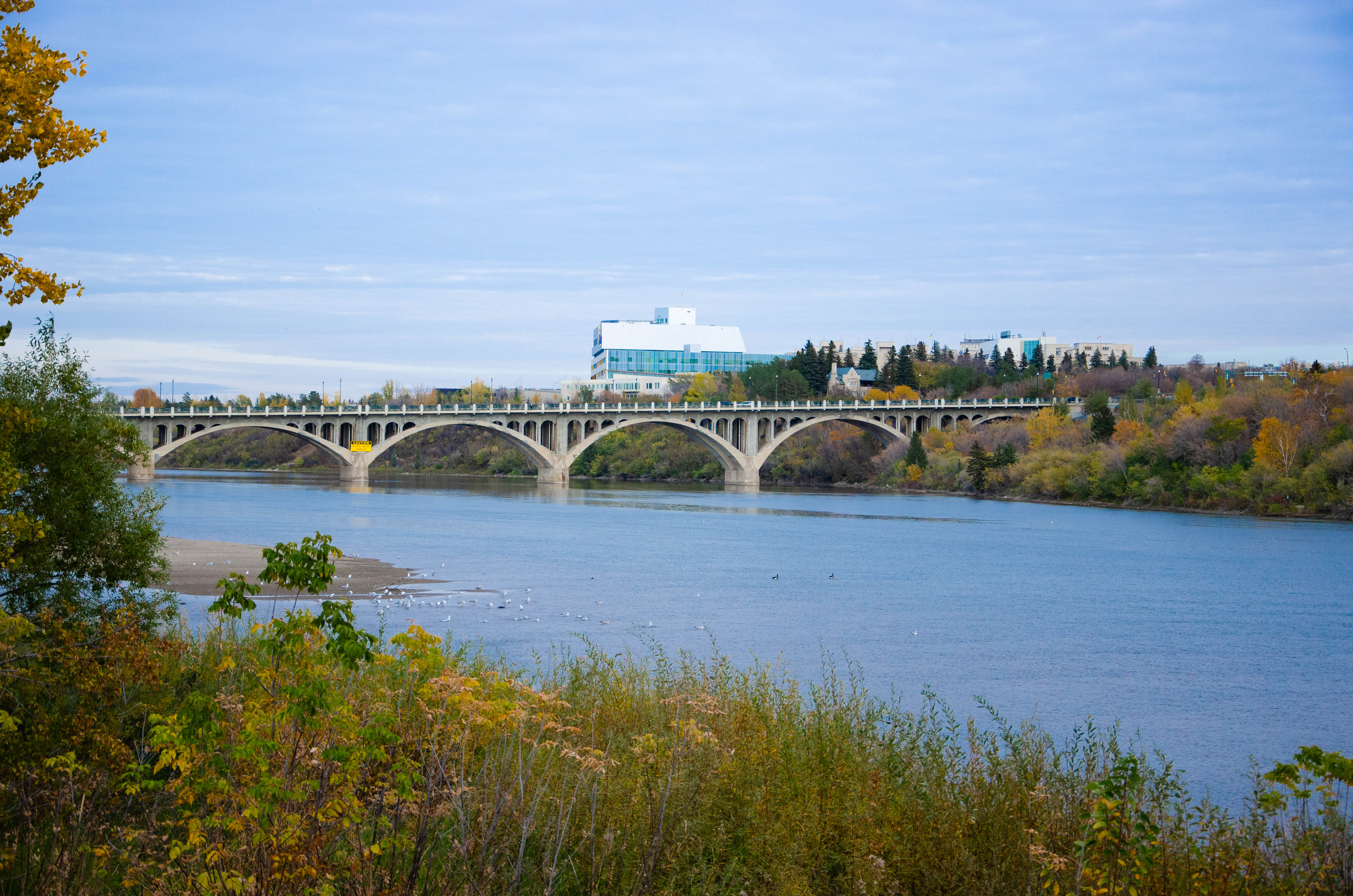 "Looks like the prairie has been crisscrossed into small lots!"
I could hear a tad of sarcasm as my son Jimmy described the patchwork-like expanse of Saskatchewan outside the cabin window.
"We will soon get an update," I reassured him. Jimmy was taking a standardized test 100 kilometers outside Saskatoon on the first Saturday of October, and we had come a day earlier. As we drove on Highway 16, endless rows of harvested fields and solitary, grim-looking grain elevators rushing past us at regular intervals confirmed what we were reluctant to admit at first: Saskatchewan does not remotely pretend to be a prairie country; it is unapologetically an agricultural province, with farming and ranching probably making up a big part of its economy and the livelihood of its people. Still, the clear blue sky, the wispy white clouds, and the October sun that bathed everything in a golden gleam kept up our spirit.
The next morning, after I wished Jimmy good luck, I went to check out the two places the three proctors graciously recommended I visit to kill time.
The Fort Battleford National Historic Site was closed, though. A hundred yards behind the gate a warehouse-like building stood by itself. I turned to the immense ground that gently sloped down from where I stood and took in rolling hills and open space that unfolded in the distance. The morning sun cast shafts of translucent light through gaps in the clouds, leaving strangely shaped scars and shadows on the dewy meadows below. Through an iron gate at the end of a trail round the site, I saw a stockade and a few wood structures huddled inside about two hundred yards yonder.
As I had about two hours before I was due for the next destination, I did a quick search on Battleford. What I found was a story of conflict between Metis and First Nations (Indigenous) people inhabiting the Northwestern Territories – now Saskatchewan and Alberta – and the newly created Dominion of Canada in 1885.
Government accounts of the events portray the Metis – offspring of European fur traders and natives – and their First Nations allies as rebels and justify their suppression as necessary for maintaining law and order. Independent sources, however, point to then Prime Minister John A. MacDonald's ambition to build a coast-to-coast nation, violation of Indigenous treaty rights, the Conservative government's failure to address Metis and white settlers' grievances, and famine among Indigenous people due to the disappearance of bison herds – a major source of their diet – as causes of agitation and unrest. Actual armed hostility involved no more than 300 Metis and even fewer Indigenous warriors, but Ottawa treated Cree and other Indigenous bands' taking of food from abandoned stores and homes as part of a broader Metis-led rebellion and sent in a 5,000-strong force to quell it. In the end, the Metis leader Louis Riel was captured and hanged for treason.
Fort Battleford was the sixth North West Mounted Police fort at the time. It is with men from this fort that military engagement began.
The North-West Rebellion of 1885 placed Saskatchewan center stage in a conflict whose legacy lasts even today. The NWMP's participation in putting down the rebellion also explains its present-day successor the RCMP's tense relations with First Nations.
What started out as an attempt at diversion early in the morning had turned into a refresher of weary, controversy-laden history. Like a Canadian not easily giving up what he rightly or wrongly believes is his due, I pressed ahead in search of escape, which I did find at the Western Development Museum North Battleford, to some extent.
The museum sits on such a huge lot that I had trouble deciding where to park my Dodge caravan. It only had two exhibition rooms open today, and I was the only visitor for two hours, an agonizing reality I preferred to attribute to Covid-19.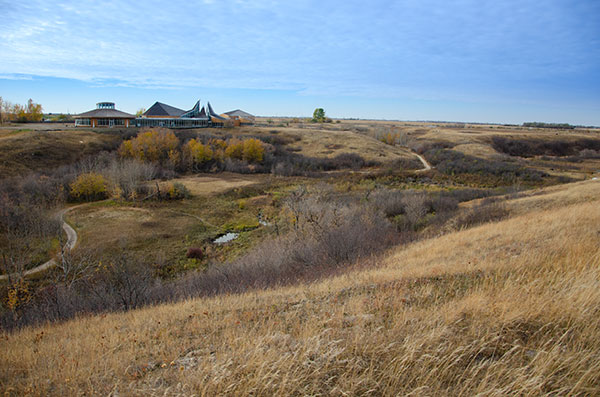 The first room houses what the museum boasts to be one of the best collections of 19th century Canadian-built portable steam engines. Visitors learn how these horse-drawn engines revolutionized farming when their steam power was transmitted to a threshing machine. Prominently on display close by are vintage motor vehicles from the interwar period – a 1929 Chrysler Series 65 four-door sedan, a 1929 Chevrolet International Imperial Landau and a 1940 Ford one-ton truck. Their voluptuous contours and still sleek finishes evoke good times and fond memories. Visitors also get to inspect artifacts re-enacting farm life in Saskatchewan in the early 20th century, which covers wheat growers' organizing of cooperatives to obtain fairer prices and the influx of immigrants from Germany, Austria, Ukraine, Scandinavia, Russia, and Poland.
In the smaller adjoining room, one learns about Saskatchewan's Golden Jubilee (1955), the exodus of people into cities as farms got bigger and more efficient, the rise of the oil and gas industry in the 1960's, and reinvigoration of the economy when commodity prices rebounded at the turn of the 21st century.
While the province hurtles along among the exhibits that crowd the rooms, two groups are left behind. In a dimly lit rectangular kiosk in a corner, a life-size Metis couple mannequin relate how destitute they are that they find the cash offered for their land scrip irresistible, that they are afraid their land will soon be gone. A poster next to an even smaller dome-shaped tent that displays Indigenous arts and stories informs visitors that six treaties govern Canada's relations with the First Nations people living in Saskatchewan, that all treaties promised to maintain schools for Indigenous children, and that "treaties are enduring land-sharing agreements that benefit all Canadians."
We all know that residential schools would become implements of cultural genocide over the course of a century, that as outcasts in their own land half of First Nations people today live on small pockets of reserves in remote areas, often struggling with poverty, disease, addiction and suicide, and that the treaties purportedly to "benefit all Canadians" have so far benefited all but the true owners of the land.
I was still contending with these hard-to-reconcile realities when Jimmy came out of the test center, looking both relieved and excited.
On the way back to Saskatoon, we visited Wanuskewin Heritage Park as I had promised. Little kids gamboled and laughed around the playground, and the sun was a glowing orb by now. The bison jump was still there, but the herds were no more. Standing in the approach to the visitor center were rust-iron sculptures of galloping bison and camouflaged Indian hunters in crouching postures. Historical evidence suggests a "collaborative" cross-border scheme to exterminate the great bison herds to deprive the Plains Indians of their sustenance, thus forcing them to sign treaties and move onto reserves.
"Isn't it an irony that we are able to appreciate something only after it is gone?" I put the question to Jimmy at the end of our tour. I had filled him in between mouthfuls of a Quarter Pounder on the way here.
"So, they are quarter sections down there," grinned Jimmy quizzically shortly after we were airborne the following day, referring to the Dominion land survey system that cuts up the prairies into farmsteads, each the size of a fourth of a square mile. "But I do not mind it is prairie country no more; otherwise I wouldn't have taken the test here, would I?"
There is the typical Canadian youth talking again – ever a realist. But I appreciate counterpoint, as Canada turns out to be in many of its ways.

The author is a teacher in British Columbia, Canada.
The opinions expressed here are those of the writer and do not necessarily represent the views of China Daily and China Daily website.
Most Viewed in 24 Hours
China Views