Debates turn surreal amid an unusual year
Share - WeChat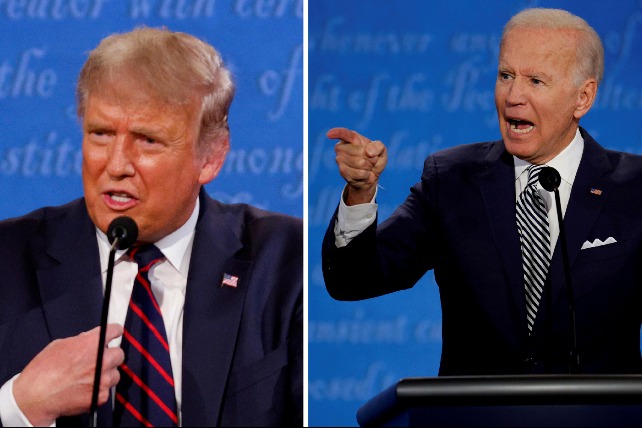 Political debates are usually an entertaining footnote to the larger story of a presidential election campaign.
But in pandemic-gripped 2020, they have drawn outsize attention, starting with the first presidential debate between President Donald Trump and Democratic contender Joe Biden on Sept 29 in Cleveland. The contest was unique because of its myriad interruptions and insults.
On Wednesday, Vice-President Mike Pence and US Senator Kamala Harris of California, Biden's running mate, riposted in an encounter that while not as volatile as the one featuring the top of the ticket, had its share of contentiousness and evasiveness. They also sat 12 feet apart, separated by a Plexiglas panel in Salt Lake City, Utah.
And there was that fly that landed on the head of the vice-president, resulting in various internet memes.
Pence's blood-streaked left eye also drew some attention, but a senior administration official said White House doctors have cleared the vice-president of a conjunctivitis infection, or pink eye, and believe he had a broken blood vessel, according to politico.com.
Next, the Commission on Presidential Debates on Thursday called for a virtual contest on Oct 15, considering that Trump recently was hospitalized for treatment of COVID-19.
The Republican president harrumphed that he wouldn't waste his time on a remote rumble. The event was supposed to be a town hall style meeting in Miami.
"I'm not going to waste my time on a virtual debate. That's not what debating is all about," Trump said in a phone interview with Fox Business on Thursday. "You sit behind a computer and do a debate — it's ridiculous, and then they cut you off whenever they want."
After Trump said he would not participate, the Biden campaign issued a statement saying the commission should move the town-hall format debate to Oct 22 to give voters a chance to question the candidates.
Trump's campaign then issued a statement agreeing to push the showdown to Oct 22, but proposed holding what would be the third debate on Oct 29. The Biden campaign rejected the new later date.
Former vice-president Biden, while campaigning in Arizona on Thursday, said: "We agreed to three debates back in the summer. I'm showing up. I'll be there. And if, in fact, he shows up, fine. If he doesn't, fine."
Biden said he would hold his own town hall meeting next Thursday in Philadelphia, while Trump said he would hold a rally. Pennsylvania is a key battleground state for the Nov 3 election.
"Trump's erratic behavior does not allow him to rewrite the calendar and pick new dates of his choosing," said Kate Bedingfield, Biden's deputy campaign manager.
Saying he was feeling "really good", Trump declared himself ready to resume campaign rallies, saying he does not believe he is still contagious.
"I'd love to do a rally tonight. I wanted to do one last night," Trump said, adding that "if I'm at a rally, I stand by myself very far away from everybody".
In other political news, House Speaker Nancy Pelosi, Democrat of California, is questioning Trump's fitness to serve, announcing legislation Thursday that would create a commission to allow Congress to intervene under the 25th Amendment to the Constitution and remove the president from executive duties.
Pelosi said Trump needs to disclose more about his health after his novel coronavirus infection. On Friday, she planned to reveal legislation that would launch the commission for review.
"The public needs to know the health condition of the president," Pelosi said, invoking the 25th Amendment, which allows a president's Cabinet or Congress to intervene when a president is unable to conduct the duties of the office.
"Crazy Nancy is the one who should be under observation. They don't call her Crazy for nothing!" Trump tweeted Thursday afternoon in response.
Section IV of the amendment, which was adopted in 1967, states: "Whenever the Vice President and a majority of either the principal officers of the executive departments or of such other body as Congress may by law provide, transmit to the President pro tempore of the Senate and the Speaker of the House of Representatives their written declaration that the President is unable to discharge the powers and duties of his office, the Vice President shall immediately assume the powers and duties of the office as Acting President."
Pelosi's legislation would face an uphill battle in the Republican-controlled Senate.
In another political story, Trump is increasingly at odds with Attorney General William Barr over the status of the Justice Department's investigation into the origins of the Russia probe, with the president critical about a lack of arrests, and Barr frustrated by Trump's public pronouncements about the case, The Associated Press reported, citing people familiar with the matter.
Trump was optimistic about the probe led by Connecticut US Attorney John Durham, hoping it would expose what he has called spying on his campaign when the FBI opened a case into whether the Trump campaign was coordinating with Russia to sway the 2016 election. The case led to the nearly two-year-long Mueller investigation.
Reuters and The Associated Press contributed to this story.