Cruise lovers just biding their time
Share - WeChat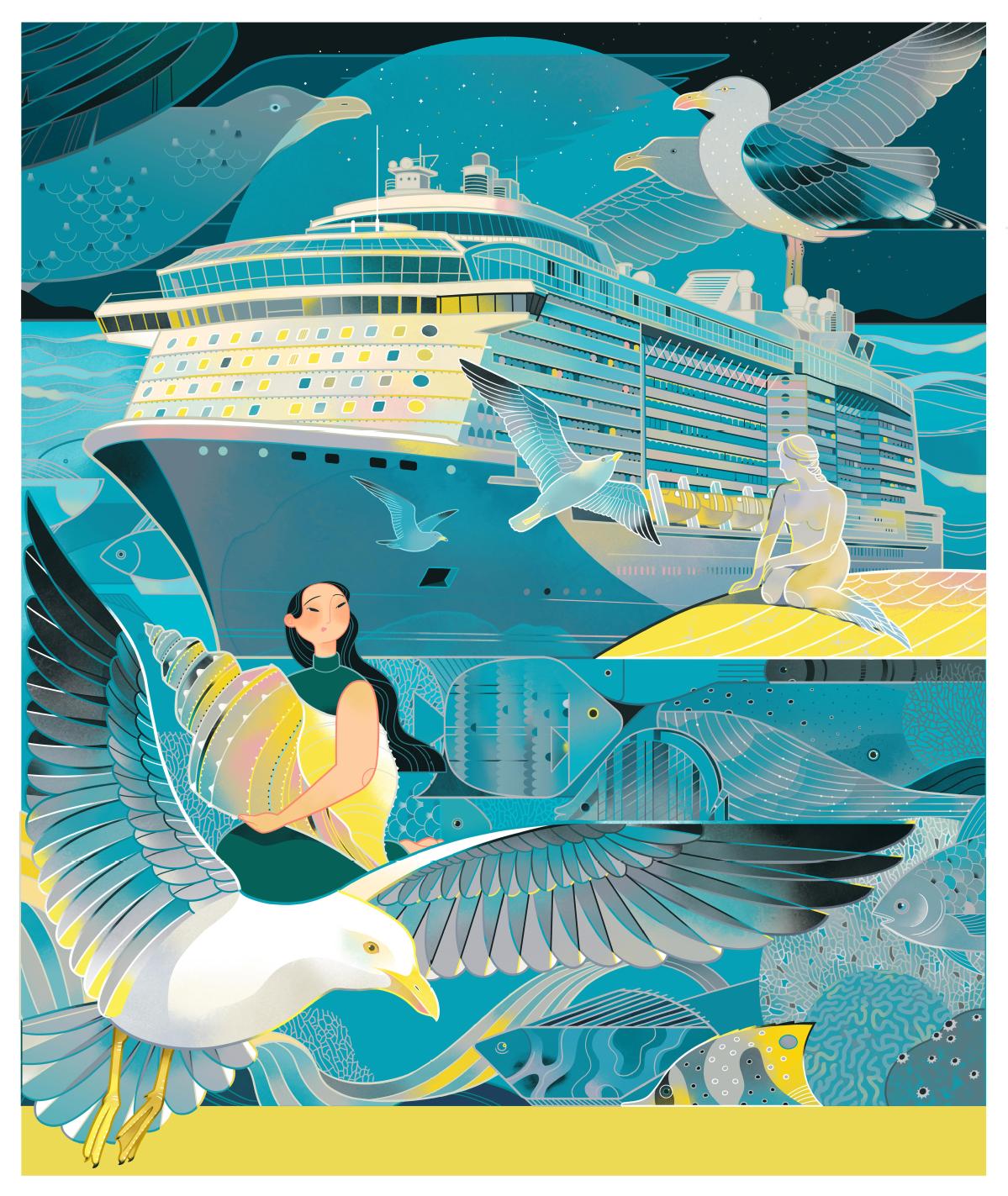 Asian market, avid travelers sources of hope
Maya Calica-Collins, an art teacher from the Philippines who has traveled to many places worldwide, describes the Alaskan cruise she took a few years ago as an "amazing experience".
She has fond memories of making new friends on the ship and exploring the state-North America's last frontier.
When the vessel docked, she took a dog sled tour across the glacial landscapes of Juneau, the Alaskan capital, and also went hiking in a forest.
With cruising triggering her interest in water sports, she and her husband usually spend their weekends sailing from their home in Auckland to other parts of New Zealand.
"You don't need Netflix on a boat-the ocean offers adventures right on your doorstep," Calica-Collins said.
However, the coronavirus pandemic has put her outdoor adventures on hold. While she is using this time to pursue other interests, such as sketching and making minianimations, she is also hoping to travel again as soon as borders are reopened and lockdown measures are lifted.
Avid travelers such as Calica-Collins are a key source of hope for the global cruise industry, which has been paralyzed by the pandemic, with operators having to suspend tours.
However, Asia is expected to remain a growth market, thanks largely to the region's expanding middle class, which is increasingly willing to spend on travel.
According to the Cruise Lines International Association, or CLIA, passenger capacity in the region has been growing since 2013, topping 4 million last year.
Two of the biggest cruise companies-Carnival Corp and Royal Caribbean-are keen to widen their client base in China, which accounts for 50 percent of the Asian cruise travel market.
Royal Caribbean's sights are set on launching Wonder of the Seas-its first ship destined for China-in 2022. The vessel, which can accommodate more than 5,000 passengers, was originally due to arrive in Shanghai in middle of next year, but the date was postponed as the pandemic disrupted shipyard operations.
Liu Zinan, chairman of Royal Caribbean Cruises, Asia, said in a statement in early August that Royal Caribbean firmly believes that the fundamentals of China's economy have not changed due to the pandemic and that the cruise market will continue to develop.
Carnival Corp plans an Asia-focused program for next year through its subsidiary Costa Cruises, which is looking to launch cruise tours in China and Japan.
Mario Zanetti, Costa Cruises chief commercial officer, was quoted by online site Seatrade Cruise News as saying the company has always had full confidence in the Chinese market.
Zanetti said the company is "actively preparing for cruise resumption", adding that it is working with Chinese authorities to strengthen pre-voyage screening and onboard operations.
Industry players have acknowledged that the pandemic will mean that significant changes have to be made.
These include increased focus on small groups to promote social distancing, promoting local or regional destinations, and implementing stringent hygiene protocols in line with standards set by authorities such as the World Health Organization and the US Centers for Disease Control and Prevention.
Joel Katz, CLIA's managing director for Australasia and Asia, said: "When the time is right, we envisage cruise operations are likely to resume in controlled phases and on a regional basis, particularly while international travel is restricted. In different regions this may involve domestic cruises, short itineraries, or operations within a regional bubble."
Katz said the operators of the 270 cruise ships within the CLIA member fleet are developing enhanced measures to ensure the safety of guests, crew and the communities they visit. He said governments and international health authorities are guiding the cruise industry on "the appropriate pathway to a restart".
"The industry's aim is to develop the best possible response to COVID-19 so that we can begin discussions with governments on the appropriate way to revive cruise tourism when the time is right," he said.
John Paolo Rivera, associate director of the Dr. Andrew L. Tan Center for Tourism at the Asian Institute of Management in Manila, the Philippine capital, said lockdowns are meant to keep people at home to reduce the risk of contracting the coronavirus, but this has not diminished their desire to travel. For many, it has heightened such ambitions, albeit with a greater awareness of health.
As many people have been cooped up for a long time at home, they are keen to travel, but they will prefer "products that are low-risk and where physical distancing can be practiced", Rivera said.
He added that the "new normal" will be cruises that focus on small groups and visits to remote destinations, as this will ensure social distancing and reduce the risk of contracting and spreading the virus.
Rising demand
Before the pandemic emerged, cruise tourism was the travel industry's fastest-growing sector.
According to tax, audit and advisory company KPMG, demand for cruises has risen in recent years. In 2017, some 26.7 million people went on a cruise. The number rose to 28.5 million in 2018 and had been expected to reach 32 million this year.
A CLIA-commissioned survey found that cruise travelers tend to be repeat customers, with 82 percent likely to book a cruise again for their next vacation.
However, the pandemic has slowed the industry's growth trajectory. For Genting Hong Kong, one of Asia's biggest cruise operators, the suspension of sailings has resulted in financial problems, with the company announcing on Aug 19 it would temporarily suspend payment to creditors and seek to restructure its debts.
In addition to border shutdowns that have discouraged leisure travel, the cruise industry has faced a barrage of bad publicity.
Extensive coverage of passengers being quarantined on ships such as Carnival Corp's Diamond Princess and Genting Hong Kong's World Dream has raised concerns over safety.
Hundreds of Australian passengers stranded on the Ruby Princess sued Carnival Corp. In a class-action lawsuit filed in Australia's Federal Court in July, the 800 passengers alleged the cruise company and its subsidiaries engaged in "misleading and deceptive" conduct after the COVID-19 outbreak on the ship.
Monique Giese, KPMG's global head of shipping, said in a report on July 23,"The current COVID-19 environment has created a high degree of concern among the public surrounding the maintenance of health and safety on board cruise ships."
Giese said the pandemic has increased the need for robust screening and monitoring protocols, comprehensive sanitation practices, and more health facilities and medical staff members on cruise vessels.
Katz, from the CLIA, said cruise operators are working with medical experts and health authorities to develop extensive measures "that will ideally involve a door-to-door approach that begins at the time of booking and continues through the cruise journey and until the passenger returns home".
He said health and safety protocols being developed globally will be combined by the CLIA and adopted by all its members.
Katz said the coronavirus can spread anywhere people gather to socialize, such as on cruise ships and in restaurants and hotels, but he stressed that cruise vessels are "neither the source nor the cause of COVID-19".
No other sector or industry outside the cruise business has such stringent reporting requirements coupled with the onboard presence of qualified doctors and nurses to provide medical surveillance, he said.
Ingrid Leung, managing director of the travel agency Incruising Travel Asia, which is based in Hong Kong, said reports of people being stranded on cruise ships might deter potential customers, but she is confident this will not be an issue for more-experienced clients.
"Once you have been on a ship, you know how clean they are ... there are always staff wiping every area," Leung said.
She added that cruise vessels are not designed for quarantine, and the types of outbreak that happen on them can also occur in any enclosed spaces, such as hotels or convention centers.
Leung, who has been selling cruise packages since 2012, said this has been the worst year for her business, but this is mainly the result of travel restrictions-not because her customers have lost interest in cruises.
In the meantime, she is offering tours around Hong Kong on private yachts, giving clients a chance to take weekend breaks.
"It's just a matter of time. Many of our clients are looking forward to being on board again," she said.