Wuhan film tells stories of hope and kindness
Share - WeChat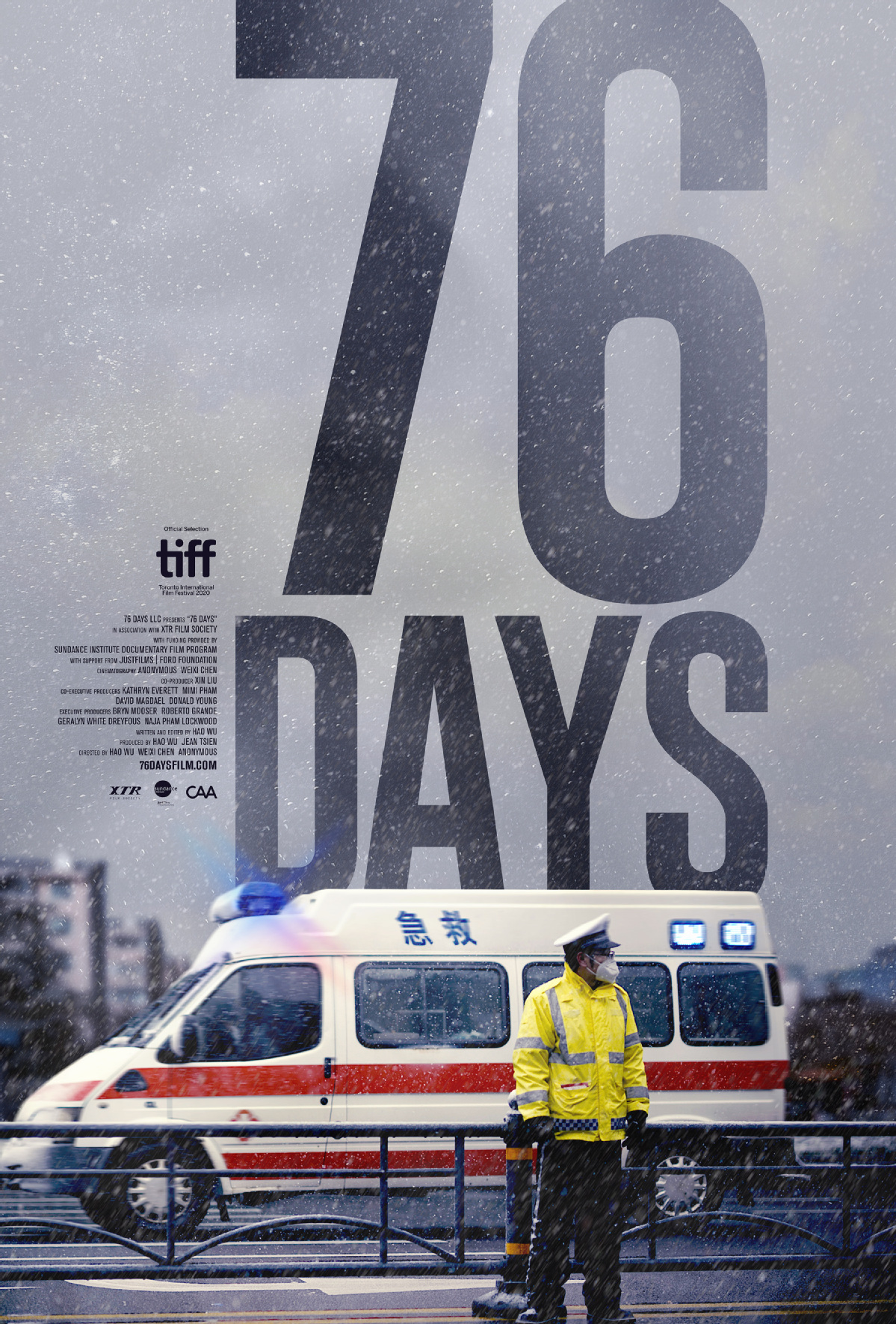 A raw and gritty documentary captures the chaos and trauma of the early days of the novel coronavirus outbreak in Wuhan, China, and lays bare how dedicated nurses and doctors battled to save thousands at the start of the global COVID-19 pandemic.
76 Days,a film by the US-based Chinese director Hao Wu, uses rare footage from two filmmakers, Weixi Chen and one dubbed Anonymous, who were both on the front lines in Wuhan. It was filmed during the city's 76-day lockdown, which began in February and ended April 8. It had its debut at the 2020 Toronto International Film Festival last month to widespread acclaim.
"I needed to tell a story about hope, about the human experience living through a common tragedy, about our shared humanity in this divided and scared world, in order to survive this pandemic myself," said Wu.
In the opening scenes of the film, a desperate medical worker runs toward the intensive care unit inside a hospital where her father lay dead.
"I want to see my papa off! I want to say goodbye!" she says. She is wrapped head-to-toe in personal protective equipment, including plastic goggles to cover her eyes, and encouraged not to cry by nurses.
She lets out a yell of despair. "Let me see my papa for the last time!" The woman weeps uncontrollably. Her father is soon taken out of the intensive care unit in a body bag. His daughter is overcome by grief.
"I'll never see him again!" she shouts through tears as an ambulance drives off with her father inside. It was just one example of the immense loss experienced by thousands of families in Wuhan due to COVID-19.
In a city with a population of 11 million, at least 3,869 people died from the coronavirus and 50,333 were infected by April 17, authorities said. The novel coronavirus was first detected in Wuhan.
The World Health Organization declared the virus a global public health emergency on Jan 30. As of October 2020, the global death toll from COVID-19 is more than 1 million people, and over 35.9 million have been infected worldwide.
The early days of tackling the virus were an uncertain time for frightened patients and overworked doctors in Wuhan. Filmmakers capture a crowd of 30 patients gathering outside the front of a hospital's epidemic disease section after becoming infected. Some were too weak to stand. All were anxious.
"I admitted 27 patients," a nurse dressed in plastic yellow personal protective gear said on a mobile phone. "There are still 36 outside. That's more than 50 already."
"People are dying. Open up!" a patient shouted from outside.
Hospital staff assured the sick that they'd be admitted in stages, but it was not enough to quell their fears.
After they were admitted, the film showed how medical professionals worked diligently to help them breathe with ventilators.
Their compassion and professionalism were on full display even when one elderly patient with dementia wept and begged to die because he was "old" and thought it was his time.
Another female patient described how she'd woken up and realized her mom was dead next to her. She thanked nurses for saving her and her dad.
Doctors held up mobile phones to allow families to talk to sick loved ones. Many patients were elderly and afraid.
Amid the chaos, a pregnant woman had a cesarean section alone. She could not be with her family over fears it could spread the virus. That baby girl, patient number 98, was separated from her mom, but eventually went home after her parents underwent quarantine.
Said Wu: "I have huge admiration for my co-directors, who risked their own lives to film in the hospitals, especially when the danger of the coronavirus was little understood in the early days of the Wuhan lockdown.
"Every night after filming they would go through a disinfection ritual and go back to rest alone in hotels reserved for front-line workers. Their existence during the lockdown was an exhausting one, both physically and emotionally."
Back at the hospital, the old man with dementia wandered through the hallways impatiently. Agitated, he tells staff he wants to go home. They try to calm him down, though the man's strong dialect makes it difficult for them to understand him at the beginning. Weeks later, he gets better and is discharged. But not everyone was so lucky.
In one heartbreaking scene, the mobile phones of dead patients ring unattended in a storage container as worried relatives try to contact them.
Every day, hospital staff had the grim task of contacting the relatives of people who had died. They kept the belongings of the deceased, like a grandmother's bracelet, so that they could reunite it with heartbroken relatives.
"Rich or poor, revered or despised, fate befalls all. What a tragedy no one can escape," a nurse said as she disinfected the identity cards of those who had died.
By April, life in the city began to return to normal. Some patients recovered and were released. A nurse promised to share a local delicacy with her co-workers when it was all over — hot dry noodles.
Wu, an award-winning documentary filmmaker, producer and writer who divides his time between the US and China, has directed a host of documentaries, including Beijing or Bust, The Road to Fameand All in MyFamily. His documentary People's Republic of Desire, about China's livestreaming culture, won the Grand Jury Award at the 2018 South by Southwest film festival.
He put together 76 Days in Atlanta as coronavirus ripped through the United States. After its debut in Toronto, it received international praise. The Washington Post described it as "a riveting documentary filmed during the shutdown of Wuhan, (an) astonishingly candid and deeply wrenching portrait of death suffering and compassion … the first movie of its kind to emerge from China".
The Hollywood Reporter added that it was a "hidden gem". And Rolling Stone said "harrowing doesn't even come close to describing some of the more intense sequences in here. It's an invaluable look at the early days of a global catastrophe".
Wu said:"As much as I have been horrified by the human toll of this pandemic and the failures of different societies to mount a cohesive and effective defense, I have also been encouraged by the ample evidence of human tenacity and kindness."