Gaming companions boost esports industry
Share - WeChat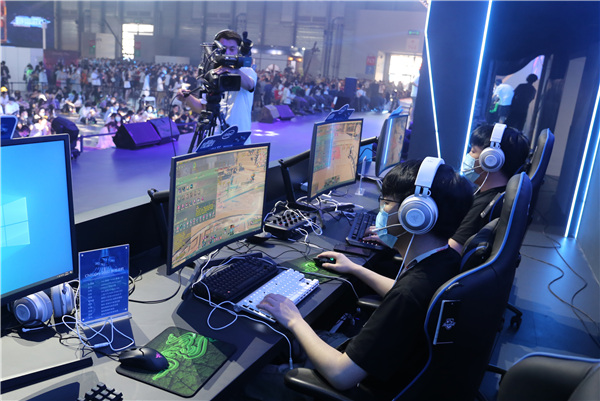 Young enthusiasts opting for online entertainment as COVID-19 keeps people at home.
Mobile applications are now allowing gaming enthusiasts to earn money by playing online games with novice players during staycations as demand for gaming companion services and esports is surging in China.
Lin Xiaolan, a 29-year-old IT project management staff member based in Dalian, Liaoning province, is a part-time skill-sharer on Bixin platform, which mainly offers gaming companion services for those who desire higher rankings in online games or want to gain better gaming experiences.
Lin usually charges around 26 yuan ($3.8) for 30 minutes to play Tencent's popular tactical shooting game Game for Peace with strangers. The part-time job offers him a monthly income of about 3,000 yuan to 5,100 yuan.
"I have taken the part-time job on Bixin since February this year, as I was stuck at home due to the COVID-19 impact and could not work during that period," Lin said. "Although I have already gone back to my regular job, I would like to make more money by playing my favorite games. The Bixin option allows me to make good money and meet various people while also honing my communication skills."
Lin believes that the game companion market is a huge "blue sea "with strong potential, but it may still take some time for the public to gain a better understanding of the industry. "The younger generation just loves paying money for their hobbies, and the booming esports sector will be able to attract more players in the future."
Gaming companions are gaining popularity with China's younger generation, with a wide range of apps offering the services online. Even major livestreaming platforms like Huya and Douyu have caught on to the new opportunities and are gearing up efforts to expand their game companion business.
One of the most popular game companion platforms is Bixin, a digital platform with more than 40 million users, most of whom are aged between 18 and 30. Most of its paid users are living in first-and second-tier cities such as Beijing and Shanghai, said Du Mingjiang, vice-president of Bixin.
According to Du, the platform had more than 5 million skill-sharers by the end of June. Full-time skill-sharers usually earn more than 7,000 yuan a month, while part-time sharers may earn an average of nearly 3,000 yuan a month.
"Due to the novel coronavirus outbreak, a very large group of people, who have been stuck at home since the first quarter, are searching for entertainment options such as online video games to keep boredom at bay," Du said. "Against this backdrop, Bixin has seen significant growth in the number of users and skill-sharers, with the number growing rapidly in the second quarter."
Although the company has not revealed its earnings numbers, it has been highly profitable since 2018, when it notched up a monthly gross merchandise volume of 200 million yuan. In addition, the company closed a Series A funding of tens of millions of dollars in 2018 led by IDG Capital.
Data from Bixin show major skill-sharers come from third-, fourth-and fifth-tier cities where most people earn around 2,000 yuan to 3,000 yuan a month, while first-tier cities such as Beijing and Shanghai still top others in terms of the number of skill-sharers. "Becoming a skill-sharer in Bixin actually helps people to earn extra income, offering a new way to fend off the risks from the coronavirus outbreak," Du said.
Kiko Wang, who used to be a part-time skill-sharer on Bixin, quit her job in a wholly owned company of Hunan Broadcasting System last year and became a full-time skill-sharer on Bixin.
"I have got several clients. I spend around four to five hours a day to play games with them and will earn an average of around 7,000 yuan to 8,000 yuan a month, making more money than my previous job," Wang added. "Due to the coronavirus impact, my previous firm has been dissolved, and many other similar companies have gone bankrupt. Meanwhile, online businesses such as game companionship are taking off gradually."
However, the 27-year-old Wang is not content with the current situation and yearns for a longer career plan that can combine her skills in editing videos, communication and playing games.
"I mainly cater to clients' strong demand for companionship during games, and I have been working hard to learn catchphrases and internet slang to offer them better gaming experiences," Wang said. "I will continue to collect interesting stories during my work and then make short videos for the public."
In fact, Wang's career path is reflected in Bixin's larger goal to create more job opportunities and career options for master players. It has worked with short video platforms, livestreaming platforms, gaming firms and even esports clubs to offer various job options, such as being online celebrities and professional esports players. It is also among the organizers of a certification test for esports trainers, guided by the Ministry of Industry and Information Technology.
Du from Bixin said the company anticipates huge growth potential in the gaming companion market, which is worth more than 10 billion yuan.
"With the number of younger mobile game players growing steadily, particularly those born in the 1990s and 2000s, many of them will naturally know about and choose gaming companion services for better gaming experiences and improving skills. The market will continue to expand accordingly," said Du.
This year video games have become the unlikely beneficiaries of the COVID-19 outbreak, with a very large number of people stuck at home seeking entertainment options to kill time.
According to a new report released by Tencent Cloud and Gamma Data Corp, the gaming sector is expected to generate more than 270 billion yuan in revenue in 2020, with an over 17 percent year-on-year growth. Of the total revenue, those gained from mobile games are set to hit more than 200 billion yuan by the end of this year, up 30 percent on a yearly basis.
"Owing to the COVID-19 outbreak, the gaming industry has gained a new boost in the first half of 2020, and it will keep growing during the rest of the year," said Wang Xu, chief analyst of Gamma Data.
According to the report, social needs are the main demand of people playing games. More than 90 percent of the gamers tend to interact with other players in the game, and 52.1 percent of gamers learn about a new game through friends and player recommendations, the report said.
Particularly, the report said partnering with individual players is a key way for players to meet their social needs, and 68 percent of the top 50 mobile games require gamers to be in groups.
Liu Wei, an analyst from market research company iResearch, said game companions not only help lower the skill barriers for novice players, but also keep gamers company and offer better gaming experiences.
"It will give a strong boost to the development of the gaming industry," Liu said. "Today, many game companion businesses also involve services such as chatting and singing, which will help build a gaming community for players. Thus, there is vast space for its future development."
When it comes to the related industries, game companions are closely linked to the esports and gaming livestreaming industries, Liu said.
"It will further boost the popularity of esports and livestreaming platforms as well as help diversify the offerings and generate new revenue streams. The burgeoning and growing sector may become an essential part of the whole esports industry."
Liu warned that the emerging gaming companion market is still in its early stage of development and hence lacks effective market supervision and regulation.
"Game companion platforms should pay more attention to the content management and resolutely eliminate violation of laws and regulations, which will foster the long-term healthy development of the industry," Liu said. Currently, Bixin is working hard to recruit talents in technology and products, claiming it plans to hire about 500 people during the second and third quarter of this year. Bixin aims to have around 200 million users and offer 10 million skill-sharer job opportunities for master players in the next three to five years.
Most Popular