Relocation project alleviates illness, poverty in Tibet
Share - WeChat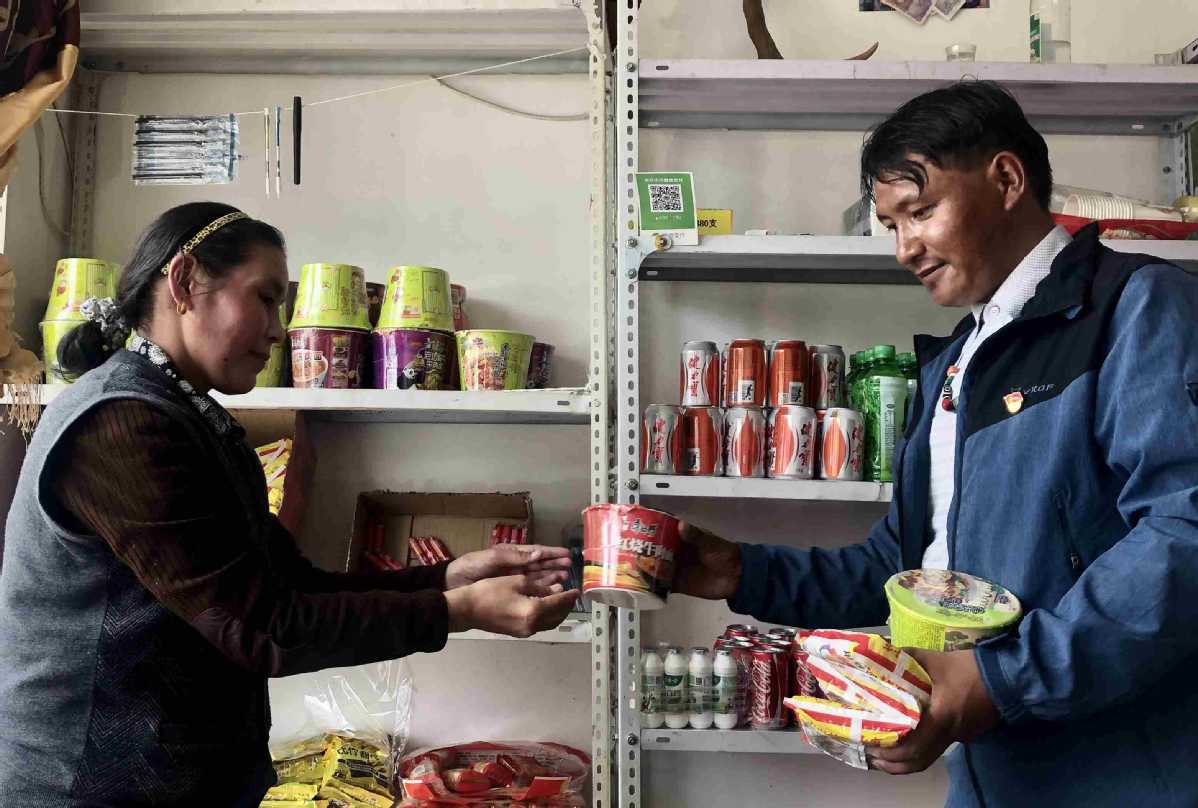 Because the high cost of medical treatment is one of the main causes of poverty, the Tibet autonomous region has been striving to provide support for poor families who have difficulties securing disease treatment, a key effort in the region's poverty alleviation measures.
Unlike most of the region's resettlement projects that address problems related to living at an extremely high altitude-places unsuitable for people-the project in Tsachuthang village of Damshung county in Lhasa, the regional capital, is helping families deal with medical concerns.
With an investment of more than 96 million yuan ($14 million), the project involves 683 people in 150 households that were moved from Ngari prefecture and the cities of Nagchu and Chamdo.
According to village officials, 20 of those people are above 70 years old; 171 have rheumatoid arthritis; six have hearing impairments; three are dealing with tumors; 67 have excessive red blood cells due to the high altitude; 50 struggle with high blood pressure; 55 are disabled; and 49 have other diseases.
Officials also said that only 272 of those villagers are capable of working.
Dekyi Pedron, a Tsachuthang official, said that residents with arthritis have been receiving free medical treatment over the last three years from Tibetan doctors.
"At a lower altitude and with better public services, the new location can better support their health requirements," Dekyi Pedron said. "They can get medical help easily from the Tibetan herbal bath therapy site in their village."
The regional government's relocation project aims to address problems that impoverished residents are having with rheumatoid arthritis.
At an altitude of 4,290 meters, Tsachuthang is located near Yangbajen Hot Spring, which is famous for its abundant geothermal resources and is thought to help alleviate conditions such as arthritis, according to Tibetan medical science, she said. With all the households in the village outfitted with hot spring shower rooms, villagers can use the natural resources at any time.
Wangdrak, a resident of the village, said he enjoyed living in the new location as public health, education and transportation services are available.
"Previously, my family lived in a nomadic area in Tibet's Shanza county, where the average altitude is 5,000 meters above sea level. My wife suffered from severe arthritis and could not get out of bed," said Wangdrak, 42.
Before moving to the new settlement, his annual family income was about 12,000 yuan, mainly from some policy-based subsidies such as ecological patrols.
"She could not walk normally a year ago, but her situation has improved dramatically in recent years thanks to the care provided here," he said. "She can see a doctor and get medicine at almost any time, and she gets massages, acupuncture and herbal baths."
Now she not only can walk but can also work.
Dekyi Pedron said the local government was very concerned about the medical treatment and employment in Tsachuthang, so the villagers were provided with vocational training courses.
"Most of the villagers work in companies near their settlement, and in 2019, all were qualified to be removed from the poverty list," she said.
According to data from the region's leading group office of poverty alleviation, more than 260,000 people moved into new homes from 2016 to last year, accounting for more than 98 percent of the targeted population.
Wangdrak now works as a security guard in a school near his home. He receives a monthly salary of 2,000 yuan, and his two children have entered college.
"The altitude here in this new settlement is lower, and I can sleep better and be energetic during the day," he said.