The trouble with beauty
Share - WeChat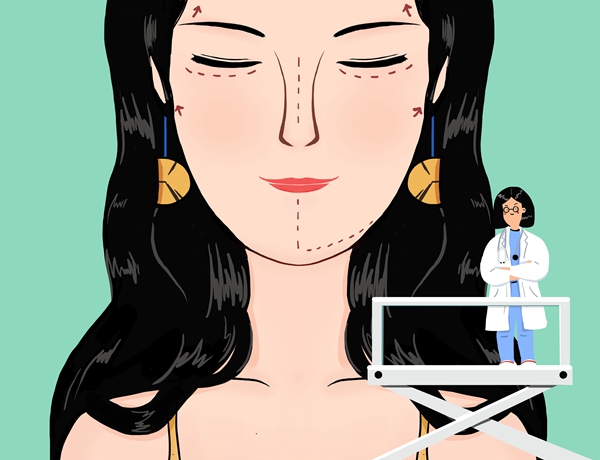 On a seemingly never-ending quest for good looks a young woman travels to Seoul and soon finds herself in physical and mental hell, Zhang Lei reports.
In summer last year a Beijing college student traveled to the South Korean capital, Seoul, on urgent-and secret-business: to have major plastic surgery to her face.
A long and thin silicone prosthesis would be implanted in her nose and a silicone prosthesis embedded in her chin.
The person who had introduced the young woman to plastic surgery was a friend of hers. The young woman, who has asked not to be identified, describes her friend as a "sophisticated girl" who had had a chin implant, had had corners of her eyes opened, and had had her nose changed three times. The friend has the "typical exquisite look of Korean girls", the young woman says.
The young woman, 18 at the time, had herself eyelids cut, with the permission of her mother, when she graduated from high school three years earlier, and that had made her feel more confident.
A year later she was given a face-lifting injection designed to make her face look thinner by paralyzing cheek muscle, and friends and associates praised her for how much more delicate she looked, she says. When she was on the operating table having her eyelids cut she was very nervous, she says, but the success and the confidence that operation gave her emboldened her to have more "adjustments".
With earlier doubts and fears now all but dissipated, she now felt at ease with minor plastic surgery, she says, and acknowledges that it had become somewhat addictive.
In Seoul there is a plethora of beauty clinics and agencies that cater to plastic surgery patients from China and elsewhere, as well as language translation services. Most of the Chinese heading for Seoul for such surgery will have done a great deal of research looking for what they hope will be the most reliable cosmetic surgeon-and one who is not charging too much.
The young woman, by the summer of last year well versed in all these matters, decided to make her first trip to Seoul. Accompanied by her friend, she walked into a private plastic surgery clinic in the Gangnam district of Seoul that is well-known in South Korea. The clinic relies heavily on overseas clients and its nurses are proficient in the languages of major Asian countries.
In the first consultation the doctor, talking of the young woman's nasal features, said hers was a typical "floating nose", that is, the skin on the nose was elastic, the nose was large and flat, and it needed to be raised.
She had planned to have her nose trimmed, but the doctor pointed out that she did not have a prominent chin, resulting in a defect in her mouth. Taking into account that the "protrusion of the mouth" would also affect how the nose looked, he recommended that she have her nose and chin operated on together.
For that there would of course be a discount, and, feeling that her looks could only benefit if she followed the surgeon's counsel, she gave her consent for the operation.
Like this young woman, many young Chinese students are anxious about their looks, and the issue of younger people subjecting themselves to cosmetic surgery has become controversial. Qianjiang Evening News, a newspaper in Hangzhou, Zhejiang province, reported that over two months of summer the plastic surgery department of a top hospital in Hangzhou performed 120 or 140 operations on students, accounting for 30 to 40 percent of all the hospital's patients.
Most Popular