Restoration projects improve Fenhe River
Share - WeChat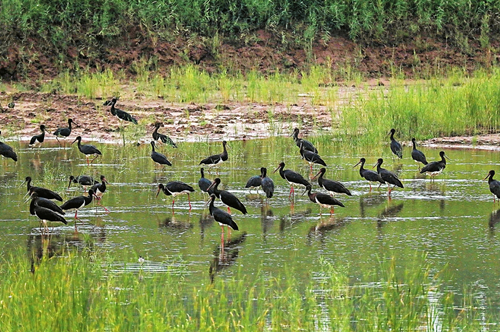 Thanks to restoration projects along the upper reaches of the Fenhe River-the second-largest tributary of the Yellow River-in Shanxi province, residents in the upper reaches have been lifted out of poverty, and those along the lower reaches can enjoy clean water.
Wang Guishuan, a 68-year-old villager from Shizhaigou village in Ningwu county, has lived at the source of the Fenhe his entire life.
He used to farm and raise poultry, but the establishment of a park to protect the river's origin has absorbed the land. Since the park was established, visitors began to arrive, and in 2017 he opened a homestay to accommodate travelers. With eight rooms, sometimes fully booked during weekends, Wang receives nearly 20,000 yuan ($2,900) each year.
"It's better than farming," said Wang, who has moved his farmland above the river's source to keep the water clean from farming pollution.
In Wang's eyes, his life is better than before. The environment has improved, and his wallet is bigger, he said.
Zhang Shicai, a traveler from Beijing, said he liked visiting the origin of the river.
"The scenery is pretty and the air is clean. I came to see the origin of Shanxi's mother river, and I enjoyed it," he said.
According to a government report from Ningwu, since 2011 the county has invested 203 million yuan to control soil and water erosion, and to attract tourists, by greening an area of 385,000 square kilometers along the banks of the river and establishing pedestrian trails.
Over more than 30 years, 511 industrial plants were shut down in the county along the main stream of the Fenhe. No business is allowed within 3 km of the stream.
The river originates in Ningwu, flows through Jingle and Loufan counties and then enters Taiyuan, the provincial capital.
A reservoir in Loufan is the main supply of Taiyuan residents' drinking water. Thus, water protection in Ningwu and Jingle is essential to ensure nearly 4.5 million people in Taiyuan have access to clean drinking water.
Since 2017, Jingle has planted trees to cover an area of 28,700 hectares. Forest coverage in the county has increased to 22 percent, growing at an average 1.4 percentage points annually.
Jingle was also a national level poverty-stricken area, with more than one-third of its residents living in poverty. The county hired villagers, mostly from poor families, to carry out environmental protection work, including planting grass and trees and patrolling the river. They can earn more than 80 yuan a day.