Xi: China supports UN system
Share - WeChat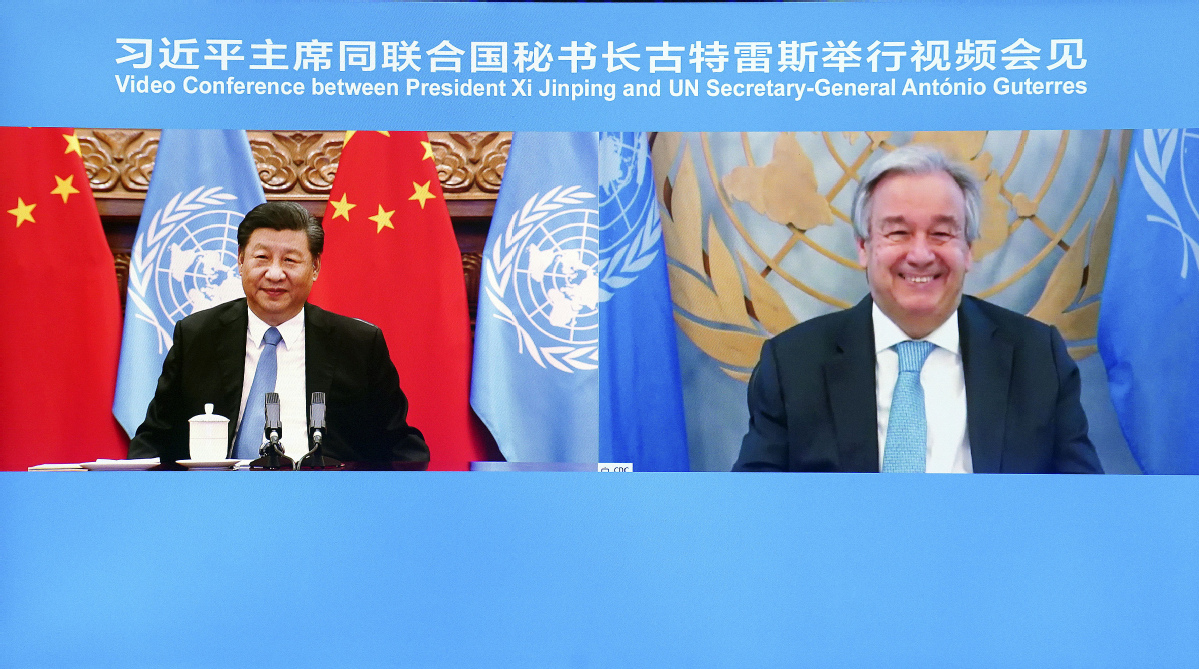 Unilateralism and hegemony will lose backing of the people, he tells Guterres
China never seeks ideological confrontations or decoupling with other countries, nor does it pursue hegemony, President Xi Jinping said on Wednesday in a videoconference with United Nations Secretary-General Antonio Guterres.
He pointed out that "what we care about the most is to help the 1.4 billion Chinese people lead a better life and make greater contributions to mankind".
However, he added, China also will not tolerate harm to its national sovereignty, national dignity or development, and the country will take a firm stance to safeguard its legitimate interests and safeguard the justice of the world.
All countries should go beyond the limitations of nationality, ethnicity, culture and ideology and promote the building of a community with a shared future for mankind, he said.
The outbreak of COVID-19 has amplified problems in the global governance system, and all countries should make efforts to improve the system rather than try to destroy it to create another one, Xi said.
There is only one system in the world, that is, the international system with the UN at the core, and the set of UN Charter-based norms on international relations is the only set in the world, he said.
Noting that COVID-19 is still spreading around the globe, Xi said China would like to share its experience with all countries without any reservation, and will continue to offer support and help to countries that are in need.
China firmly supports the UN system, especially the World Health Organization, to play the leading role in strengthening global cooperation and joint prevention, Xi said.
Xi reaffirmed his commitment that after the development of a vaccine is completed and it is put into use, China will make it a public good and contribute to its accessibility and affordability in developing countries.