Fuzhou sets example in preserving past
Share - WeChat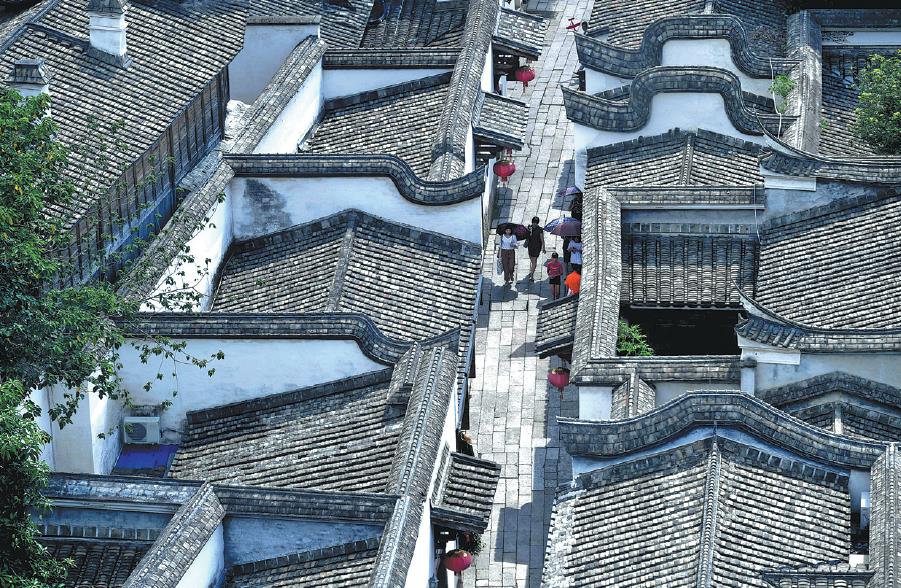 City follows lead laid down by Xi during his tenure
Born and raised in a century-old mansion he inherited from his late grandfather, Chen Fan has always managed to find solace and inner peace in the heart of a bustling city.
His home lies deep in an alley in Sanfang Qixiang, a highly popular tourist attraction in Fuzhou, capital of Fujian province.
There, Chen drinks tea under a starlit sky, free from the urban din, including noise from traffic.
"We are living in a prized asset in our city, with our home representing the quintessence of ancient buildings in Fuzhou," he said.
Chen's family is one of 162 still living in the ancient neighborhood, which was formed during the Tang Dynasty (618-907) before flourishing in the Ming and Qing dynasties (1368-1911). The area was once home to more than 400 prestigious figures from Chinese history.
Families in the neighborhood are the biggest beneficiaries of a protection and renovation campaign spanning decades. It was spearheaded by President Xi Jinping when he served as secretary of the Communist Party of China Fuzhou city committee, the city's top official, from 1990 to 1996.
With many of the mansions in a bad state of repair, along with a lack of coordinated protection efforts and a threat from real estate developers, Xi led a citywide campaign to safeguard Fuzhou's most-valued relics by rolling out protection and renovation plans.
In 2002, while serving as governor of Fujian, Xi wrote in the preface to the book Fuzhou Ancient Buildings: "Economic development is an important part of a leader's responsibility, so is the protection of ancient buildings, traditional neighborhoods, cultural relics and famous cities. Work on the two fronts is of equal importance."
The book was written by Zeng Yidan, a history scholar and former head of the Fuzhou Cultural Heritage Administration.
Some two decades later, protecting cultural heritage has become a national policy priority, the latest example being a plan approved by the top leadership for the core area of Beijing.
Meticulous measures are being adopted to protect this area and widen the protection of ancient neighborhoods, including hutong, or alleyways, and former residences of well-known people.
According to local officials and experts, Xi's tenure in Fuzhou reflected his long-standing focus on protecting cultural heritage, and he led the way for his successors in the city to continue this work.
Wu Yujian, head of the Fuzhou Cultural Heritage Administration, said a series of important measures adopted by Xi during his time in the city laid the foundation for such work. Local officials have acted on his vision, made persistent efforts "and brought us to where we are today".
Fuzhou now boasts 4,746 cultural heritage sites, including 25 under national protection. Last year, the World Heritage Committee selected the city to host its 44th session this year, a move widely seen as recognition of Fuzhou's remarkable achievements on cultural heritage protection.
Most Popular