Trump to ban downloads of WeChat, TikTok in US on Sept 20
Share - WeChat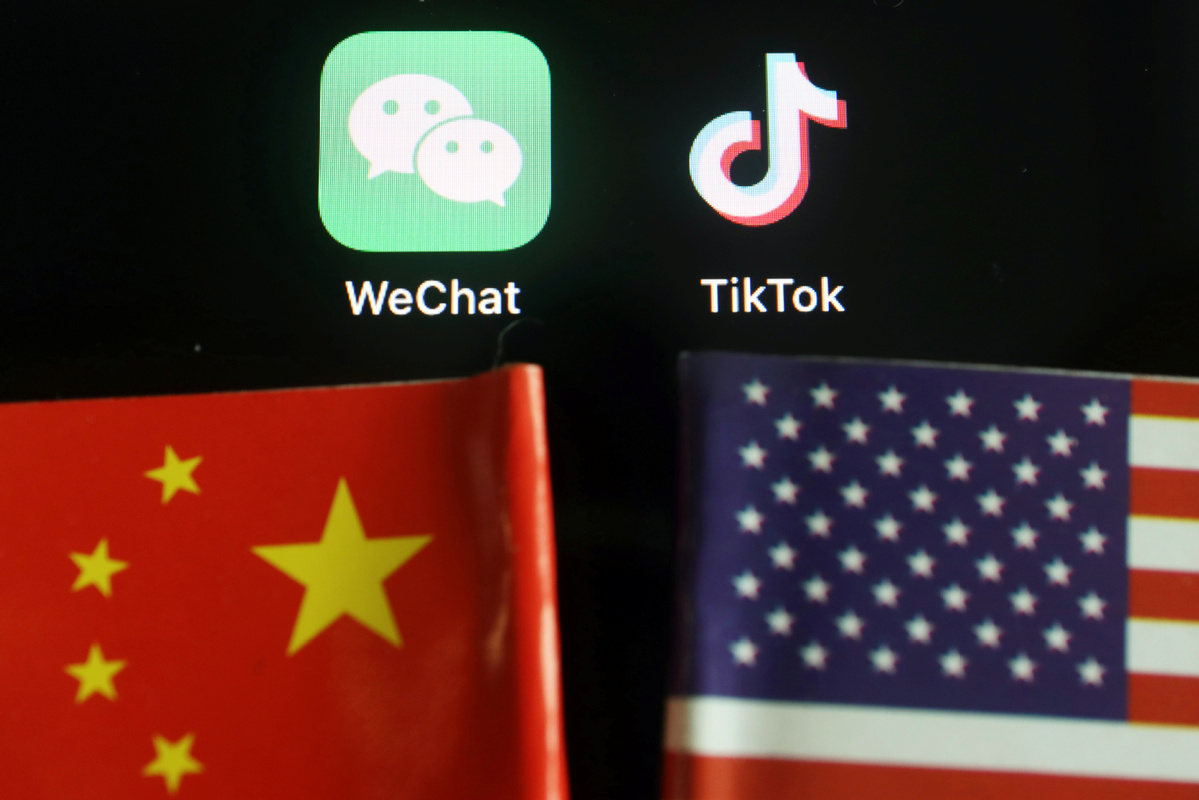 China opposes US ban on TikTok, WeChat, Commerce Ministry says
The Trump administration announced Friday that it will block downloads of the popular video-sharing app TikTok and social and electronic payment app WeChat, both owned by Chinese companies, after Sunday midnight over national-security and data-privacy concerns.
The Department of Commerce order bars Apple and Google's app stores from providing services for both apps' downloads and updates after Sunday, the deadline President Donald Trump set in his Aug 6 executive orders.
It also bars data hosting within the US for WeChat, content delivery services and networks that can increase functionality and internet transit or peering services, according to the commerce department's release.
The same set of technical transactions for TikTok won't take effect until Nov 12, in line with Trump's executive order on Aug 14, which gave TikTok 90 days for the divestiture of its US operations.
Trump's Aug 6 orders would ban US transactions with both apps, a wide scope covering individuals and companies in the US and Americans overseas.
The Commerce Department's order allows US companies to continue using WeChat outside the US, where many of them, including Walmart and Starbucks, use the app for payments and engaging customers in China.
The order will not bar transactions with WeChat-owner Tencent Holdings' other businesses, including its online gaming operations, and will not prohibit Apple, Google or others from offering TikTok or WeChat apps anywhere outside the US.
TikTok said it disagrees and is disappointed by the Commerce Department's decision. "We will continue to challenge the unjust executive order, which was enacted without due process and threatens to deprive the American people and small businesses across the US of a significant platform for both a voice and livelihoods," said the company in a statement.
WeChat developer Tencent called the US ban "unfortunate," saying the company will continue discussions with the US government for a long-term solution.
"As an application serving users worldwide, WeChat has always complied with local laws and regulations. Its data policies and procedures meet the strictest privacy standards in the world," Tencent said in a statement.
To ensure American users' basic rights, the company has conducted multiple rounds of communication with the US government to seek an appropriate solution, yet a consensus has not been reached between the two sides, the company said.
TikTok has filed a legal challenge against the Trump order, arguing it violates the constitutional rights to due process and free speech. In the meantime, a consortium of US companies, led by Oracle, are discussing a plan to take a majority stake in a new company that would oversee TikTok's operations and ensure its data security.
A group of WeChat users also have filed lawsuit against Trump, seeking to block the executive order banning WeChat. On Thursday, a federal judge in San Francisco heard the case but didn't immediately issue a ruling.
TikTok has 100 million users in the US and is especially popular among younger Americans. WeChat has roughly 19 million daily active users in the US, mostly Chinese descent and some Americans who have personal or business relationships in China, according to the complaint filed by WeChat users.
The two Chinese apps have recently come under increasing scrutiny by the Trump administration accusing them of spying for the Chinese government. China and the companies have denied US user data is collected for spying.
The Commerce Department's order has drawn immediate criticism from the American Civil Liberties Union (ACLU). "In implementing President Trump's abuse of emergency powers, Secretary Ross is undermining our rights and our security," said the organization in a statement.
"This order issued today violates the First Amendment rights of people in the United States by restricting their ability to communicate and conduct important transactions on TikTok and WeChat," said the ACLU.
It also "harms the privacy and security of millions of existing TikTok and WeChat users in the United States by blocking software updates, which can fix vulnerabilities and make the apps more secure," it added.