Perseverance the key to overcoming disability
Share - WeChat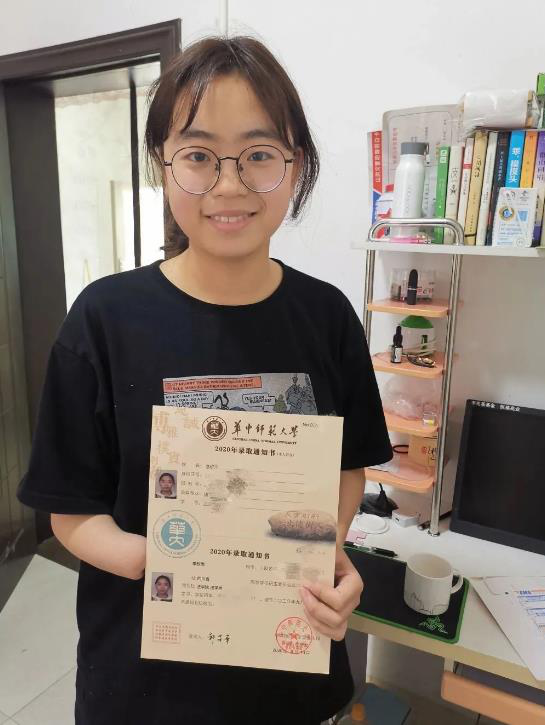 A 19-year-old from Mianzhu, Southwest China's Sichuan province, has demonstrated the power of perseverance with her success in the gaokao, the national college entrance exam.
Her story has moved many people in China.
Li Xinyu has been admitted by Central China Normal University in Wuhan, Hubei province, and will study law.
The task was not easy for the teenager, who lost her right hand in the Wenchuan earthquake in 2008 when she was 7 years old.
She refused to give in, but instead overcame obstacles through her unyielding efforts and dedication.
She started to practice writing with her left hand after the injury, and managed to adapt to writing left-handed quite well in just three months.
Li's father said he has never seen his daughter cry. Even during the most painful times, she was the one who comforted the family. Her academic performance has been excellent from primary school through to senior high school.
Last year, Li took the gaokao for the first time and her total score surpassed the threshold for first-tier universities.
However, as the scores in several subjects didn't meet her expectations, she decided to take the exam again this year.
After 12 months' diligent work, she scored 625 points out of 750 in this year's test and was admitted to her dream university.
After she got the offer, Li immediately called Zhu Jiaqing, who has been financing her living expenses since 2008, to share the good news.
Zhu, a senior from Yangzhou, Jiangsu province, was excited to hear Li's news and asked about her study plans.
He promised to keep supporting her as long as she is willing to pursue advanced studies.
Li said Zhu is one of many kindhearted people who have helped her. She spoke of "Auntie" Shen Chunhong from Yangzhou,"Uncle" Pan, and several older "brothers" and "sisters" from Chongqing.
Li seldom uses her cellphone in school, but she always calls her benefactors during holidays and festivals.
She said they have encouraged her during the calls very much like family members, making her feel deeply loved.
"I will grow up to be just like them and help people in need," she said.
When asked about university life, Li acknowledged that she will encounter problems, but said she will persevere and overcome them one by one.
She plans to join student clubs, make friends and experience a bigger world.
For now, she is enjoying the start of university life in Wuhan and finally chasing her dream.