WeChat users fret looming ban
Share - WeChat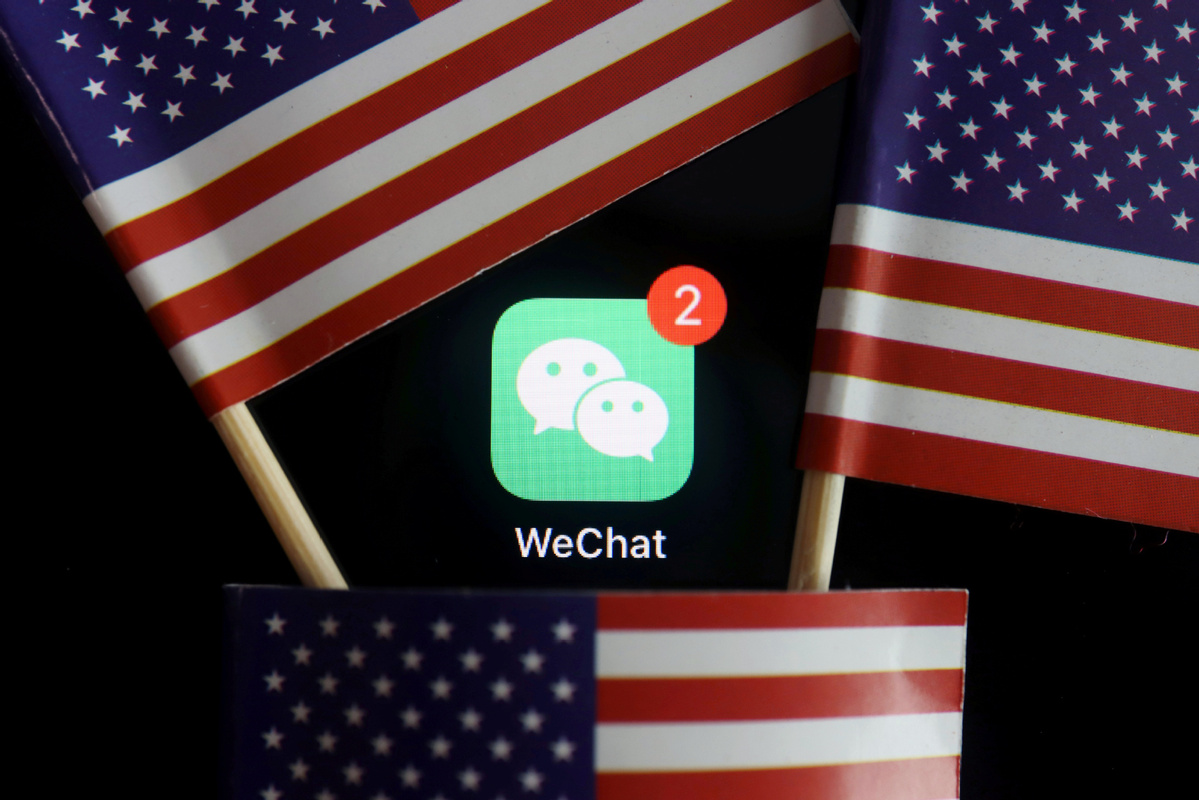 Fear, anxiety, panic - those are the words Elaine Peng used to describe the state of her service's recipients who are fighting mental health problems through lectures and support groups on WeChat.
The Bay Area-based mental health advocate and educator said President Donald Trump's impending ban on the social networking app has worsened their emotional state.
"The day we learned of the ban, a patient called me and cried. She said she was in great fear and didn't know what to do without WeChat," said Peng, president and CEO of the Mental Health Association for Chinese Communities.
Since Peng founded the organization in 2013 with the mission of raising mental health awareness within the Chinese community, she has gradually built up her network. Now she has two WeChat groups of more than 500 people, including service recipients and volunteers.
Peng said WeChat is her organization's primary communications tool because it is much friendlier than other US-developed apps.
"We also respond to emergency situations through WeChat. For instance, we recently rescued a patient from a parking lot, using the app's real-time location feature, where his condition suddenly worsened and he didn't know where he was," she said.
Citing national security concerns, Trump issued an executive order Aug 6 prohibiting "any transaction that is related to WeChat by any person, or with respect to any property subject to the jurisdiction of the United States".
The order to ban WeChat, which is owned by the Chinese tech giant Tencent, is set to take effect Sunday.
Seeing that her group's mission and operation will be adversely affected in a significant way, Peng joined a legal challenge filed by the nonprofit US WeChat Users Alliance, seeking to block the ban.
The US District Court in San Francisco heard the case, but the judge did not grant the preliminary injunction at the hearing. The judge did, however, indicate that she was inclined to do so, said Michael Bien, the lead lawyer for the WeChat users, in an interview.
The presidential executive order does not define the word "transaction", and Secretary of Commerce Wilbur Ross has not defined which particular transactions would be illegal, Bien said.
Ross may issue the definitions by Sunday, or he may not say anything for a long time, but the situation is already harming people who depend on WeChat, said Bien.
The University of Kansas announced it will ban WeChat on university-owned computers and the campus network starting Sunday.
"It's already harming Chinese students around that university," said Bien. "It has criminal penalties, and people are already changing their behavior, because they don't want to violate a law."
If the judge does not prevent the order from taking effect, then the law goes into effect Sunday, and no one knows exactly what it means, he said.
WeChat has roughly 19 million daily active users in the US, most of them of Chinese descent, according to the complaint filed by the plaintiffs last month. The lawsuit argues that the order is unconstitutional because it violates users' due process and free speech rights. It also argues that the ban targeted Chinese Americans, who rely on the app for work, worship and staying in touch with relatives in China.
The Justice Department said in a court filing Wednesday that the Commerce Department "does not intend to take actions that would target persons or groups whose only connection with WeChat is their use or downloading of the app to convey personal or business information between users".
The filing said that these "assurances largely address" concerns raised by the plaintiffs who called for an injunction.
"That is inadequate. It doesn't say what's become illegal. It just says: 'We promise we won't bring criminal charges against you if you only doing these things,'" said Bien.
He argued that there's a difference between "use" and being charged with a crime. "It's nice if they don't charge you with a crime. But they have not promised that they won't turn off the order to stop WeChat altogether in the United States or require Apple or Google to stop allowing downloads from the store," he said.
"They may also require people like the University of Kansas to remove it from their Wi-Fi systems and from their computers. So, all those things that would stop people from being able to use it are not addressed," he said.