AI must narrow rather than widen development gaps
Share - WeChat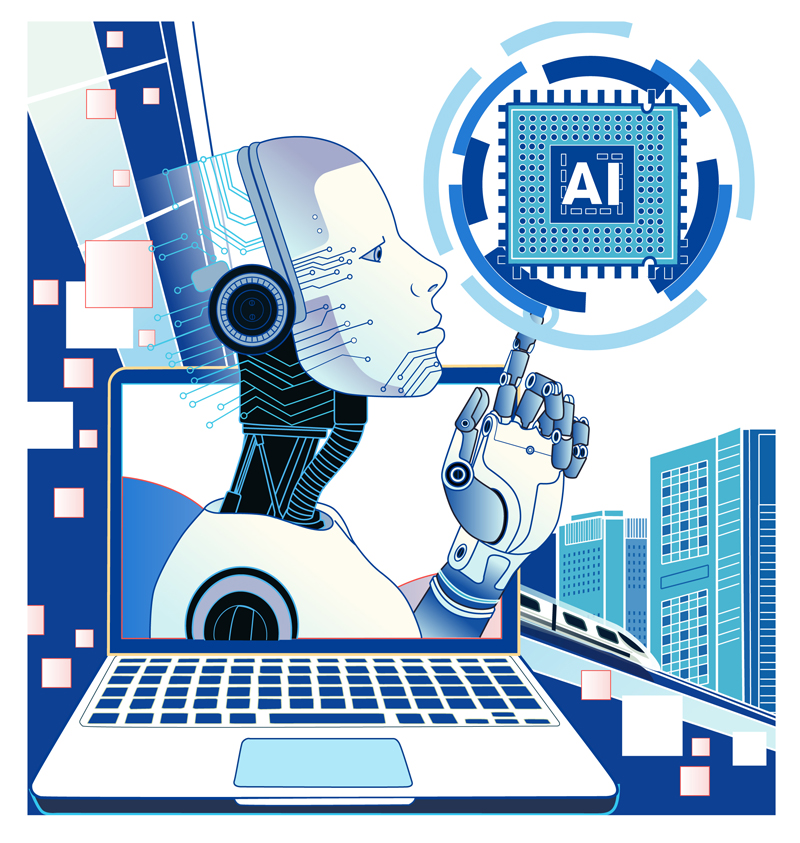 China's burgeoning artificial intelligence sector is urged to not to drive another round of regional development imbalance.
While on the path toward a moderately prosperous society, experts warn the AI industry should not create gaps among the affluent and poverty-stricken areas, thus affecting livelihoods in the latter.
AI industrial clusters have taken shape in the Beijing-Tianjin-Hebei and Pearl River Delta regions, but other areas are lagging behind according to a research report from the Next Generation AI Research Institute at Nankai University, released this year.
A new round of regional development imbalance is likely in the pipeline, it said.
Statistics indicate the sector is expected to see its industrial value hit 70 billion yuan ($10.3 billion), more than doubling itself from 33.9 billion yuan according to China IRN, a domestic industrial think tank.
The scale of China's core AI industry had hit 51 billion yuan by the end of 2019, with the number of AI enterprises exceeding 2,600. The figures were released at the 2020 Smart China Expo Online held in Southwest China's Chongqing municipality on Tuesday.
In order to prevent widening regional development gaps driven by the AI sector, some areas in China have undertaken trials.
For example, Tianjin, which saw its GDP tumble by one-third in late 2018, has pinned its hopes on the AI sector and doesn't expect its GDP to slide further amid the AI boom.
After three years of development, it has become a pioneer in AI city construction. It is shaping up to become a high-tech hub and has rolled out a series of supportive policies to develop industrial chains spurred by AI.
In December 2018, the city unveiled a three-year plan to boost the innovative development of seven AI-related industrial chains, including the independent and controllable information system, intelligent security, big data, advanced communications, intelligent connected vehicles, industrial robots and intelligent terminals.
It has also set up a special 10 billion yuan ($1.46 billion) fund for intelligent manufacturing and a 100 billion yuan industry fund for sectors driven by AI.
They city has an ambitious target: Building and perfecting industrial ecology for the sector, thus helping all the industries enabled by AI to see full development.
Less-developed areas in AI industries are advised to learn from Tianjin to upgrade their industrial development plans, otherwise their gaps with top AI industrial clusters will continue deepening.
Tianjin is also making efforts to curb tendencies of AI not benefiting the needy in grassroots areas.
It advised companies to join hands with community services rather than only focus their attention on high-tech industries, such as 5G, internet of vehicles, intelligent sensors and manufacturing.
For example, Teda Street, a section of Tianjin's Binhai New Area, has partnered with leading companies to build four AI systems to manage local community services including pandemic prevention, resident information, traffic and medical care.
The community's head Feng Peng told China Daily before the pandemic he was having difficulty learning about the health condition of the elderly people in the community with a population of more than 200,000, and the community was looking for a solution.
During the pandemic it found an AI-enabled telephone call survey system effective; so after the outbreak, he decided to use AI services for older adults living at home without relatives. The system sends an alert to the local central operating center if they haven't gone out for more than two days.
After the pandemic in April, 75 such families agreed to join the service.
To date, it has received 17 alerts, and community volunteers soon visited them. The community workers found the system relieved their burdens to visit the elderly every day.
Currently, many downtown Tianjin districts less developed than Binhai, are trying to use Teda's solution to help improve elderly care services for its more than 1 million people above the age of 65.
In addition, the sector should make more precise investment.
Many international AI think tanks have concluded no Chinese AI companies have been listed on the top 20 firms in the world for investment in research and development.
Gong Ke, president-elect of the World Federation of Engineering Organizations and the country's top AI expert, has said Chinese R&D funding is insufficient compared with the United States.
Due to the COVID-19 pandemic, investors' favor is shrinking, whether at home or abroad.
Future R&D investment is urged to be injected to the areas with higher profits.
We envision the AI sector should focus more of its effort on the needy, and help avoid gaps among regions and industries.
The author is chief correspondent at China Daily's Tianjin bureau.
Most Viewed in 24 Hours
China Views