Shanghai Concert Hall reopens to the public
Share - WeChat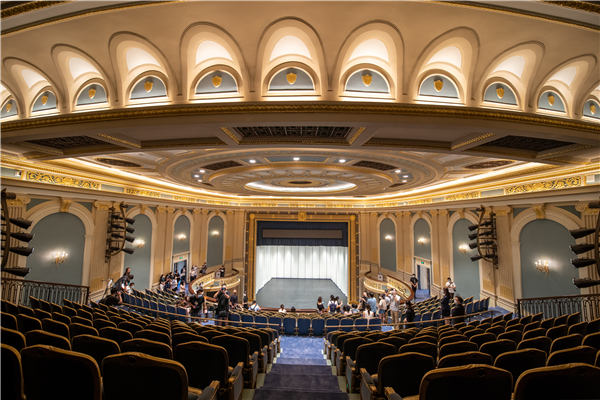 The Shanghai Concert Hall reopened on Sept 6 following a large-scale renovation and maintenance project that spanned a year and a half.
Among the 300 visitors was Wang Yuanliang, a 76-year-old who has worked at the concert hall for 30 years. As the deputy general manager of the concert hall, he oversaw the major project in 2003, which saw the building being moved 66.46 meters to the southeast to make way for the Yan'an Elevated Road.
"I've spent more time here than in any other job in my career. This is like home to me," says Wang, noting that the copper handle on a door and the white marble floor are 14 years older than him.
"They bought the white marble from Yunnan province in the 1920s, when the theater was built," he says.
"In 2003, when we refurbished the building after the relocation project, we had the marble covered and protected by planks before putting up the scaffolds to work on the columns above."
Today, the marble floor remains in good condition except for a few spots on the stairs, where small cracks were repaired and restored, Wang says.
Originally named Nanking Theatre, the Shanghai Concert Hall was first built in 1930, when it was considered one of the finest cinemas in the city. Starting in the 1950s, the venue served as the city's first professional music hall. The acoustic quality of the hall had consistently won praise from visiting musicians.
Designed by Chinese architect Fan Wenzhao, the concert hall has always been among the most beloved historical buildings in the city.
"I used to go to Vienna, Austria, and found the Shanghai Concert Hall had a lot in common with the national theater there," says a retiree surnamed Cao, who was one of the visitors at the reopening on Sept 6.
The classical Western style of the Shanghai Concert Hall was showcased in the 2008 film, Mei Lanfang, that was directed by Chen Kaige, notes Ma Zunyi, a visiting journalist from Shanghai Eastern Radio.
"There was a scene in the movie showing the Peking Opera maestro performing in New York in the 1930s," Ma says."It was actually shot here at the Shanghai Concert Hall, but you wouldn't have been able to tell."
In 2003, after the building was moved, the concert hall underwent a massive restoration project that aimed to restore the look it had in the 1930s. The venue remained in use for the next 15 years, hosting hundreds of concerts every year, until March 2019, when it was closed for maintenance and restoration work.