Employment and Labor Rights in Xinjiang
Share - WeChat Editor's Note: The State Council Information Office released a white paper on Thursday, summarizing the Xinjiang Uygur Autonomous Region's achievements in increasing employment and ensuring public well-being while implementing COVID-19 prevention and control measures on a regular basis. Following is the full text:
Contents
Preface
I. Employment in Xinjiang
II. Proactive Employment Policies
III. Full Respect for Workers' Job Preferences
IV. Labor Rights Protection
V. Better Jobs for Better Lives
VI. Application of International Labor and Human Rights Standards
Conclusion
Preface
Work creates the means of existence and is an essential human activity. It creates a better life and enables all-round human development and the progress of civilization. The Constitution of the People's Republic of China provides that all citizens have the right and obligation to work. To protect the right to work is to safeguard human dignity and human rights.
China has a large population and workforce. Employment and job security are key to guaranteeing workers' basic rights and wellbeing, and have a significant impact on economic development, social harmony, national prosperity, and the nation's rejuvenation. China is committed to the people-centered philosophy of development, attaches great importance to job security, gives high priority to employment, and pursues a proactive set of policies on employment. It fully respects the wishes of workers, protects citizens' right to work in accordance with the law, applies international labor and human rights standards, and strives to enable everyone to create a happy life and achieve their own development through hard work.
In accordance with the country's major policies on employment and the overall plan for eliminating poverty, the Xinjiang Uygur Autonomous Region takes the facilitation of employment as the most fundamental project for ensuring and improving people's wellbeing. It has made every effort to increase and stabilize employment through various channels: encouraging individual initiative, regulatory role of the market, and government policies facilitating employment, entrepreneurship, and business startups. Through its proactive labor and employment policies, Xinjiang has continuously improved the people's material and cultural lives, and guaranteed and developed their human rights in every field. This has laid a solid foundation for ensuring that the people of all ethnic groups in Xinjiang have the opportunity to enjoy moderate prosperity in all respects and achieve long-term social stability together with their fellow countrymen and countrywomen in other parts of China.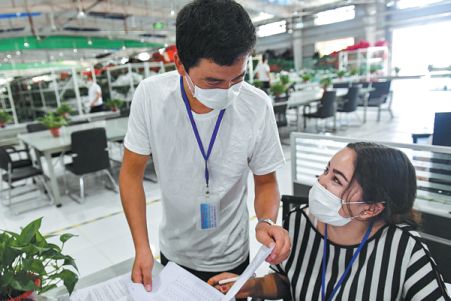 I. Employment in Xinjiang
Xinjiang is located in the northwest of China. For historical and a range of natural reasons, it has long lagged behind other parts of the country in development, and there is a large impoverished population. The four prefectures in southern Xinjiang, namely, Hotan, Kashgar, Aksu and Kizilsu Kirgiz, in particular have a poor eco-environment, weak economic foundations, and a serious shortfall in employment carrying capacity. They are identified as areas of extreme poverty. In addition, terrorists, separatists and religious extremists have long preached that "the afterlife is fated "and that "religious teachings are superior to state laws", inciting the public to resist learning the standard spoken and written Chinese language, reject modern science, and refuse to improve their vocational skills, economic conditions, and the ability to better their own lives. As a result, some local people have outdated ideas; they suffer from poor education and employability, low employment rates and incomes, and have fallen into long-term poverty.
Employment and job security carries great significance for ensuring people's right to work, improving their living standards, and promoting social harmony and stability. Especially since the 18th National Congress of the Communist Party of China (CPC) in 2012, Xinjiang has vigorously implemented employment projects, enhanced vocational training, and expanded employment channels and capacity. Thanks to these efforts, the employment situation in Xinjiang has continued to improve, people's incomes and quality of life are rising, and their sense of gain, happiness and security has significantly increased.
Policies have further improved. In recent years, to implement the national policies and strategies for stabilizing and facilitating employment and respond to calls from the public and local conditions, Xinjiang has successively formulated the Opinions of the CPC Committee and the People's Government of the Xinjiang Uygur Autonomous Region on Further Facilitating Employment and Business Startups, the Opinions of the People's Government of the Xinjiang Uygur Autonomous Region on Facilitating Employment and Business Startups Now and in the Future, and the 13th Five-Year Plan of the Xinjiang Uygur Autonomous Region for Facilitating Employment. Systematic arrangements have been made in the areas of economic development, governmental financial guarantees, tax incentives, support from the financial sector, and overall planning of urban and rural areas, different regions, and diverse groups, as well as in supporting flexible employment and helping groups in need to find jobs. All these provide a solid institutional guarantee for facilitating employment and safeguarding the rights and interests of workers.
The scale of employment has expanded continuously. Xinjiang focuses on areas of extreme poverty and key groups with difficulty finding work. It guides people of all ethnic groups to find work nearby, or to locate jobs or start their own businesses in cities, and encourages the impoverished workforce to seek employment outside their hometowns. From 2014 to 2019, the total number of people employed in Xinjiang rose from 11.35 million to 13.3 million, an increase of 17.2 percent. The average annual increase in urban employment was more than 471,200 people (148,000 in southern Xinjiang, accounting for 31.4 percent); and the average annual relocation of surplus rural labor was more than 2.76 million people, of whom nearly 1.68 million, or over 60 percent, were in southern Xinjiang.
The employment structure has become more rational. Xinjiang considers supply-side structural reform as a key priority, and endeavors to raise the level of the primary industry, focus on key projects in the secondary industry, and boost the tertiary industry. It nurtures and strengthens industries with distinctive strengths and labor-intensive industries, and guides the orderly flow of labor to the tertiary industry. In terms of workforce distribution across the three industries, the ratio in 2014 was 45.4 : 16.0 : 38.6, which evolved to 36.4: 14.1 : 49.5 in 2019. The tertiary industry saw an increase of 10.9 percentage points, making it the most job-intensive sector. In terms of workforce distribution in urban and rural areas, surplus rural labor is increasingly moving to cities and towns, and the ability of these places to absorb workforce has been strengthened. The number of people employed in cities and towns increased from 5.35 million in 2014 to 7.34 million in 2019, accounting for 55.2 percent of the total.
The quality of the workforce has improved significantly. Thanks to the government's education projects, enrollments in preschool education, nine-year compulsory education, senior high school education, higher education and vocational education in Xinjiang have all reached the highest level in history. In 2019, there were 453,800 full-time students studying at universities and colleges (an increase of 146,200 over 2014), and 1.84 million students studying at secondary schools (an increase of 147,600 over 2014). Through vocational training, Xinjiang has built a large knowledge-based, skilled and innovative workforce that meets the requirements of the new era. Every year from 2014 to 2019 Xinjiang provided training sessions to an average of 1.29 million urban and rural workers, of which 451,400 were in southern Xinjiang. The trainees mastered at least one skill with employment potential, and the vast majority of them obtained vocational qualifications, skill level certificates, or specialized skill certificates, allowing them to go on to find stable employment.
The income of residents and workers has increased steadily. From 2014 to 2019, the per capita disposable income of residents in Xinjiang increased as follows:
· urban residents: from RMB23,200 to RMB34,700 (an average annual nominal growth of 8.6 percent);
· rural residents: from RMB8,724 to RMB13,100 (an average annual nominal growth of 8.9 percent);
· urban residents in areas under the administration of Xinjiang Production and Construction Corps (a special entity entrusted by the state to cultivate and guard China's border area in Xinjiang): from RMB27,600 to RMB40,700(an average annual nominal growth of 8.5 percent);
· residents of the company residence areas of the Corps: from RMB13,900 to RMB22,000 (an average annual nominal growth of 9.9 percent);
· average annual salary of employees in non-private sectors in cities and towns: from RMB53,500 to RMB79,400 (an annual growth of 8.4 percent);
· average annual salary of employees in private sectors in cities and towns: from RMB36,200 to RMB45,900 (an annual growth of 5.4 percent).
From 2018 to 2019, 155,000 people from registered poor households in southern Xinjiang and in four impoverished regimental farms of the Xinjiang Production and Construction Corps found employment outside their hometowns and subsequently emerged from poverty.
The above statistics show that, in recent years Xinjiang has achieved remarkable results in providing employment services and job security to the residents, and the overall situation is good. However, it should be noted that Xinjiang is still faced with difficulties and challenges including a weak foundation for economic development, a large labor surplus in rural areas, and a low level of vocational skills. To solve its problem of employment in the long term, Xinjiang must further optimize the industrial structure, improve the quality of the workforce, and change people's outdated mindset.
Most Viewed in 24 Hours
China Views